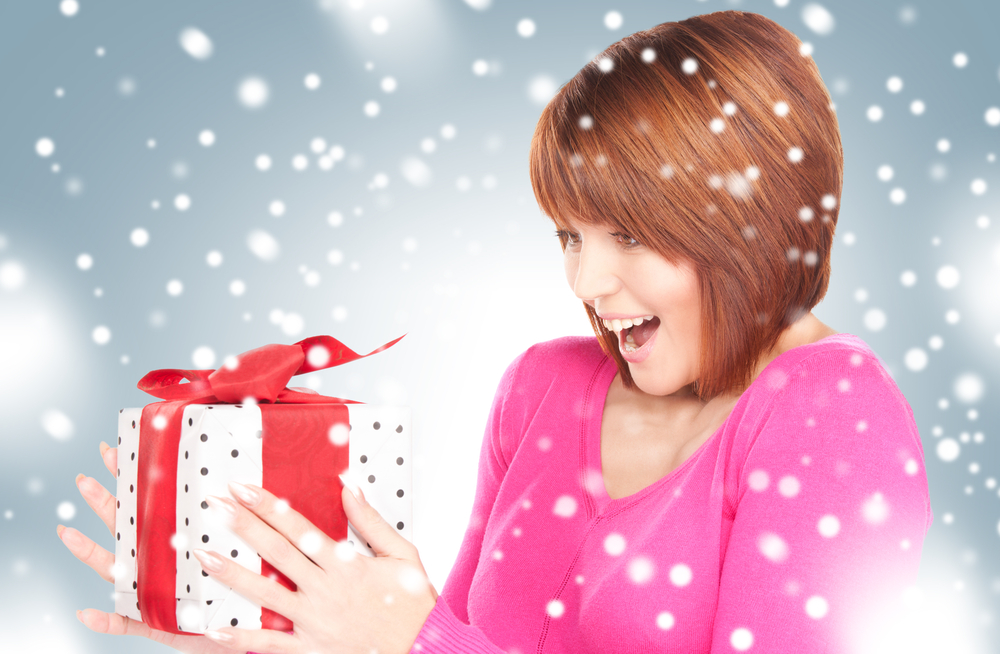 Live Positive Newsletter – December 2021 Edition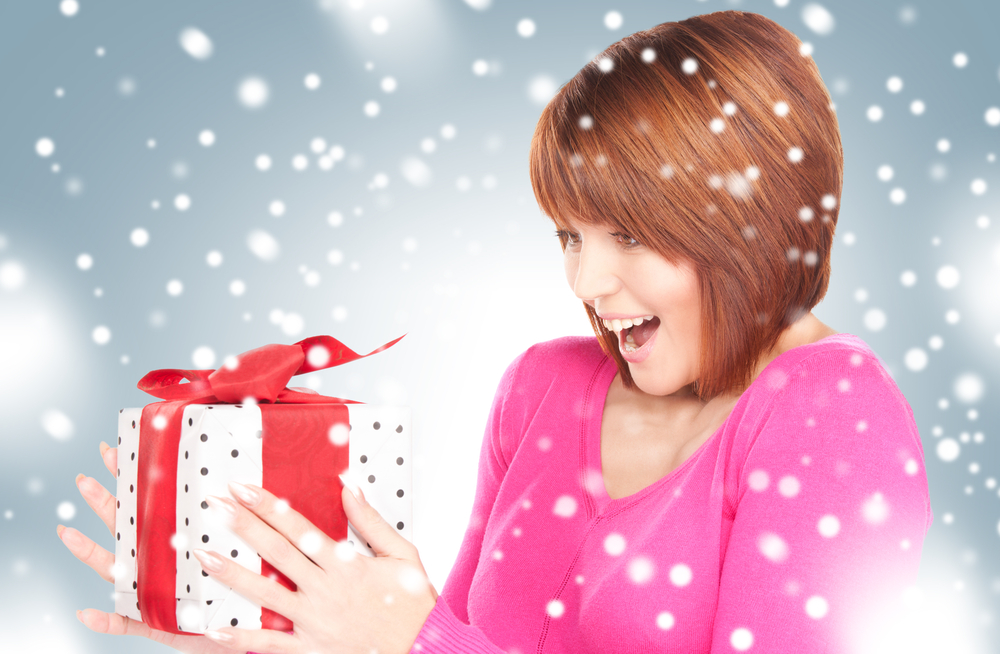 It's finally here! The details about all the exciting courses and changes we have planned in 2022 that everyone has been waiting to unwrap! In 2021, my team and I were teaching ground-breaking concepts that lowered golf scores, eliminated self-doubt, and gave self-confidence a giant boost. Also, we had a fabulous time with our 2021 Golf Positive Solheim Cup Extravaganza trip where we laughed, experienced the best moments of the Solheim Cup, golfed, and made connections with new friends.
We were getting amazing feedback and stories of success from participants who signed up for our courses and events, which we deeply appreciate. But, we also believe in putting what we teach others into practice about being proactive and moving forward with positive changes that can transform lives. Therefore, behind the scenes, we've put your constructive comments into action, expanded our offerings, revamped our strategies, and given our courses a full makeover!
In fact, our popular "Keys to a Champion Mindset" course is getting replaced with a more powerful system that will turn "someday" into "now"! This latest course is for everyone, no matter where you are in your golf mindset or level of play. You will be able to see a change happen as the course unfolds, and it's going to make a lasting impact that you can enjoy for a lifetime. So, get ready to sign up starting this January as soon as the course is announced because I want you to be able to make 2022 your best year yet!
Want to know more about what we have planned? Check out our latest posts on Facebook, Instagram, and LinkedIn where we will share upcoming happenings like live interviews with women who are making huge strides in the golf community. Yes, you read that correctly! My team and I are going to host monthly live interviews you won't want to miss throughout 2022. Stay tuned to my social media pages for dates and times.
Upcoming Courses & Events
A More Positive YOU in 2022!
Psst…This Free Live Zoom Webinar has a New VIP Invitation!
(See Details Below!)
In This Issue
Mindset
Article of the Month
Fitness
Nutrition
Recipe of the Month
You're Invited!

A More Positive YOU in 2022!
Mark your calendar for this FREE live Zoom webinar!
Thursday, December 9th at 8:00 PM EST
Click Here to Join My Webinar!
Begin making the shift to a new and more empowered you on the golf course and in your life starting this December with my free webinar! My information-packed webinars are one of my favorite ways to give back to the golfing community, especially over the holidays. This upcoming event is the perfect gift to share with amateur golfers, friends who wanted to start playing and haven't yet, or business professionals you know who would like to use golf to expand their networking opportunities.
Plus, for the first time ever, I'm offering an opportunity to sign up for an exclusive VIP access package for only $47! This offer includes your own personal pre-event call from one of our seriously skilled coaches, a Q&A session with me after the webinar, a 1-hour strategy session with a live coach, and, best of all, FREE access to my next Golf Mindset program!
Be sure to save the date, tell everyone you know about this exciting opportunity to receive tips they won't find in any other instructional program, and sign up for your exclusive VIP offer!
Join me, Debbie O'Connell, as we cheer on the USA team and fight for the Solheim Cup in Spain starting September 18, 2023! Don't miss this amazing experience filled with golf, breathtaking scenery, exciting adventures, inspiring connections, and, of course, amazing memories that will last a lifetime.
But, be warned – this event sells out! Spaces are limited, and they are going fast. Also, the rates will increase after January 1st. In order to secure your spot with early bird pricing, you'll need to pay the non-refundable reservation fee of $500 PLUS your $600 payment by December 10th.
For those who are concerned about making plans this far in advance, we suggest three travel insurance options on our website for peace of mind. So, what are you waiting for? Secure your spot today before this experience is sold out and you miss out on all the fun!
MINDSET

The Priceless Gift of Finding the Joy When You Play Golf!

Put a Stop to Fighting with Your Anxiety
When you think about gifts during the holidays, you probably think mostly about tangible objects you can wrap. But, what about the wonderful emotional release you receive when you let go of the self-doubt, fear, and dread that has been holding you back from enjoying your time on the golf course? If what was once a fun pastime is now almost emotional torture or if your shoulders sink lower as you step up to the ball and you begin to question why you are continuing to put in so much time and effort into this sport, the good news is you do not have to feel this way anymore! I'll show you through my free webinars, such as "A More Positive YOU in 2022", my exclusive VIP offers, and my upcoming courses designed for people just like you who are struggling with unlocking their golf skills how to create that ultimate mindset that will make your time playing golf more exciting than ever.
Laugh More Often
Another priceless gift you'll receive when taking my courses and webinars is the ability to laugh at your mistakes while using them to craft new strategies or get a fresh perspective. This game is mentally tough, but it can be mentally balancing as well when you know how to develop mistakes into something useful. Suddenly, the term "setback" becomes a thing of the past as you begin to see errors as both learning opportunities and a way to laugh more while building memories you'll cherish with friends, family, and teammates.
Offer Encouragement to Those Around You
When your attitude towards a game you used to love shifts back into excitement or, for new players, as you learn to develop a passion for this challenging sport, you will naturally become a source of inspiration to others who are struggling like you once were with their self-doubt, mistakes, and lack of progress. Your positive outlook and healthy approach will act as a magnet for everyone nearby as they begin to ask what you have been doing differently to be so happy. Take this time to offer encouragement to those around you and share my website and social media pages to help them to discover their own priceless gift of joy on and off the golf course.
Do you want to play a more consistent round of golf, feel more confident both one and off the course, or experience more joy in your life? My CORE Triumph! formula is at the center of everything I do, and it has led me to being named the
"LPGA NE Section Teacher of the Year" as well as a "Top 50 Best Teacher" by both the LPGA and Golf Digest. Get a sneak peek right here at the approach that is having an immediate impact on people's lives and it can work for you too!
FITNESS
Written by Elizabeth Quinn on verywellfit
Photos by Getty Images
Stretching can have a variety of benefits for golfers when it's done properly. Here are some of the best stretching exercises for golfers.
1. Shoulder Stretch
This is a great stretch golfers can use to open up the shoulders and improve range of motion in the shoulder joint. It's a great stretch for any athlete whose sport focuses on the upper body, arms, and shoulders. Golfers should consider this a core stretch in the warm-up prior to a round and repeat as needed throughout the game.1
Hold your golf club in front of you with one hand gripping each end of the club with an overhand grip.
Lift the club forward and up over your head with your elbows straight.
Slowly stretch your shoulders and move your hands back as far as possible until you feel tension across the front of your shoulders.
Hold for 10 to 20 seconds and release.
Repeat two to three times.
Be careful not to go beyond your limits. Increase your range of motion slowly.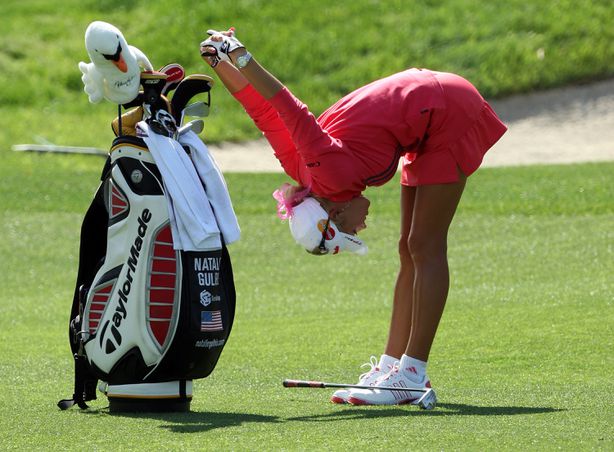 2. Standing Forward Bend Stretch
This is a great stretch for any athlete, but golfers, racquetball and tennis players, baseball players, and swimmers should consider this a core stretch for their sports.
Begin by standing up straight with your shoulders relaxed and back.
Reach your arms behind your back and interlace your fingers.
Lift your shoulders up toward your ears and lift your hands away from your back.
Slowly bend forward at the waist, keeping your back flat, not rounded.
Continue bending forward and lift your hand over your head as far forward as comfortable.
At a full stretch, you will feel tension in your hamstrings and in your shoulders.2
Hold for 10 to 20 seconds and release.
Repeat two to three times.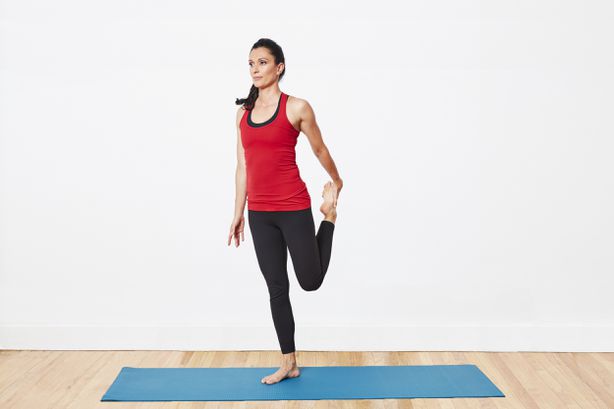 3. Standing Quad Stretch
The quadriceps (quads) are a group of muscles along the front of the thigh. There are many different ways to stretch your quadriceps, but here is a simple one you can do while standing:
Stand on one leg (grab onto something solid if you need support).
Bend your knee and bring your heel toward your buttock.
Reach for your ankle with your hand.
Stand up straight and feel a slight pull along the front of your thigh and hip.
Hold the stretch for 20 to 30 seconds, release, and repeat on the other leg.
Be careful not to strain your knee—the goal is not to touch your heel to the buttock, but rather to stretch the thigh.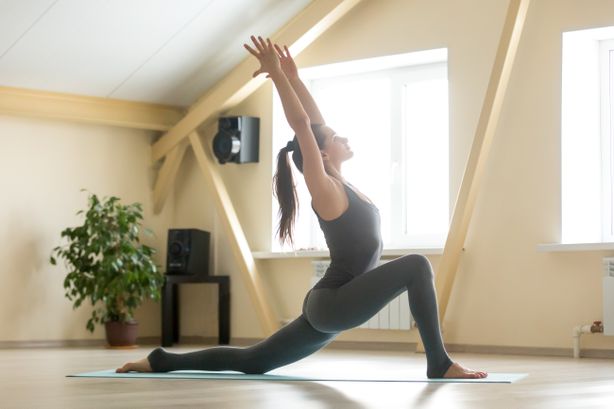 4. Hip Flexors and Psoas Stretch
The hip flexors are a group of muscles that bring the legs up toward the trunk. Here's how to stretch them:
Begin in a forward lunge position and drop your back knee to the floor.
Raise your arms and hands up over your head and look up.
Press your hips forward and down toward the floor and feel a stretch through your torso, hip, groin, and thigh.
Hold the stretch for about 20-30 seconds, release, and repeat on the other leg.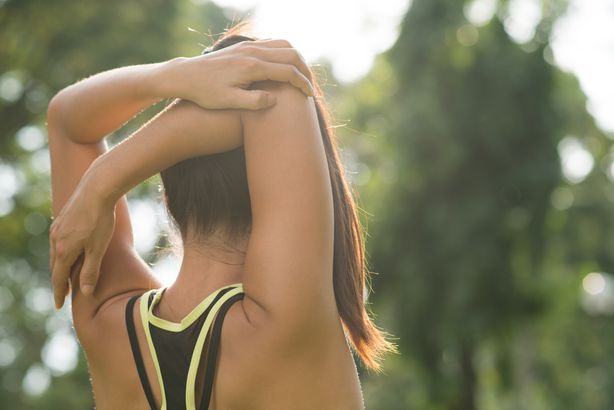 5. Simple Shoulder Stretch
This is a simple stretch golfers can do during warm-up before a round, and as needed throughout the game:
Bring your right arm across your chest and your right hand toward your left shoulder, keeping your right elbow at chest level.
Place your left palm on your right elbow and pull it toward your chest.
Hold for 10 to 15 seconds and then switch sides.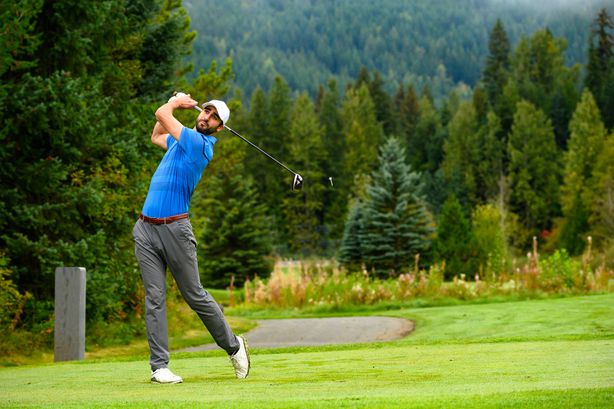 6. Standing IT Band Stretch
The iliotibial (IT) band, which is on the outside of your hip all the way down to the side of your knee, can become irritated from excess flexion of the knee and hip.3 For golfers, this stretch can help keep the hips limber:
While standing, cross your leg behind the opposite leg.
Lean to the opposite side until you feel a stretch across the affected iliotibial band.
Hold the stretch for 30 seconds.
Uncross your legs and stand up straight again.
Repeat four more times and then switch sides.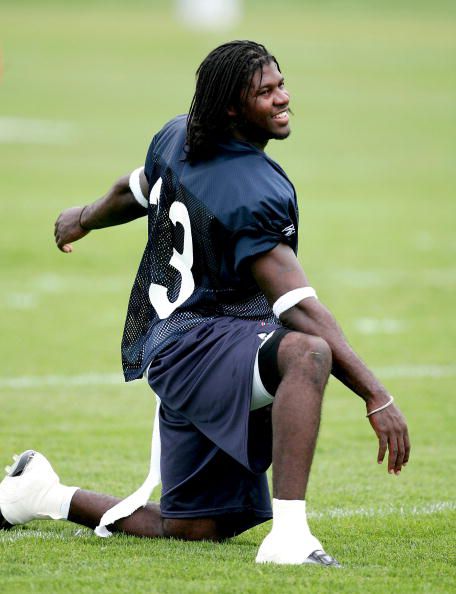 7. Hip and Lower Back Stretch
In the photo, Chicago Bears cornerback Devin Hester demonstrates a simple way to open your hips and stretch the muscles of your hips, groin, and lower back. This stretch is great for golfers as well.
Nutrition
Posted on Fitness Reaper
Nelly Korda is super conscious about what goes into her system because she is a great player and athlete. Thus she makes sure that whatever she eats serves as the right kind of fuel in her body. Besides this, she makes sure that she is getting all the needed nutrients and vitamins that are so effective in making her one of the top players that she already is. Take a look ahead to know more about her diet plan:
What to Eat and Drink on the Golf Course
The following foods were found to be the healthiest and most beneficial on the course by Nelly Korda.
Hard-Boiled Eggs
In addition to being easily carried and eaten, hard-boiled eggs also contain a large amount of protein, which can boost energy levels for hours.
Fresh Whole Fruit: Bananas, Apples, Grapes, Pears, and more
Eating is one of the best things you can do. Fiber and potassium, two important nutrients in fruits, are plentiful in whole fruits.
Nuts: Almonds, Cashews, Walnuts, Peanuts and more
During the round, nuts provide you with healthy protein, fats, and minerals that will help you maintain your energy. You can easily carry them and munch on them.
Trail Mix
The food you make yourself will be healthier (free from preservatives and other additives). Combine dark chocolate chips, mixed nuts, and dried fruit like raisins in a bowl. Make sure it is well mixed, then package it in plastic bags.
Jerky: Beef, Turkey, Chicken
There is no heavier feeling in your stomach when you eat jerky, as it is packed with protein that gives you energy. The best brands are all-natural options because they aren't loaded with sodium and don't contain preservatives.
Peanut Butter Sandwich
In addition to being packed with healthy fat, vitamins, and minerals, peanut butter is also a great source of protein. Grass-fed bread with this spread will give you long-lasting energy.
Popcorn
Try making it yourself and storing it in bags for an easy high-fiber snack. Salt and butter should be avoided in large quantities.
Turkey and Ham Roll-Ups
For yet another easy, high-protein snack on the golf course, combine turkey and ham slices in a sandwich bag.
Fresh Veggies: Carrots, Celery Sticks, Cucumber Slices, Cherry Tomatoes, Bell Peppers
When it comes to vegetables, you can't go wrong. These foods are high in fiber so they fill you up and help you remain focused while playing.
Nelly Korda has also shared some diet tips with her fans and followers. As well as feeling great on the court, she should stick to a healthy diet and exercise regimen to ensure she feels as good as possible. The following parts will be devoted to the tips she has to offer. Take a look at the future.
Nelly Korda Diet Tips
Nelly Korda espouses the same belief that eating healthy food regularly nourishes the body and makes it healthy from the inside out. People who have discipline in their food habits and lifestyles are more likely to stay healthy. She advises to never skip a meal since the body requires constant energy, which food can provide correctly. The food she adds between larger meals is healthy and she even likes to add little bites between them.
This smaller meal can boost one's energy level, and will not allow one to eat junk food or feel lethargic. These options include fruits, salads, fresh fruit juices, and smoothies. By taking care of one's body on a long-term basis, one will gain energy and will be able to function better. It is therefore important that we all follow this simple rule to remain healthy and fit for as long as possible.
Tip #1: Consume carbohydrates before going to the golf course
Approximately 240 minutes can be spent playing golf on average. Those four hours of golf typically burn 2,000 to 2,500 calories for the average golfer, according to research found online. Furthermore, researchers found that golfers can lose close to 2.5 pounds per round as well as their bodies are depleted of water as they burn calories. It is more efficient to eat carbohydrates before you go to the golf course so your body will be able to withstand the long time spent on the course.
If you can remember, it's recommended that you eat 3-4 hours before the class because that will give your body plenty of time to digest the food and metabolize it so that you can absorb the energy. While sports drinks and sugary carbs can be broken down much faster, they are not the healthiest options when you're trying to program your body to burn fat rather than sugar.
Tip #2: Eat protein before and after your trip to the golf course
In addition to burning a lot of calories while playing golf, your body also expends a lot of energy. After you eat a healthy meal that is high in protein, as well as moderate in carbs and fat, your body will be primed to remain active for several hours. Consuming protein before playing though helps your body protect the muscles and prevents them from being broken down for energy. As a result, if your body cannot burn the calories in the meal, it will rely on its fat and glycogen reserves for energy. In addition to consuming protein after the round, you need to consume protein after working out. By doing so, you may be able to prevent some soreness the next day. The pain in Nelly Korda's legs will come since she walks, but she may also feel it in her back or core since she turns so much while swinging.
Tip #3: Eat fat to help postpone hunger
There's something a little harsh about that title. When you're out on the course, you shouldn't eat anything with unhealthy fat (poly and mono), because the fat will turn off the hunger signals that can cause distraction. As an alternative, follow tip #4 if you don't mind consuming more calories while on the course and you're not necessarily trying to burn fat.
Tip #4: Eat a small healthy snack at the course
It will provide you with a good deal of energy on the golf course if you eat a few hours before going there. If you would like to stay energized and prevent your body from becoming too fatigued, you may find that eating a small snack at the course can give you additional energy since your body can break it down quite easily and utilize the energy.
Tip #5: Consume lots of water
Dehydration on the golf course might not seem like it merits much attention, but it can really harm you. In addition to keeping you hydrated, it also prevents headaches, muscle spasms, and keeps your body functioning properly by aiding in food breakdown. Generally, Nelly Korda tries to consume at least 100 ounces of water per day to stay hydrated, flush out toxins, and reduce body fat. A gallon of water has a volume of 128 ounces, so she aims to consume that amount of water each day, but her limit is anywhere from 100 to 120 ounces if she falls short.
Tip #6: Walk an hour each morning on an empty stomach
Until recently, she would wake up and head to the golf course on an empty stomach and use that as an alternative to walking for an hour. Only because she was just using the practice range for a short period of time before returning home. When you don't go to the course, you should walk on an empty stomach for an hour on days when you don't go. This will help your body burn calories, fat, and stored carbohydrates. Be sure to drink a lot of water after the walk and consume protein.
Since she just recently started eating protein powder mixed with water before going for a walk, Nelly Korda is ensuring that she is not burning muscle as she walks. Since her body does not take in carbs or fat, it must use another energy source such as stored energy for energy. She uses what some call "Lean Protein" to do this.
All those tips and diet strategies were about diet plans that Nelly Korda shared with her fans and followers. She also takes some supplements in her diet which will help her recover from her illness faster and better. The next section of this article will provide specific nutrients and supplements she takes with her meals.
Nelly Korda Nutrition and Supplements
The following is a list of supplements that Nelly Korda takes in addition to her diet to ensure that she gets the vitamins and minerals she requires to stay healthy. In addition to having some supplements in their diet, athletes who have extensive training routines need supplements to maintain their muscle mass. Here are a few things you should know:
Fish Oils
Fish oils (available as capsules) contain the fatty acids omega-3, which are paramount for good health. Heart health and flexibility can be improved by taking these supplements. The joints are also less prone to inflammation when they are taken. Some food groups are beneficial for people who don't want to take pills. I recommend you eat more avocados, more nuts, and seeds, as well as fish, of course.
Calcium
Another essential mineral for bone and joint health is calcium. Bones are formed by it, and it helps keep them healthy throughout life. You may be able to relieve joint pain by taking a calcium supplement if you suffer from knee pain. Additionally, you can get more calcium from your diet. To maintain peak health at the course, all golfers should eat dark green vegetables, such as kale, cabbage, and broccoli. Dairy products such as yogurt, milk, and cheese also contain nutrients (but they are also high in calories, so keep this in mind if you're trying to lose weight).
Vitamin D
The levels of vitamin D in your body may be low if you have joint pain. Golfers commonly suffer from joint pain when they are deficient in this vitamin. Our bodies require vitamin D to perform many important functions, including the absorption of calcium. Having a regular golf game is already helping you to get more vitamin D. It is a vitamin that we can produce naturally while in the sun. Take a supplement that contains calcium and vitamin D if you need to boost your immune system. You can find these in your pharmacist's office or even at your local supermarket.
Glucosamine
You may put a strain on your joints' cartilage if you're playing a lot of golf. It is often recommended that you start taking Glucosamine as soon as possible to stop this problem before it begins. Inflammation of the joints is also reduced by supplementation. Results will not be seen until after a few months of taking this supplement. If you are unsure whether it is advisable for you, speak to your physician.
Concentration
In golf, we often say that mental acuity is key. Hence, keeping an eye on your concentration levels is important. There is evidence that some amino acids can function as brain fuel in clinical studies. In addition, they protect brain cells and improve their performance. As a result, you will have a greater ability to pay attention thanks to the increased blood flow to the brain. What you require here is an amino acid called Acetyl-L-Carnitine. Information about this should be sought from your physician.
Recipe of the Month
Posted on Perchance to Cook
(Gluten-Free, Paleo, Dairy-Free, Clean)
These Paleo, Grain-free, Gluten-free, Dairy-free gingerbread men cookies are soft, chewy, and perfectly spiced.
Prep Time: 35 minutes
Cook Time: 10 minutes
Total Time: 45 minutes
Course: Holiday Dessert
Servings: 15 Cookies
INGREDIENTS
2 Tbs extra light olive oil
3 Tbs blackstrap molasses
1 extra-large egg
1 tsp vanilla
2 cups almond flour
1/3 cup coconut sugar
1 tsp cinnamon
1/4 tsp ground ginger
1/4 tsp ground cloves
1/2 tsp baking soda
tapioca flour, (to sprinkle on the dough prior to rolling it)
INSTRUCTIONS
Put the wet ingredients ( the olive oil, molasses, egg, and vanilla) into a food processor and mix.
Add the dry ingredients ( almond flour, coconut sugar, cinnamon, ginger, cloves, and baking soda) to the food processor and mix until a dough forms.
Remove the dough from the food processor and form it into a ball shape with your hands. It can help to use a rubber spatula and put the dough into a bowl and then, grab it and form it into a ball.
Put the ball into a bowl, cover the bowl in cling wrap and refrigerate for 30 minutes.
Preheat the oven to 350 degrees. Line a cookie sheet with a silicone mat.
Sprinkle some tapioca flour on a piece of parchment paper.
Cut the dough in half ( put the other back in the fridge) and put it on the parchment paper with tapioca flour on it.
Sprinkle tapioca flour on top of the dough.
Then, roll the dough out between the 2 pieces of parchment paper with a rolling pin, until ¼ inch thick.
Cut the dough with gingerbread man cookie cutters. Note: If the dough is too sticky and sticks to the cookie cutter, wet the cookie cutter. If the dough sticks to the parchment paper, sprinkle a little tapioca flour onto the parchment paper. I noticed that using metal cookie cutters was easier than plastic ones.
Repeat with the other half of the dough. Once all the gingerbread shapes are cut from the dough, take the dough scraps and form into a ball, and roll it out again.
Keep doing this until all the dough is used up and cut into shapes. Note: you may need to put the dough in the fridge or freezer in between rolling it out to harden it a bit.
Place the gingerbread men shapes onto a lined cookie sheet.
Bake for 8 to 10 minutes or until the edges of cookies are set and just begin to brown.
Cool on the cookie sheet for 1 – 2 minutes. Remove and put on wire racks to cool. Decorate cookies once they are cooled.

YOU'RE INVITED!
Until someone showed me the missing ingredients I needed to achieve my goals that highly successful people have been using for decades, I too was waiting for something to shift in my life to finally unlock my potential. Now, it is my joy and privilege to offer those tools and that mindset coupled with unparalleled support in my upcoming courses to you. All it takes to realize your dreams is to start with one easy sign-up for the course on my website that best defines you in 2021.
✅ Save the Date – December 9th!
Share this Zoom webinar link with everyone to receive your FREE holiday gift of impactful tips from me!

✅ Save the Date & Register Now!
This event will sell out. Slots are filling fast!

Click here to view all of our upcoming courses and events to see which offering is right for you!
Learn NLP techniques that elite athletes and successful business professionals from all over the world use!
We will fight through excuses, treat pain points, find solutions, and get results together!
Sign up NOW!
-Personal December Challenge –
This month's challenge is to take that first step to make a change in your golf score and confidence level by signing up for my free webinar.
Then, follow me on social media for more helpful tips and strategies that can take your game to the next level!
Golf Positive! and Live Positive!
Debbie