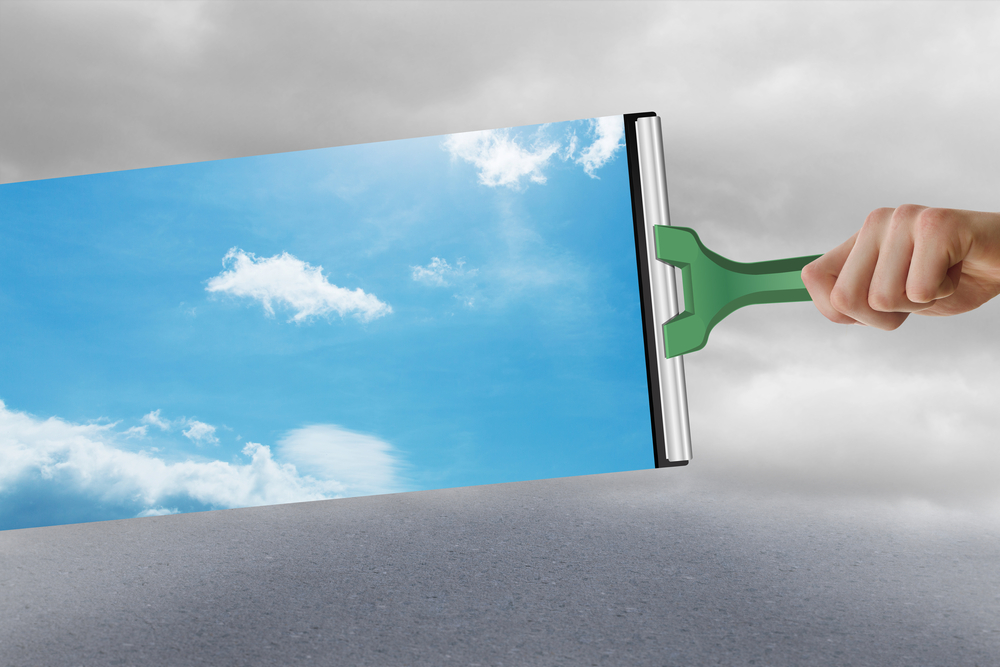 Live Positive Newsletter – March 2021 Edition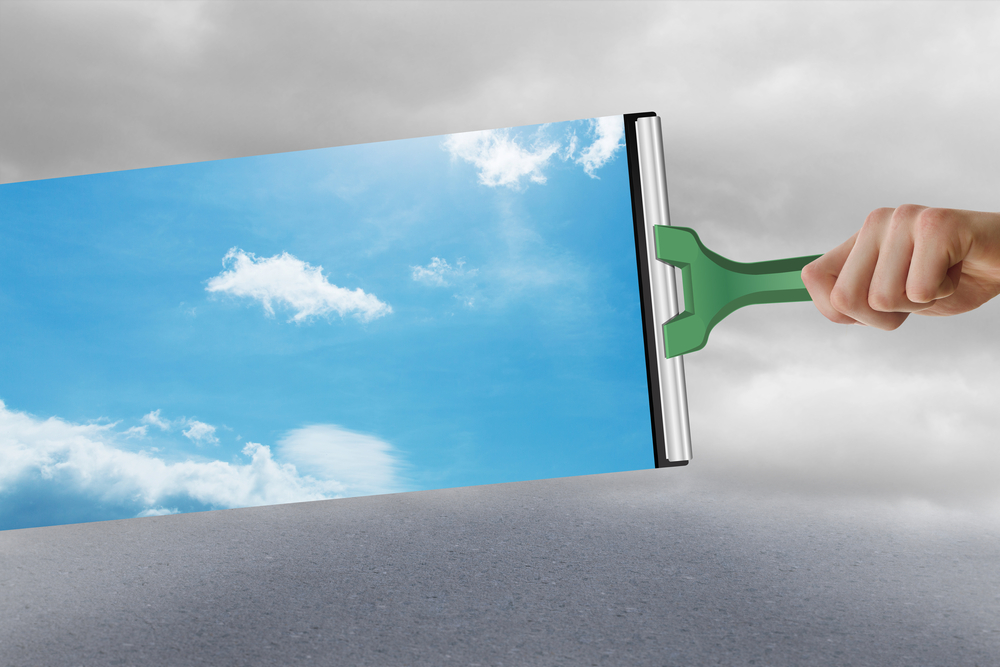 I don't know about you, but March always reminds me to clean out my bad habits, dust off my goals, and spring into action! The year is in full swing, and the last thing anyone wants is to spend one more month stuck in a routine that is not going to propel careers forward, improve relationships, create balance, build confidence, or achieve success! Much like the clothes that don't fit anymore or look outdated and that golf training gadget that never quite worked, it's time to take a fresh look at your dreams and discover effective tools to catapult you past your doubt, negative talk, and fear. Are you ready to kick excuses out of your mindset and replace them with victory? In this newsletter, I'll show you some of the easiest ways you can get started unlocking your potential today!
Upcoming Events You Won't Want to Miss!
In This Issue
Mindset
Article of the Month
Fitness
Nutrition
Recipe of the Month
You're Invited!
These offerings can help clean up those hurdles blocking your path to success on and off the golf course!
Virtual Golf Clinics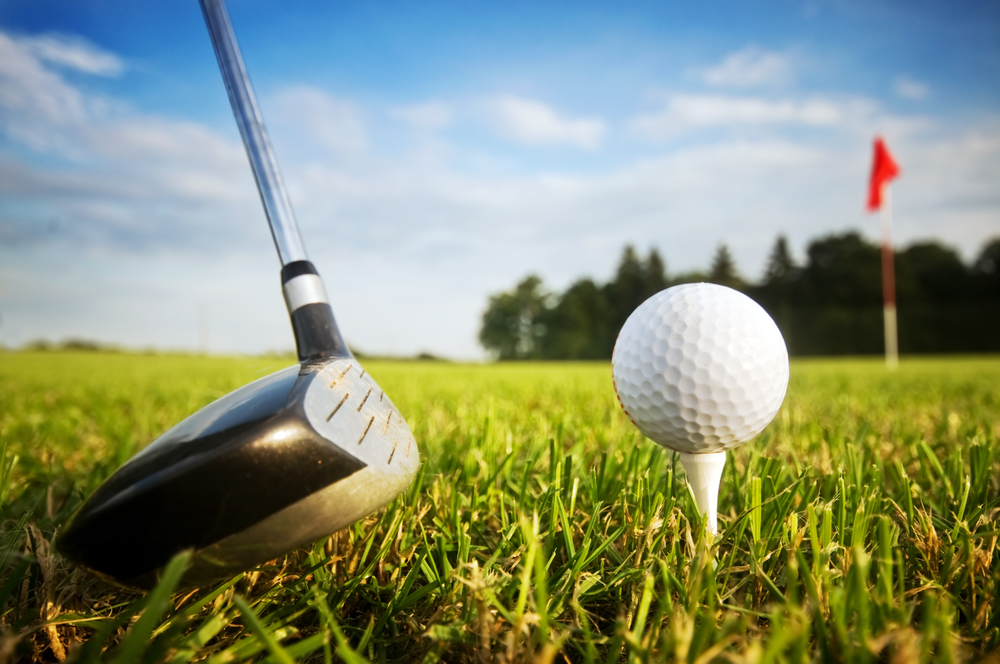 Reserve your spot in these last two clinics of the season now!
Sign up for a fun virtual event to enjoy some of my favorite golf strategies and confidence-boosting mindset tips from the comfort of your home for only $65 each!
Tues, March 30 & April 6 – Faster Clubhead Speed = More Distance
Wed, March 31 & April 7 – Make Putts 5' and In Consistently
Keys to a Champion Mindset
Starting March 20th at 10 am EST!
Specifically designed for highly competitive golfers including professionals, college players, and amateurs, this event is going to give you the opportunity to make winning feel like your new daily routine. Take the challenge for just $97 each!
MINDSET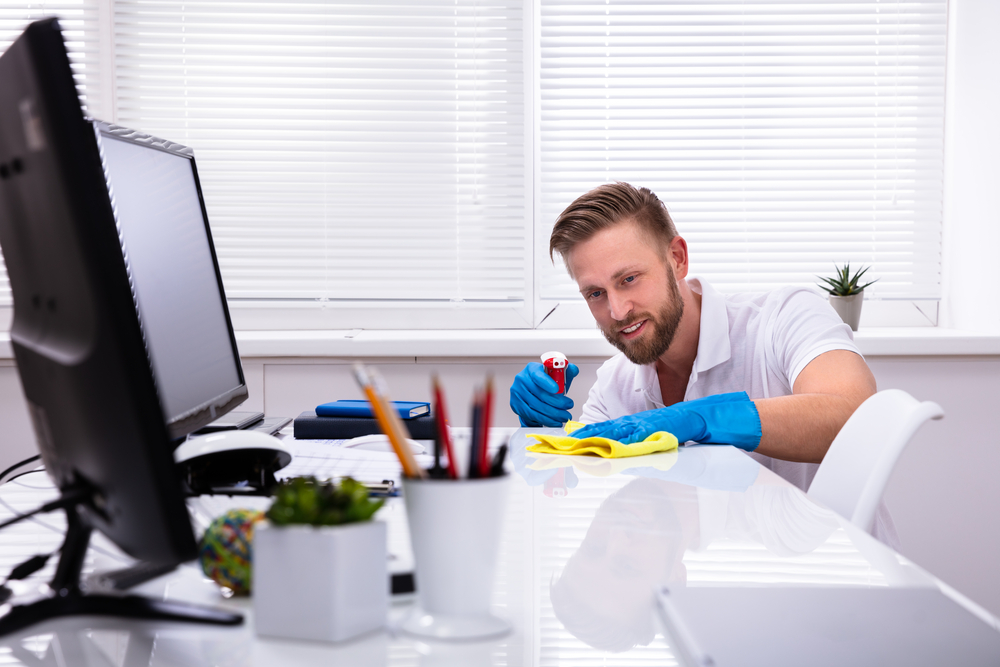 How to Destress and Spring Forward in Your Career With a Fresh Approach
How you appear to others says a lot about your mindset, confidence, and goals. Do you look as if you are balanced and ready for that next challenge or do you seem like you are struggling to keep up? People who realize their full potential make an effort to clean up their overall presentation to model how they want to be viewed and treated by employers, investors, and loved ones. By letting that "best" transfer to other areas of life as well, such as one's workspace, the stress-relieving benefits and fresh opportunities can continue to multiply.
Tackle the Clutter in Your Electronics
Does it really matter that your Inbox is always full or overwhelming and it takes a few extra minutes to search for documents and images? In a word, yes. A clean slate when you walk into your workspace or open your laptop or mobile phone can give you calming and relaxed start to your day. Being able to find everything you are looking for within seconds is freeing, uplifting, and sends an internal "You've got this!" reassuring message to your brain. In addition, your workspace can showcase your talents to others. Leave them with the impression your daily tasks are completed on time and you won't waste their time searching for emails, files, and media. Whatever they need you to do they assign it to you and consider it done!
Expand Your Skillset & Knowledge
Of course, appearance isn't everything. You also need an increasing depth of knowledge to go along with that presentation. There is a multitude of free classes you can audit or webinars and podcasts you can enjoy in your spare time that can continually add a fresh spotlight on what you bring to the table at the next meeting.  My free 5-Day Challenge will provide the steps you need to put those positive wheels in motion and allow your mind to prioritize what is most important to you so that you can have a clear path.
What are Your Right Now! Goals?
With this newly strengthened skillset, confidence, and balance, you are ready to tack that "To Do" list for any area of your life starting with your short-term goals. Right here in this very minute, what do you dream about doing? Are you where you want to be or do you wish you were somewhere different? Once you know what it is you want to be doing, you can devise small goals and strategies that are manageable.
Scrub the Doubt Away
If you find you have hit a snag in your plan to tick off that lifestyle spring "To-Do" list, it's time to be raw and honest so that you can name that obstacle. Is it an unhealthy relationship, a certain skill you must first acquire before continuing, or self-doubt blocking your path? Removing the fear of failure can be one of the biggest spring cleaning jobs of your life. The good news is once it's gone, everything you have ever imagined becomes possible. Want to learn more about how to go over, around, under, and through those seemingly insurmountable walls blocking your path to success? Join me and my experienced team as we conquer fear, doubt, unhealthy habits, unclear direction, and everything else that is blocking your path to success in all areas of your life. Sign up for my next event or course and start applying the effective tools and techniques elite athletes and high-powered executives and entrepreneurs around the world have been using for decades. It's not magic or luck. The potential to achieve your dreams is locked inside you already. You just need the keys to set it free!
Article of the Month
You may be wondering if virtual instruction really works for improving your golf game. Professional golfer, award-winning golf instructor, and nationally-renowned inspirational speaker, Debbie O'Connell, is ready to accept that challenge! Unlock your inner champion potential as you build your short game and long game while learning to find the joy on the greens. Best of all, you can do it all without having to leave your backyard!
Why Work With Debbie?
Debbie O'Connell is an LPGA professional golfer and one of the LPGA's Top-50 Best Teachers! Additionally, Debbie has been named as one of Golf Digest's Top 50 Women Teachers, the NE Section Teacher of the Year, and the NE Section Junior Leader of the Year. However, her list of accomplishments does not stop there as she is also the published author of "Live Positive! Golf Positive!", a national motivational speaker, and holds certifications in John Maxwell Speaking, Training, Coaching, Strategic Intervention, and DISC training.
FITNESS
Written by Claire Nowak on The Healthy             Images by Shutterstock & TATIANA AYAZO/RD.COM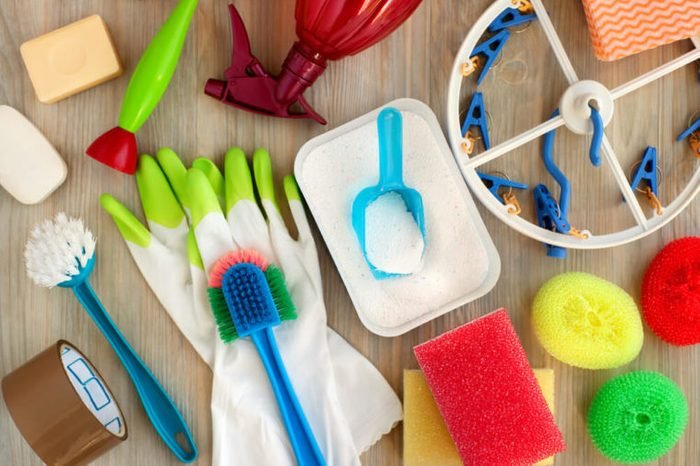 Spring-Clean and Burn Calories
Doing chores around the house may not feel as much like exercise as high-intensity interval training (HIIT), or any workout for that matter. (These are the workouts that burn the most calories, according to science.) But, if you spend enough time cleaning or doing multiple chores at once, those calories can add up. Read on to see just how many calories you burn after 30 minutes of various spring-cleaning activities. Note: These calculations were made using the average weights of American women (166 lbs) and men (195 lbs) over the age of 20 based on data from the Centers for Disease Control and Prevention and a calculator from CalorieLab.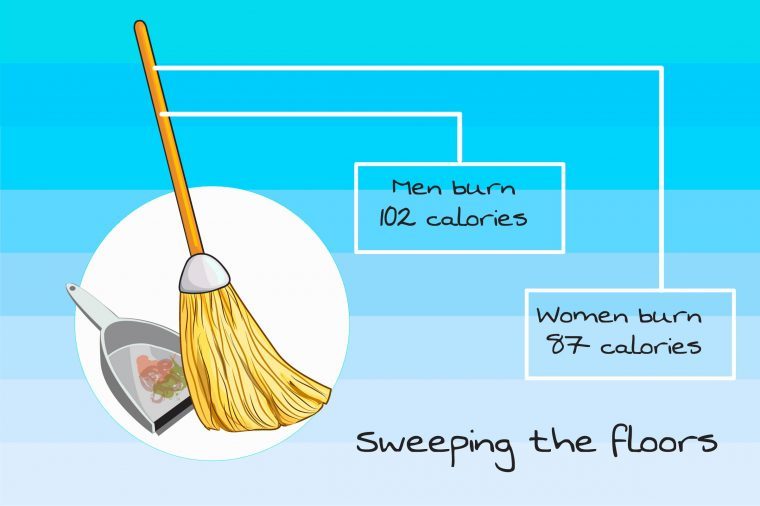 1. Sweeping the floors
Sweeping the floors can give your arms and legs a bit of a workout. In just half an hour, women can burn 87 calories and men can burn a total of 102 calories. If you're sweeping for a full hour, women and men can burn anywhere between 174 to 204 calories.
2. Vacuuming
Vacuuming can burn slightly more calories than just sweeping. In 30 minutes, vacuuming burns 94 calories for women and 111 calories for men. You may even be motivated to vacuum the whole house.
Tip: Make it fun and do some dance moves as you push the vacuum forward and back.
3. Dusting the furniture
Simply dusting the furniture in your house can count as a bit of exercise. Women can burn 57 calories while men can burn 66 calories in just 30 minutes.
4. Washing dishes by hand
A dishwasher is an important kitchen staple that can save you time and energy. But, if you're looking to burn some extra calories, try washing your dishes by hand. In just 30 minutes, women can burn 49 calories while men can burn 58 calories.
5. Taking out the trash
You may debate with your roommate, significant other, or the kids on who's taking out the trash. But, here's a reason why you should volunteer. Taking out the trash can burn 57 calories for women and 58 calories for men. Plus, you could give your arms a good workout lifting the heavy bags.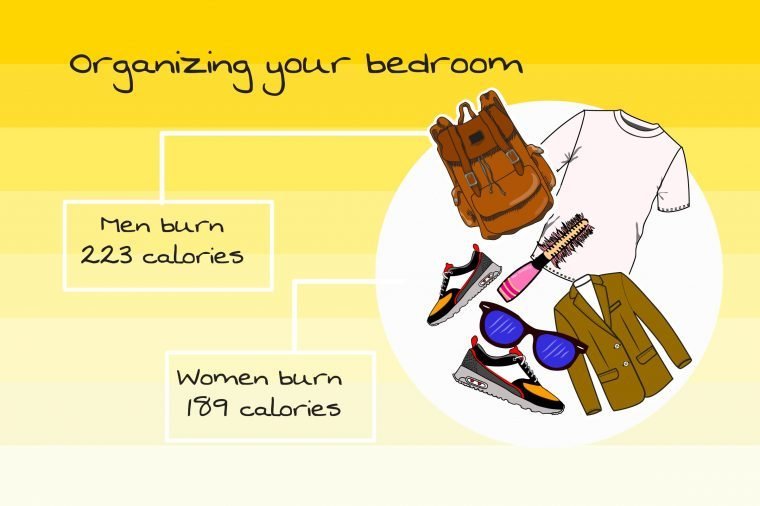 6. Organizing your bedroom
Spring-cleaning often involves clearing out the clutter. Decluttering the bedroom can burn up to 189 calories for women and 223 calories for men. Tip: Use this moment to also change your bedsheets. You can stretch your legs and do a lunge as you tuck your bed sheets on each side.
7. Scrubbing the bathtub
Scrubbing surfaces like the bathtub can give you what feels like a full-body workout. After 30 minutes, women can lose up to 106 calories and men lose up to 124 calories. Plus, using your arms to scrub back and forth can help build your upper body strength and work towards toning your biceps.
8. Washing windows
From the inside and out, you can burn calories when washing your windows. In just a 30-minute window washing session, women can burn 126 calories and men 149 calories.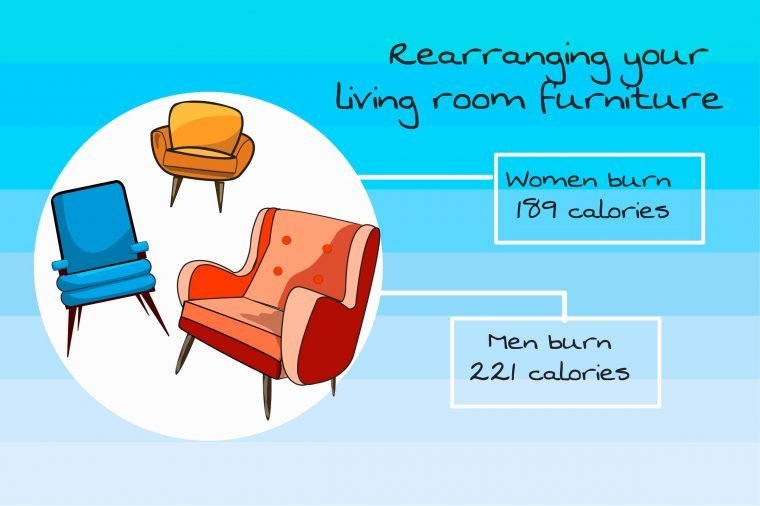 9. Rearranging your living room furniture
Rearranging furniture can be daunting, but it could be a big help when it comes to getting some exercise. Moving things around in the living room can burn up to 189 calories for women and 221 calories for men in 30 minutes. Always remember to use caution when lifting heavy items.
10. Sweeping the front walk
Similar to sweeping the floors inside your home, sweeping the front walk (if you have one), can help burn calories. A 30-minute sweep with the broom can burn off 113 calories for women and 133 calories for men.
11. Washing the car
Although tempting, skip the carwash drive-thru. Instead, opt to do it yourself. After just 30 minutes, women burn 76 calories and men burn off 89 calories. Double your calorie burn and work up a sweat losing anywhere from 152 calories to 178 calories in an hour. Here's how many calories are in a pound and what it really takes to lose one pound in a week.
12. Watering the plants
Watering plants is not only therapeutic, it can also help you burn more calories. Women burn off 57 calories and men burn off 66 calories while tending to the greenery.
13. Mowing the lawn
Mowing the lawn may not be your favorite activity. But, if you're looking to maximize how many calories you burn in 30 minutes, look no further. Women can burn 170 calories while men can burn 199 calories, all while getting some fresh air and keeping your lawn neat and orderly.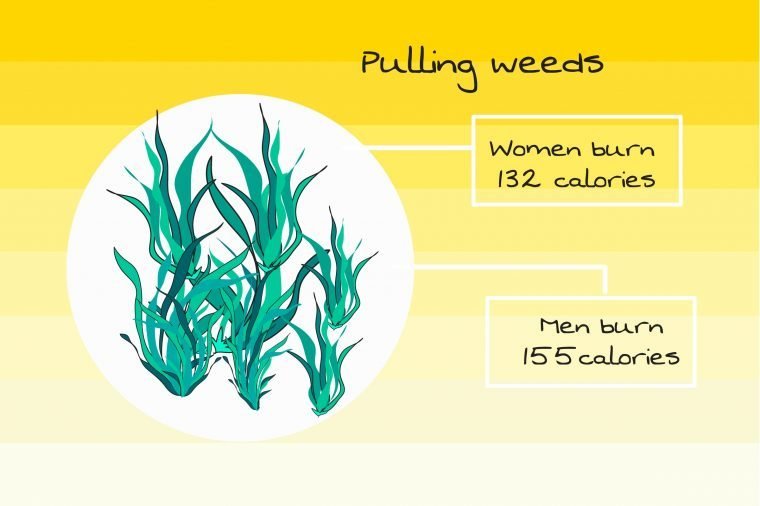 14. Pulling weeds
Cleaning out your garden and pulling weeds can help build and strengthen muscles. Just doing 30 minutes of pulling weeds can help women burn 132 calories and 155 calories for men. Do this for an hour and you can burn over 200 calories.
15. Moving boxes of winter clothes into the attic
Spring-cleaning is the perfect time to rearrange your closet. Move out your winter clothes to make room for your spring and summer clothes. Simply moving boxes from the bedroom to the attic by going up and down the stairs can burn a significant amount of calories. In just 30 minutes, women can burn 302 calories and men can burn 354 calories.
What about other chores?
The CalorieLab has a nifty tool that can calculate the calories burned during dozens of activities just by putting in your weight. But if the activity you're searching for isn't listed there, you can calculate approximate calories burned with one equation. Here's how it works:
Find the metabolic equivalent (MET) of the activity, which is the intensity rate you're exerting. Don't worry: Arizona State University and the National Cancer Institute already did that for you.
Multiply the MET by 3.5 (the number of milliliters of oxygen you consume per kilogram of your body weight)
Multiply that number by your weight in kilograms (to convert from pounds, divide your weight by 2.2046)
Divide that number by 1,000 (so you're working in liters instead of milliliters)
Multiply that number by 5, since you burn 5 calories for every liter of oxygen you breathe in
Last but not least, multiply that by the number of minutes you engaged in the activity.
Voila, the number of calories burned.
NUTRITION
by Julia Malacoff on The Healthy
Images by Shutterstock & TATIANA AYAZO/RD.COM
Medically reviewed by Cynthia Sass, MPH, RDN, CSSD, on February 24, 2020
Spring clean your diet with these easy but high-impact food swaps will boost your energy and help improve your health.
In the winter months, several everyday habits may change: You're eating more carb-laden foods (comfort food), your fitness routine is on hold, and you seldom leave the house. This hibernation-like period can have you in a funk feeling fatigued. As the season starts to shift to spring, you may feel compelled to "spring clean"—starting with your dietary habits.
Top dietitians and nutritionists share easy ways to spring clean your diet with these high-impact food swaps for a boost of energy and overall better health.
Swap pasta for zucchini noodles
It's time to break out that spiralizer in your cabinet. "With the change in season, zucchinis are about to be abundant in gardens, farmers markets, and grocery stores," says Jennifer Kanikula, RD, a traveling registered dietitian. "Not only are they cheap, they're extremely healthy and when eaten in place of pasta, add a plethora of nutrition benefits to your meal. Zucchini is very low in calories and high in nutrients and antioxidants, whereas refined grains (white pasta) are low in nutrients, high in carbohydrates, sugar, and subsequently, high in calories." If weight loss is a goal, check out these 13 weight-loss foods to lose weight fast.
Make water more appealing
Take a break from soda, sweetened iced teas, lemonade, and other high-calorie beverages for some serious calorie savings. "Trade sugary beverages for water (still or sparkling) with a squeeze of citrus," suggests Barbie Boules, RDN, LDN, CHWC, a Chicago-based registered dietitian and nutritionist and certified health coach. You can also try making fruit ice cubes to jazz things up. "Simply puree fresh fruit in a blender and freeze in ice cube trays," Boules says. "This is my number one tip for all of my clients. If you're drinking three calorie-laden beverages a day (soda, smoothies, juice, lattes) and switch to water, it could mean losing a pound a week."
Skip energy bars in favor of real food
You might think a protein or energy bar is a healthy way to feed your snack craving, but nutrition experts recommend skipping them in favor of actual food. "Most energy and granola bars are made up of heavily processed ingredients and added sugars, which can lead to GI discomfort and even increased appetite shortly after consuming," says Sydney Greene, RD, a registered dietitian and nutritionist in New York City. "I advise my clients to keep whole produce items such as apples, oranges, or carrots in their fridge for an easy grab-and-go option. I like to pair one of these foods with an easy-to-transport protein option, such as a handful of nuts, for a nutritionally complete snack. Plus, follow these eight meal planning tips for healthy eating.
Go meatless for one meal each week
"You don't need to avoid all meat, but there is research to support a plant-based diet regarding the prevention and management of many health conditions," says Alyssa Cohen, RD, a registered dietitian. It's never a bad idea to up your plant-based-protein intake, she says. Adding in a plant-based protein instead of a meat protein once a week is a realistic way to start. "Remember that eliminating meat isn't the main goal—increasing your intake of plants is! So leaving the protein off of your salad doesn't work. Make sure to replace the meat with a plant-based protein source in order to ensure you are getting all of your required nutrients." Try legumes, lentils, nuts, and seeds.
Try oatmeal instead of cereal for breakfast
The reasoning for this swap might surprise you: "Probiotics, good bacteria that are important for your digestive health, thrive on fiber," explains Roshini Rajapaksa, MD, a gastroenterologist at NYU Langone Health in New York City and Lose It! advisory board member. "Less than three percent of Americans meet the daily recommendations for fiber, which is why it is extremely important to fill up on fiber-rich foods—such as oatmeal." In a 2016 study in the British Journal of Nutrition, researchers have linked beta-glucan from whole oats to healthy gut bacteria.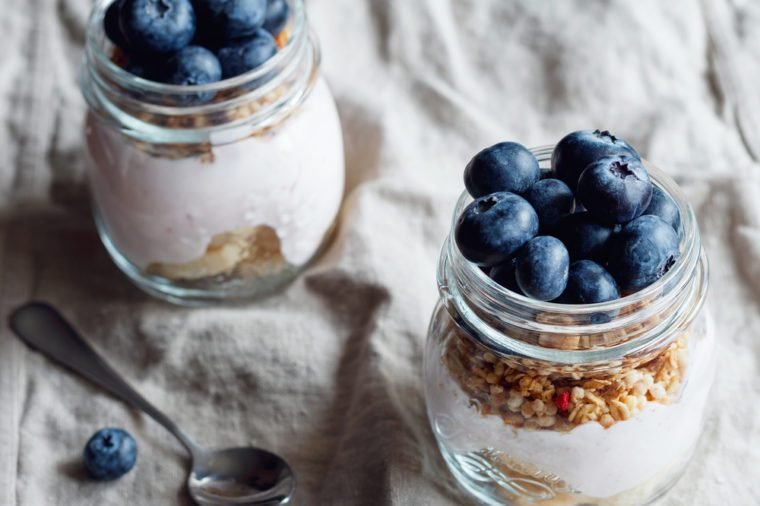 Ditch flavored yogurts
Not all yogurts are created equal. "If you love yogurt, make plain Greek-style your go-to, since it has no sugar and tons of protein," Boules suggests. "Top it with fresh fruit and crushed almonds or walnuts and you have a nice balance of carbs, protein, and fat with plentiful antioxidants. Add a teaspoon of honey if you like, and you're still doing better than the roughly four teaspoons [of sugar] in sweetened yogurt." Plus, if you can't or don't eat dairy, opt for a dairy-free yogurt. While the protein content varies, plant-based yogurts provide the same probiotics found in dairy varieties.
Swap low-calorie snacks for nuts and seeds
"Low-calorie snacks like cookies and crackers may seem harmless, but they still have a negative impact on insulin levels, resulting in a surge and a crash, leaving people wanting more low-calorie snacks," says Keith Kantor, PhD, a registered dietitian in Atlanta. "These empty high carbohydrate foods not only cause increased cravings for sugar, but they get in the way of your body's fat burning capabilities because your body is unable to use its own fat stores for fuel, and instead it uses the snack for energy, reducing metabolic efficiency. Replace these high carbohydrate snacks with heart-healthy fats from nuts or seeds. Nuts and seeds do not raise insulin levels and they will keep you feeling full for a longer period of time, reducing cravings for sugary foods."
Boost flavor and cut calories with fresh herbs
"Marinades, dressings, sauces, and condiments are noteworthy sources of hidden calories," says Sheri Kasper, RD, a registered dietitian in North Reading, Massachusetts. "Herbs, spices, and seasonings are flavorful alternatives that taste delicious without adding unnecessary calories and sodium to a meal. So, next time you're looking to marinade the chicken, try reaching for basil, thyme, and rosemary instead!" Try these other powerful spring superfoods you need in your diet.
Use pureed prunes instead of sugar
Yes, really. "The average adult in the U.S. consumes three times more added sugar than recommended," states Erin Palinski-Wade, RD, a New Jersey-based registered dietitian and author of 2-Day Diabetes Diet. "All of this excess sugar can increase the risk for obesity, heart disease, diabetes, and even have a negative impact on concentration and memory. When preparing a baked-goods recipe that calls for added sugar, swap it out with pureed prunes instead. This easy swap leaves your baked goods moist, sweet, and delicious while cutting out the added sugar and increasing both the fiber and nutrient content of the recipe."
Swap out your nightcap for herbal tea
"While moderate alcohol consumption before bed may help you fall asleep faster, the body's effort to metabolize the alcohol throughout the night affects our ability to enter a REM state, leading to an overall poorer night's sleep," Greene explains. Try some herbal tea instead, she says: "Studies show that even a slight cut in our total hours of rest alters two important hormones for weight maintenance: Leptin and ghrelin. Cutting the nighttime alcohol habit will lead to better sleep, save you empty calories, and promote better food choices the following day."
Skip carb-only snacks
"Those who graze throughout their afternoons may be overdoing their calories without realizing," notes Tracy Lockwood Beckerman, RD, a New York City-based registered dietitian and nutritionist with Banza. "Instead of having a ton of light snacks, make the snack nutrient-dense by combining proteins and fats with your complex or slow-digesting carbs. That means, throw sunflower seeds in your Greek yogurt, snack on roasted chickpeas instead of pretzels, or dip your whole-grain crackers in hummus." Just make sure you're not spending your funds on these spring "superfoods" that are actually a waste of money.
Sub frozen berries for syrup and jam
It's easy to make pancakes more nutritionally sound by adding protein powder to your recipe, but lots of people still opt for maple syrup. The jams people spread on toast are also loaded with sugar. "Let your bag of frozen berries thaw out in the fridge for a few hours and you've got the perfect topping for toast or pancakes with zero added sugar," says Emmie Satrazemis, RD, a sports dietitian and director of nutrition at Trifecta Nutrition. "They get just runny enough and taste just as sweet. Not to mention you'll be cutting calories, adding fiber, and a ton of nutrition shown to benefit heart health and brain health and reduce inflammation. Both syrup and jam have 50 calories per tablespoon and 14 grams of carbs. Berries have four calories per tablespoon and 1g of carbs."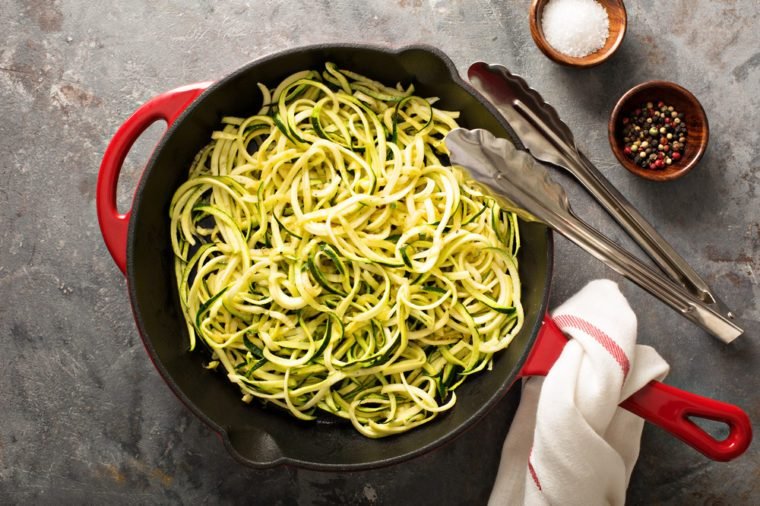 Replace half your carbs with veggies
This simple swap can seriously add up. "Veggies are filling, nutritious, and have a tiny fraction of the calories that bread, grains (like rice), pasta, and potatoes have," notes Mike Israetel, PhD, co-founder and chief sports scientist at Renaissance Periodization. "So next time you're throwing together a meal for yourself, subtract half the starchy carbs and add in a handful or two of fresh veggies of your choice. You'll be able to cut a pretty impressive amount of calories without feeling a huge hunger punch, and the nutrients in veggies will give that much more of a boost to your health." Watch out for these six signs you're eating way too many carbs.
Replace your usual meat cuts with leaner ones
Lots of people boost their protein by eating more meat and fish when trying to lose weight, but sometimes, they're consuming unnecessary fat in the process. "Instead of a hot dog, try a lean chicken sausage," Israetel suggests. "Instead of a regular hamburger, try a leaner ground beef or even leaner turkey. Instead of breaded fish, try a grilled fillet. By doing this, you can cut down on the fat without sacrificing the protein, which allows you to curb hunger and keep your muscle up while losing weight. Next, find out the 9 spring superfoods you probably haven't tried yet (but should).
Recipe of the Month

by jab120638 on Key Ingredient
Serving Size = 2 (10 small pancakes)
This paleo version of Irish boxty uses turnips instead of potatoes and is just as simple and delicious as the classic potatoey version! With bangers, bacon, and eggs on the side, this is a satisfying Irish breakfast that can serve at least 2 and up to 4 people.
Ingredients
1 pound turnips, peeled (about 3 small)
1/4 cup coconut milk, divided
1/2 tsp sea salt
1/2 tsp pepper
1 egg
2 tablespoon arrowroot flour
4 thick bacon slices or rashers
2 banger sausages
2 eggs
Directions
Cut 1 1/2 turnips into small chunks. In a small saucepan, bring two cups of water up to a boil with the turnips.
While turnips are boiling, shred other 1 1/2 turnips with a cheese grater.
With a dishrag, squeeze out any excess liquid of the shredded turnips.
Once boiled turnips are finished cooking, drain and add 2 tablespoons coconut milk.
Blend until smooth with an immersion blender. Mix in shredded turnips, remaining coconut milk, egg, arrowroot, salt, and pepper.
In a flat-bottomed skillet, crisp 4 slices of bacon over medium heat.
Once the bacon is done, dice two slices and add to boxty batter. Reserve a little of the bacon fat from the skillet.
With the remaining bacon fat, scoop 1/4 cup boxty batter onto a hot skillet. Tip: You don't want the pancakes to be too big or they won't flip.
Cook for 7 to 10 minutes until the patty is brown.
Flip and cook for another 5 to 7 minutes. This should make about 10 small pancakes.
Add more bacon fat as needed and continue the process of frying the pancakes.
Cook bangers for 7 to 10 minutes per side, covered.
In banger fat, fry up eggs to your liking.
Fill your plate with boxty, bangers, bacon, and eggs. Enjoy!

YOU'RE INVITED!
Until someone showed me the missing ingredients I needed to crush my new year's goals that highly successful people have been using for decades, I too was waiting for something to shift in my life to finally unlock my potential. Now, it is my joy and privilege to share those tools and that mindset coupled with unparalleled support in my upcoming courses. All it takes to make your dreams within reach is one easy sign-up for the course below that best defines you in 2021.
✅ I want to up my game with personal instruction from Debbie O'Connell!
✅ This is MY Year! My Winning Streak Starts Here!
Comes with a 30-Day Money-Back Guarantee!

Click here to view all of our upcoming courses to see which offering is right for you!
Applying NLP techniques that elite athletes and successful businessmen from all over the world use!
We will fight through excuses, treat pain points, find solutions, and get results together!
Sign up NOW!
-Personal March Challenge –
What steps will you take to spring clean your lifestyle and follow your dreams?
Golf Positive! and Live Positive!
Debbie