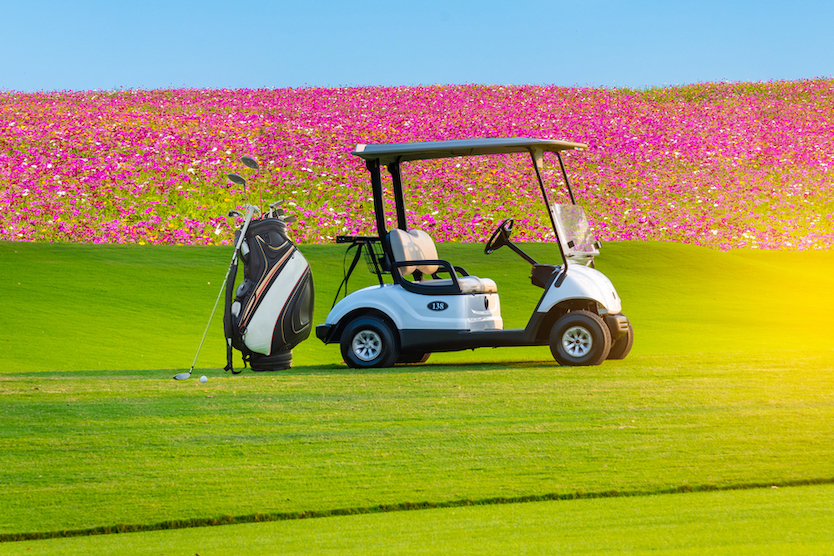 Golf Positive! Newsletter – May 2022 Edition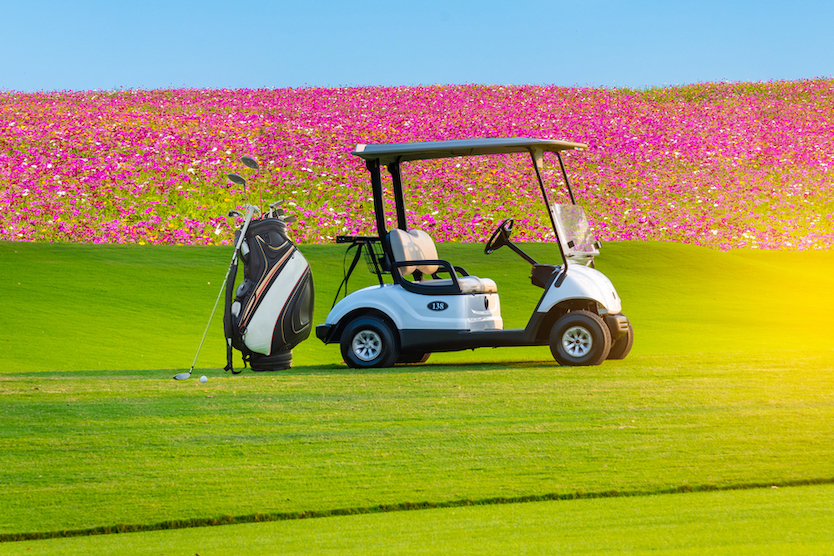 If you're like me, springtime on the golf course brings an added energy boost and excitement to the game. Even after a frustrating hole, it's hard not to smile in the warm sunshine when surrounded by colorful flowers and freshly cut fairways. Then, when you connect with the ball in a smooth and consistent manner that results in a lower score and more confidence amidst all the birds chirping and springtime colors, you find that pure inner joy that makes this challenging sport a fan favorite for people of all ages.
Want to know the secret to unlocking that joyful experience without having to pay hundreds of dollars for golf lessons with a pro? Throughout the year, I share special deals on my champion mindset courses with newsletter recipients. Such offerings include affordable comprehensive solutions that have an immediate impact on your golf game like my Keys to a Champion Mindset 2.0 as well as those that contain free tips and strategies to help you get started working towards your goals.
One of those free resources that was designed to give you more joy this spring is my 5-Day Challenge. This course offers short and engaging tweaks to your mindset each day to help you reduce stress while building consistency and lowering your score. Best of all, you won't have to wait until this course begins as it's a self-paced webinar you can watch anytime and from anywhere. In fact, I just went through this course this past week on Facebook with many of you in a special live event series where participants were reporting seeing an improvement after just one day. Imagine…a better score without paying a single cent!
Looking for more free and affordable ways to improve your game? Be sure to check each month's upcoming events in the newsletter, tune into my Golf's Monthly Masterclass show on Facebook, and catch more of my latest happenings and offerings on Facebook, Instagram, and LinkedIn.
Upcoming Courses & Events
Registration is Open for This Popular All-Inclusive Solution!
(June 4th through June 8th)
Watch My New Live Interview Series! It's Free!
(Join us June 8th at 8:00 PM ET on Facebook)
*This Event is SOLD OUT!
(Join our waitlist.)
In This Issue
Tee Up for Success
Mindset
New! CardioGolf™ Tip
Fitness
Nutrition
Recipe of the Month
NEW! – Debbie's Golf Course Spotlight
You're Invited!
TEE UP FOR SUCCESS

Registration is Open!
(June 4th – 8th at 10:00 AM ET)
Prepare to lower your golf score before you even leave the house! Back by popular demand, my groundbreaking Keys to a Champion Mindset 2.0 is coming this June.
But, don't wait to sign up for this affordable way to make an immediate impact on both your score and your confidence. Spaces will fill up fast as this course has something for everyone, even those who have taken Keys to a Champion Mindset in the past.
Plus, there will be a special VIP bonus option you won't want to miss! Save the date and register for your spot today.
Watch My New Live Interview Series! It's Free!
(The 1st Wednesday of Each Month at 8:00 PM ET)
This new in 2022 live interview series features women who are shaking up the golf world with unbelievable professional achievements, groundbreaking concepts, and expansive community outreach efforts.
Past Guests:
⛳️ Kelley Brooke
⛳️ Shirley Spork
⛳️ Nancy Lopez
⛳️ Patty Sheehan
⛳️ Annika Sörenstam – Missed it? You can still catch her great tips in this exclusive interview for a short time by visiting my Golf Positive Facebook page.
June's Special Guest:
⛳️ Kathy Whitworth – Kathy is a member of the World Golf Hall of Fame for winning 88 LPGA tour tournaments!
Grab your friends and join me as I meet with these extraordinary women live on the first Wednesday of each month at 8:00 PM ET – only on my Golf Positive! Facebook page.
This Event is SOLD OUT!
Missed your chance to secure a reservation? Click here to join the waitlist.
MINDSET

Making Each Step Count for Better Golf This Spring!
Steps to Improve Your Health
One of the easiest ways to improve your enjoyment of golf, and life in general for that matter, is to take more steps each day. While it may be convenient to drive a cart, it is important to get in those extra steps where you can. A picturesque golf course is an ideal location to begin hitting that 10,000-step goal or coming as close as you can. Such action will have a positive effect on your health and studies show exercise is a mood and mindset-lifter, all of which are essential components for playing better golf.
Steps to Improve Your Confidence
Another benefit of skipping the cart when playing golf is the boost your confidence will receive as you build muscle, burn calories, and simply feel better. This is because your confidence is tied to your performance in golf as well as how you look and feel. Since your level of fitness impacts all of these areas and more, your budding confidence will begin to shine through with each new golfing adventure.
Steps to Improve Your Score
Did you know your ability to focus, your energy levels, and your memory retention for recent instruction is tied to your overall health and confidence? As a result, if these areas are moving in the right direction, you can expect your golf score will soon follow. It just goes to show you how making one tweak in your daily routine can create a ripple of positive change in your game and in your life.
For more tips and unique innovative solutions that can have an immediate impact on your score and your confidence, mark your calendar for my next Keys to a Champion Mindset 2.0 program coming this June. It's going to be epic!
ARTICLE OF THE MONTH
Have you ever wondered what successful people do differently that helps them exceed most people's goals and expectations? Here are 6 habits that have been reported as instrumental in shaping the right mindset for a more fulfilling life.
1. Spend Some Time Being Mindful & Thankful

Instead of starting the day by dragging out of bed to take a shower while dreading the work commute, successful people often try to wake up on a positive note with an attitude of gratitude. After all, when you think about it, work, school, sports, and even exercising at the gym are all privileges – not punishment. Plus, each day's activities bring fresh opportunities to explore, new contacts to greet who may be able to help pass that business idea along to the right people, and rewards like a paycheck, good grades, better health, and/or a larger network of friends.
NEW! CARDIOGOLF TIP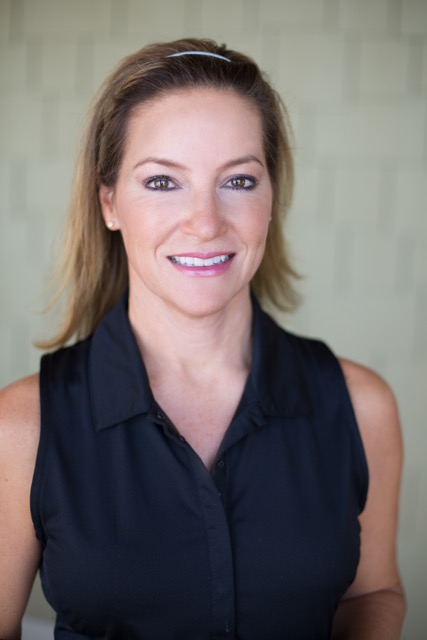 Have you heard about the new online fitness resource specifically designed for the golfing community?
It's called CardioGolf™ and the founder, Karen Palacios-Jansen, a Master LPGA Professional and NASM Certified Personal Trainer, saw a great need for exercises, programs, and support that would help enhance the way golfers perform and feel when playing by:
🏌🏼‍♀️ Building the right muscles for more power
🏌🏼‍♀️ Increasing flexibility in all the right areas to reduce the risk of injury
🏌🏼‍♀️ Improve balance for a steady stance, backstroke, & follow-through
CardioGolf™ pairs perfectly with your Golf Positive! mindset as it is tailor-made for golf and beneficial for all areas of life!
In fact, we value Karen and her CardioGolf™ techniques so much that we invited her to be a part of our latest Revolutionary system – our cutting-edge program that is making more of an impact on golf scores than players have ever experienced with any other instruction available on the market.
Check out our pick for the CardioGolf™ Tip of the Month:
THE CARDIOGOLF FIRE WALK EXERCISE
FITNESS
Posted on  healthline by Jane Chertoff
Walking lunges are a variation on the static lunge exercise. Instead of standing back upright after performing a lunge on one leg, as you would in a static bodyweight lunge, you "walk" forward by lunging out with the other leg. The movement continues for a set number of reps.
Walking lunges strengthen the leg muscles as well as the core, hips, and glutes. You can also make walking lunges more challenging by adding weights or doing a walking lunge with a torso twist.
Read on to learn more about the benefits of walking lunges and how to incorporate them into your fitness routine.
How to do a walking lunge
Stand up straight with your feet shoulder-width apart. Your hands can stay by the side of your body or on your hips.
Step forward with your right leg, putting the weight into your heel.
Bend the right knee, lowering down so that it's parallel to the floor in a lunge position. Pause for a beat.
Without moving the right leg, move your left foot forward, repeating the same movement on the left leg. Pause as your left leg is parallel to the floor in a lunge position.
Repeat this movement, "walking" forward as you lunge, alternating legs.
Do 10 to 12 reps on each leg. Perform 2 to 3 sets.
VARIATIONS TO TRY
1) Walking lunge with torso twist
Equipment needed: Medicine ball or one free weight
Stand up straight with your feet hip-width apart. Engage your abs and hold a weight or medicine ball in front of your midsection with both hands, elbows bent at 90 degrees.
Step forward with your right leg putting your weight into your heel.
As your right foot strikes the floor and stabilizes, bend the right knee, lowering down so that your knee is parallel to the floor in a lunge position. Pause.
When stable in your lunge position, twist your upper body to the right, holding the weight with both hands. The movement should come from your torso.
Twist back to center and start to lunge forward with your left leg. Repeat the same movement on the left leg, "walking" forward as you lunge and twisting to the left.
Perform 10 to 12 reps on each side.
2) Walking lunge with weights
Equipment needed: two dumbbells
Stand up straight with your shoulders back. Hold one dumbbell in each hand and keep your arms at your sides, keeping your torso upright.
Keep your arms relaxed at your sides throughout the whole movement. Step forward with your right leg, putting your weight into your heel.
As your right foot strikes the floor and stabilizes, bend the right knee, lowering down parallel to the floor into a lunge position.
Without moving the right leg, move your left foot forward, repeating the same movement on the left leg. Pause as your left leg is parallel to the floor in a lunge position.
Repeat this movement, "walking" forward as you lunge, alternating legs.
Do 10 to 12 reps on each leg. Perform 2 to 3 sets.
Safety tips
Walking lunges require more balance and coordination than static lunges. One of the biggest risks is injuring yourself from falling due to a loss of balance. Incorrect form may also increase your risk for pulling a muscle.
Walking lunges are generally considered safe for most people. If you're a beginner, you may want to start with a static lunge until you have the correct form. It's important to have good form when doing walking lunges, which can help prevent injuries.
Follow these tips to stay safe:
Keep your body upright through the movement. Try to avoid leaning forward too much.
Keep your core engaged throughout the entire lunge.
Don't overextend your leg when you lunge forward, which can cause your back to arch.
Try to step out enough so your body is comfortable vertically, and your torso and hips are straight down. Not stepping out far enough is also unsafe for your knees and can lead to injuries.
If you're new to exercise, it can be helpful to work with a trainer, or a friend or family member familiar with walking lunges. They can help make sure your form is correct and provide tips to help you get the most from this move.
What are the benefits?
Walking lunges can help strengthen the lower body. They can also help stretch out the hamstring and glutes.
Incorporate both static and walking lunges in your routine for best results.
What muscles are worked?
Walking lunges work the following muscles:
quadriceps
glutes
hamstrings
calves
abdominals
hips
Other benefits of walking lunges
1) Increase range of motion
Walking lunges can help increase your range of motion by helping to increase flexibility, and loosen up your hips and hamstrings. This can help improve posture and balance, which can be beneficial to athletes, casual exercisers, and fitness novices alike.
2) Enhanced functionality
Walking lunges are a functional exercise. They mimic movements you do every day like standing up, sitting, and stepping forward to pick something up off the floor. Practicing walking lunges regularly can help make these everyday movements easier in real life.
Adding walking lunges to your routine
If you're looking to improve your physical fitness level and strengthen your legs, try adding walking lunges to your weekly exercise routine 2 to 3 times a week.
If you're new to fitness, you can start by doing 10 to 12 walking lunges at a time. If your goal is to lose weight or tone your body, try other lunge variations, too, such as jumping lunges or lunges with a bicep curl.
Additionally, try cardio or high-intensity interval training 2 to 3 times per week, alternating days with strength training, like lunges, on the other days.
If you aren't sure how to set up an exercise routine, consider working with a certified personal trainer who can make a schedule for you to follow, or look for a routine online.
The takeaway
Walking lunges are an excellent functional exercise for strengthening the lower body. Add them to your workout routine a few times a week to strengthen your legs, hips, glutes, abs, and more.
If you're new to exercise, practice performing a static lunge first. Once you have the movement down, you can try walking lunges. Work with a certified personal trainer if you aren't sure you are doing the movement correctly.
NUTRITION
Posted on EatThis by Kiersten Hickman
As the weather gets warmer and the days grow longer, going for a walk in the morning seems like the ideal way to start the day. And while going for a walk may not seem like it's doing much for your body, consistently taking a walk can actually help you to lose weight. Walking is considered a workout like any other, which means properly fueling your body before going for a long walk is crucial. So what would be considered the best food to eat before going for a walk?
We asked a registered dietitian to share with us the best food to eat before a walk. And while this particular type of food is good to have before a walk, it's also good before any other type of workout.
"A healthy pre-workout snack can give you sustained energy so that you can maximize your workout and get the best results," says Lisa R Young, PhD, RDN, author of the book Finally Full, Finally Slim. "Some healthy carbs will give you energy and healthy fat or protein will help keep your blood sugar steady while exercising."
Not sure what types of snacks this could include? Young shares a few of the best workout snack combos you can try before going for a walk in the morning, afternoon, or even at dusk during a sunset stroll.
"I love whole grain crackers or rice cakes with one tablespoon of peanut butter," says Young, bringing in carbohydrates from the crackers and healthy fats from the peanut butter.
If you're looking for something portable, Young also recommends having an apple or pear with a handful of almonds.
If you have a little time at home before going on your long walk. Young also recommends enjoying a smoothie. "You can whip up a smoothie with berries, greens, Greek yogurt, and flaxseeds for a satisfying snack. For added flavor, add in peanut butter powder."
Even if none of these snack combos appeal to you, Young still recommends combining a healthy carb (like a complex carb full of fiber) and a healthy fat or protein to keep your body energized and satisfied during your long walk ahead.
RECIPE OF THE MONTH
Posted on Modern Honey by Melissa Stadler
(Keto, Gluten-Free, Sugar-Free, Paleo, Vegan, Whole Foods)
The best superfood healthy smoothie recipes. 6 Healthy Smoothie Recipes that will give you a boost of energy!
Prep Time: 5 minutes
Cook Time: 0 minutes
Total Time:15 minutes
Course: Anytime
Servings: 4
Babe Ruth Strawberry Pineapple Banana Smoothie
1 cup Strawberries
½ cup Pineapple
1 Banana
2 cups Orange Juice
½ cup Greek Yogurt
1 cup Spinach optional
1 Tablespoon Chia or Flaxseeds – optional
Ice
Sweet Cherry Almond Smoothie:
1 ½ cups Cherries frozen
1 cup Almond Milk
1 scoop Protein Powder
1 Banana
Ice
Optional: top with unsweetened coconut flakes + almond butter
Lovely Greens Smoothie
1 cup Pineapple
2 cups Spinach
½ cup Grapes
1 ½ cup Orange Juice
1 Banana
Ice
Chocolate Powerhouse Smoothie
1 cup Coconut Milk
1 scoop Chocolate Protein Powder
½ cup Blueberries
1 cup Spinach
1 Banana
1 Tablespoon Almond Butter
Ice
Youthful Glow Green Smoothie
2 Handfuls of approximately 2 cups Kale or Power Greens Mix
2 Handfuls of approximately 2 cups Baby Spinach
2 cups Pure Apple Juice
½ Cucumber
½ Lemon squeezed (for extra benefits, use the juice from an entire lemon)
1 Banana
Ice
Optional: 1 teaspoon Fresh Ginger grated
Peachy Mango Smoothie
1 cup Peaches
1 cup Mangoes
1 Banana
1 cup Orange Juice
¼ teaspoon Turmeric
¼ teaspoon Ginger
INSTRUCTIONS
Add ingredients into a blender and blend until smooth and creamy.
Add ice depending on temperature preference.
NOTES
Frozen bananas work best in smoothies. Peel, slice in half, and place in a large Ziploc bag in the freezer overnight.
Add more spinach and kale to increase nutritional benefits.
NUTRITION
Calories: 129kcal  Carbohydrates: 26g  Protein: 4g  Fat: 1g  Cholesterol: 1mg  Sodium: 17mg  Potassium: 522mg  Fiber: 2g  Sugar: 18g  Vitamin A: 970IU  Vitamin C: 97.7mg  Calcium: 61mg  Iron: 0.8mg
DEBBIE'S GOLF COURSE SPOTLIGHT
Being on this course is magical as you have the warmth of the sunshine on your body as you view the spectacular snowcapped mountains surrounding you. The views of the lake are serene providing a calming influence over your golf game.
There is also an extra bit of excitement here as you can imagine the superstars who have walked on these greens like John Elway and Charles Barkley when they played in the American Century Championship celebrity tournament that boasts 80 notable stars from both the entertainment and sports industries each year.
Helpful Tip: Don't forget to check out the exciting activities nearby. If you like to test your luck at the tables, there are casinos in the area. There are also live shows you won't want to miss!.
Speaking of not missing out, be sure to enjoy the view of the golf course and the gorgeous Lake Tahoe area from a hot air balloon ride or while hitting the trails on horseback. On my vacation in Lake Tahoe, I was in awe and excited as we glided over the lake and soared nearly as high as the mountain tops in our hot air balloon ride. I also had blast on the M.S. Dixie II Paddle Wheeler Dinner Cruise with music and dancing – you know how much I love to dance!
Then, the exhilaration of rafting down the rapids gets your adrenaline going as my heart was racing and my legs were squeezing tightly to hold on almost the whole way. I had one goal – stay in the raft! Our guide was thankfully very friendly, knowledgeable, experienced, and calm. This is a "must-do" for anyone visiting the area! It's the perfect pairing activity after a thrilling round of 18.

YOU'RE INVITED!
Until someone showed me the missing ingredients I needed to achieve my goals that highly successful people have been using for decades, I too was waiting for something to shift in my life to finally unlock my potential. Now, it is my joy and privilege to offer those tools and that mindset coupled with unparalleled support in my upcoming courses to you. All it takes to realize your dreams is to start with one easy sign-up for the courses and events that best define you in 2022.
✅ Save the Date!
Get ready to boost your confidence and lower your score this June!

✅ The 1st Wednesday of Each Month at 8:00 PM ET!
Tune into my live interviews on my Golf Positive Facebook page featuring women making a serious impact on the golfing community!

✅ SOLD OUT!
Visit our Solheim Cup page to join our waitlist.

Click here to view all of our upcoming courses and events to see which offering is right for you!
Learn NLP techniques that elite athletes and successful business professionals from all over the world use!
We will fight through excuses, treat pain points, find solutions, and get results together!
Sign up NOW!
-Personal May Challenge –
This month is the perfect time of year to begin stretching your legs more on and off the golf course to build muscle, stamina, confidence, and focus. Therefore, this month's challenge is to take the 10,000-step challenge each day and be sure to note the mental and emotional impact this effort has on your golf game. Enjoy!
Golf Positive! and Live Positive!
Debbie
ve