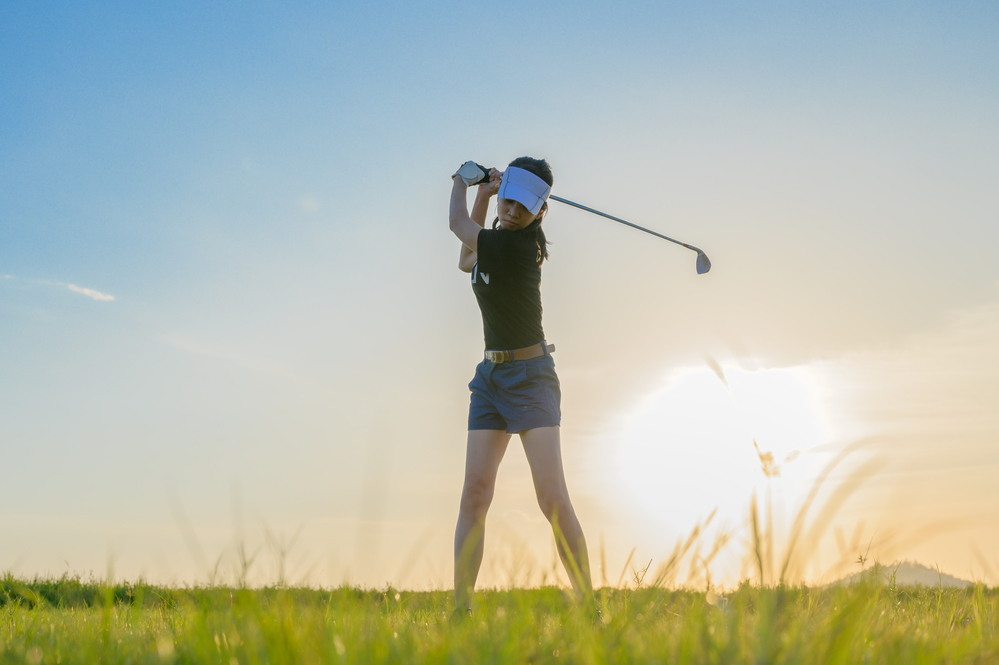 Golf Positive! Newsletter – August 2022 Edition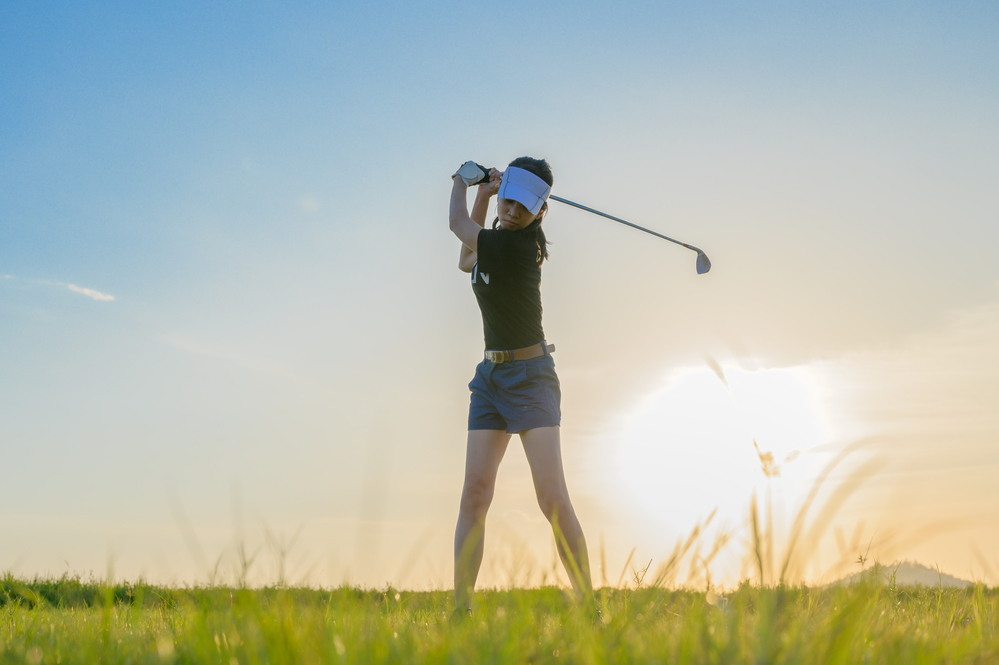 Whether you are a parent or student-athlete, the time to focus on improving your golf game does not have to end just because back-to-school schedules are limiting your daylight playing hours. August is the time of year when school schedules take precedent and golfers begin adjusting once again to sunrise and sunset action on the course. The good news is my tips and techniques can help lower your score even while at home so that when you arrive on the golf course before, during, or after school and work hours, you are ready to achieve great things and feel amazing doing it!
Don't let any schedule keep you from the best game of your life! Register for my most innovative and informative Keys to a Champion Mindset 2.0 yet. This course is going to give you the energy and confidence boost you need coupled with effective mindset skills you can apply to your golf game anytime anywhere. Best of all, you'll be able to enjoy immediate results! Sign up today, and be sure to follow me on  Facebook, Instagram, and LinkedIn for more tips and groundbreaking strategies that can help you make this school year your best yet on or off the golf course!
Upcoming Courses & Events
Everyone's favorite course is 90% off!
Download or Order Today on Amazon!
Start Now! It's FREE!
Watch My New Live Interview Series! It's Free!
(Join us September 7th at 8:00 PM ET on Facebook)
*This Event is SOLD OUT!
(Join our waitlist.)
In This Issue
Tee Up for Success
Mindset
New! CardioGolf™ Tip
Fitness
Nutrition
Recipe of the Month
NEW! – Debbie's Golf Course Spotlight
You're Invited!
TEE UP FOR SUCCESS

Supercharge Your Confidence & Lower Your Score in Just 5 Days!
(Spaces are limited. Register today!)
Think your days of lowering your score are over? Perhaps you think improving your game is simply out of reach. Get ready to practice being humble when your performance improvement makes you the talk of the club with this 5-day course that helps you get out of your own way and apply a positive and effective methodology to your game. Plus, these are life skills that transfer to any activity, relationship, or career.
Did I mention the 90% savings? I want this course to be available to everyone. So, for a limited time, you can take this course for 90% off! You won't find a golf instruction package like this anywhere. Sign up today and tell your friends while there is still space available!
The perfect addition to any summer reading list!
Available in a free download on my website or in paperback form on Amazon, this book provides the basics for anyone looking to enjoy golf, or any area of life for that matter, more and stress less! It's a great way to kick off your mental and physical fitness efforts this summer while lowering your score.
This Course is FREE! What are you waiting for? Start Today!
Want to make easy changes in your golf game that impacts how you feel and play? This free course can help you begin that journey today! Simply register and grab your friends and family for some fun and engaging strategies you can apply over the next 5 days and enjoy the many rewards.
Watch My New Live Interview Series! It's Free!
(Wednesday, August 10th at 8:00 PM ET)
This new in 2022 live interview series features women who are shaking up the golf world with unbelievable professional achievements, groundbreaking concepts, and expansive community outreach efforts.
Past Guests:
⛳️ Kelley Brooke
⛳️ Shirley Spork
⛳️ Nancy Lopez
⛳️ Patty Sheehan
⛳️ Annika Sörenstam
⛳️ Kathy Whitworth
⛳️ Sandra Palmer
⛳️ Gina Kim
Missed one? You can still catch these phenomenal women as they answer some of our followers' top questions by visiting and following the Golf Positive! Facebook page.
Join me as I meet with the next extraordinary woman live on September 7th at 8:00 PM ET – only on my Golf Positive! Facebook page.
This Event is SOLD OUT!
Missed your chance to secure a reservation? Click here to join the waitlist.
MINDSET

Fall Into Your Favorite Golf Routine Yet Without Being On the Golf Course!
Less Time on the Course During Busy Days Can Mean a Lower Score!
Over the lazy days of summer, it was probably easier to wake up, stretch, get in a good workout, go to work, and hit the course without as many thoughts about school schedules and the kids' activities. When the back-to-school mayhem threatens to interrupt your playing time or you have a busy week, rise to the challenge by thinking of this new restriction as a chance to focus on your biggest game asset – your mindset!
Golf is mentally challenging sport. If you are playing it with physical skill only, you are not coming anywhere close to your potential! By practicing the tips and techniques my team and I teach in our course offerings throughout the year, you will be amazed at how your game will be impacted even before picking up a club.
Practice at Home on Days You Don't Have Time for a Round
Pass the time waiting in the carpool line at school or in between errands by tuning into my popular Keys to a Champion Mindset 2.o course online, taking my free 5-day challenge anytime, or catch up on my free golf tips you can practice anywhere on the Golf Positive Facebook page. This is your time to use for improving your score and your confidence with a healthier mindset – take advantage of it!
Remember, Managing Your Self-Talk is Part of the Game
Have an off-week on the course? My mindset tips and strategies will help you redirect those negative thoughts and develop a positive experience with applicable lessons for future games without skipping a beat. Imagine feeling uplifted and looking forward to the next round even after a difficult hole that would leave most people feeling defeated. All it takes is the right mindset to stop the negative self-talk and start improving your game while having fun with others.
Ready to Experience a Healthier & More Fun Golf Mindset That Gets Results?
Sign up for September's Keys to a Champion Mindset 2.0 that will have you playing your best before your next round of golf. Then, take my 5-day Challenge for more practice in those quiet moments, and follow me on Facebook to watch my exclusive interviews with some of the most notable women in golf and hear about some of my favorite golf tips, goal-crushing strategies, and more. You don't have to give up working on your golf game just because time is tight. Time off the course is the perfect opportunity to improve your mindset and get results the next time you play!
ARTICLE OF THE MONTH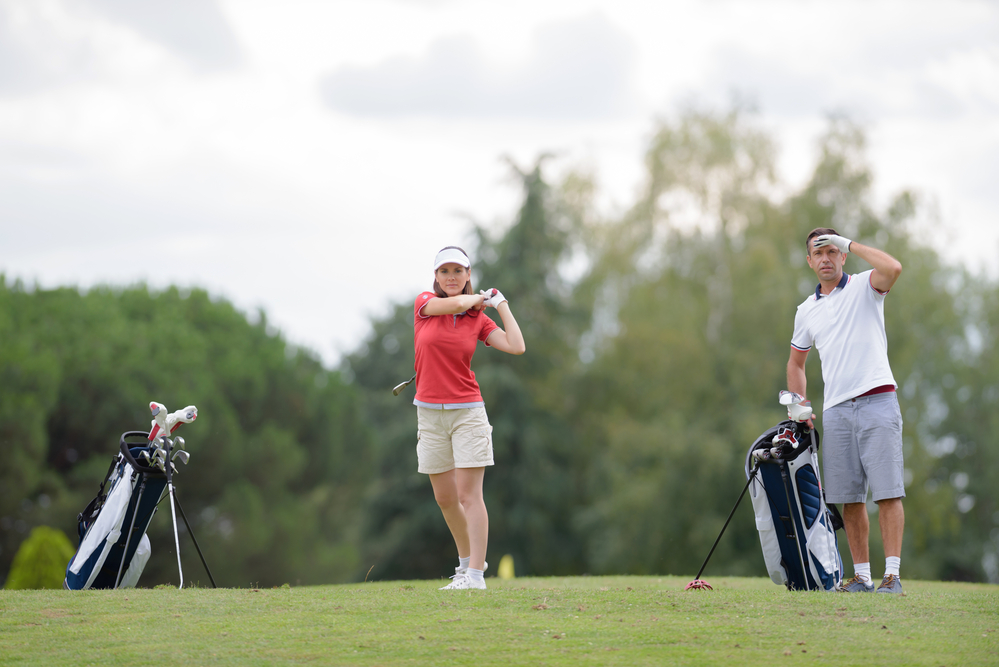 How would you like a consistently lower golf score? How about feeling more confident when you approach the ball? If you are tired of not making progress on the golf course, I have exciting news for you! This year, I'm introducing a brand new comprehensive 5-day golf mindset program for less than the price of taking a single lesson with a pro instructor.
CARDIOGOLF TIP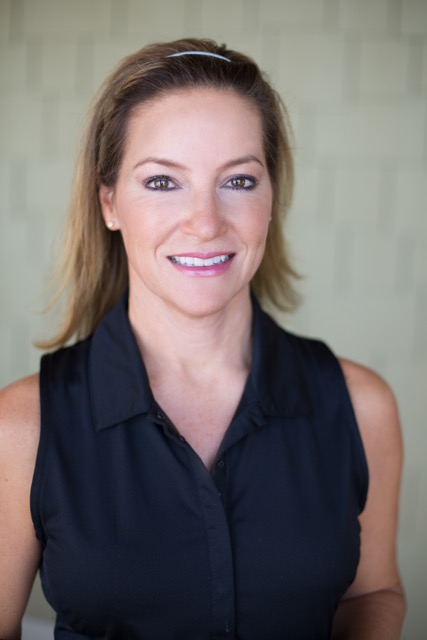 Have you heard about the new online fitness resource specifically designed for the golfing community?
It's called CardioGolf™ and the founder, Karen Palacios-Jansen, a Master LPGA Professional and NASM Certified Personal Trainer, saw a great need for exercises, programs, and support that would help enhance the way golfers perform and feel when playing by:
🏌🏼‍♀️ Building the right muscles for more power
🏌🏼‍♀️ Increasing flexibility in all the right areas to reduce the risk of injury
🏌🏼‍♀️ Improve balance for a steady stance, backstroke, & follow-through
CardioGolf™ pairs perfectly with your Golf Positive! mindset as it is tailor-made for golf and beneficial for all areas of life!
In fact, we value Karen and her CardioGolf™ techniques so much that we invited her to be a part of our latest Revolutionary system – our cutting-edge program that is making more of an impact on golf scores than players have ever experienced with any other instruction available on the market.
Check out our pick for the CardioGolf™ Tip of the Month:
FITNESS

Posted on  Exercise by Karen Palacios-Jansen
A few great things about this routine:
It will loosen your muscles and joints
It is specific for golf
If you do it every day, you could increase your flexibility.
It starts by warming up the lower body; then moves into the core, which includes back, abs and chest; and finishes with loosening your shoulders, arms, wrists, and hands.
Notes:
If you feel you look silly doing this warm-up on the driving range, then do the routine at home before leaving for your round of golf – as long as you don't have a long drive to the golf course.
If you need help maintaining your balance, try holding on to a club, golf bag or golf cart.
These exercises not only will warm up your muscles in all planes of motion but will also challenge your balance and strengthen your supporting leg.
Hip Swing
This exercise warms up hip flexors. It also prepares hips for a full range of motion and promotes relaxation and fluidity in hips for effortless weight shift.
Balance on one leg.
Raise your opposite knee and swing your leg from the hip joint from front to back.
Repeat for 8 to 10 repetitions.
Do this exercise on the opposite leg.
Inner and Outer Thigh Swing
This swinging motion prepares the thighs, hips, and legs for a more fluid weight shift.
Balance on one leg.
Keep your leg relatively straight and swing your leg laterally in front of your supporting leg in a controlled motion.
Repeat for 8 to 10 repetitions.
Do this exercise on the opposite leg.
Cross Crawl
This exercise will not only raise your heart rate to get the blood pumping to muscles and joints, but it will challenge your balance and coordination as well
Stand holding the club parallel to the ground with your feet shoulder-width apart.
Simply lift your knee up and across to the opposite elbow as you twist at your torso.
Return to start position.
Repeat on the other side.
Do this exercise for 8 to 10 repetitions on both sides of the body.
Squats
This exercise will activate muscles in the core and legs. Golf is a squat sport. You start in a squat position, and you want to maintain that position throughout the backswing, then explode out of the squat at impact to gain power.
Performing squats will strengthen your core and legs.
Using a club or golf bag for support, stand in a shoulder-width stance.
Simply squat toward the ground while trying to keep your feet flat on the ground. Do not squat to a level below parallel with your knees.
Return to the start position.
Do this exercise for 8 to 10 repetitions.
Pivot Drill
This exercise will activate your core muscles, mimicking the golf swing motion. You will be rehearsing the weight shift in your golf swing. It is important to practice the motion you are going to be doing for the day.
Stand in your golf posture with a club behind your shoulders.
Turn as if you were making a backswing. Hold this position for a moment and then turn your body as if you were shifting your weight to hit a ball and follow through.
Return to start position.
Do this exercise for 8 to 10 repetitions.
Arms and Shoulder Stretch
This exercise will help you improve your flexibility in your triceps and shoulders.
Grab the club behind your back, with one elbow pointing up and the one elbow pointing down.
Pull the club in both directions so that you feel a stretch in your triceps and shoulder muscles.
Hold the stretch for 10 to 15 seconds.
Repeat exercise on the opposite side.
Shoulder/Chest Stretch
This exercise will help you increase flexibility in your upper body to prevent restrictions in the backswing and follow-through.
Stand in a shoulder-width stance.
Hold the club out in front of your chest parallel to the ground with palms facing down. Simultaneously push out with the right arm as you pull back with the left arm.
Keep hips stable.
Hold this stretch for 10 to 15 seconds.
Repeat on the opposite side.
Rotator Cuff Stretch
The shoulder joint is very active in the golf swing, which is why it is one of the most commonly injured joints. Do this exercise to prevent golf injuries.
Hold the club in front of your chest, parallel to the ground.
Hold the club with one palm up, the other palm down.
Rotate right arm over the left arm.
Hold this stretch for 10 to 15 seconds.
Return to start position.
Repeat on the opposite side.
Now you are ready to hit a few practice shots! Roll a few putts and head to the first tee. A proper warm-up will have you set and ready to start hitting those fairways right away!
NUTRITION
Posted on SBS by Bonnie Bayley
If there's one thing nutrition enthusiasts love, it's the next silver bullet solution to eating better.
A lot of the time, these 'solutions' turn out to be mostly hype. But in the case of the bento box, it may actually be the real deal.
With numerous varieties of multi-compartment, bento-style lunch boxes available online (see here and here), and increasingly on supermarket shelves, they make regular Tupperware looks downright dull.
But aesthetics aside, packing your lunch in a bento box – or even just applying general bento principles to meals – could genuinely inspire you to eat better.
Lifting the lid on bentos and nutrition
First on the list of the bento box's virtues is portion control.
Aloysa Hourigan, senior nutritionist at Nutrition Australia, says, "It helps you regulate your portion sizes because each compartment in a bento box is not large.
"You might have a small amount of say pasta or rice salad in one section, then you'd have vegetables.
"Then in another compartment some protein like tuna, hardboiled egg, chicken, tofu or beans, you might have fruit in another compartment and possibly a snack item like a muffin or vegetable sticks and hummus."
The multiple compartments mean you're more likely to include a variety of foods, which research shows is correlated with improved dietary quality and nutrient adequacy. Even within food groups, variety matters.
Dietitian and nutritionist Christina Ross explains, "We know that the colour of vegetables roughly correlates to some of the key nutrients they contain, so for example orange and yellow fruit and veg provide beta carotene, whereas dark leafy greens are rich in folate."
Another bento benefit? Compared to a typical sandwich or wrap, having a mini buffet of assorted morsels can quell the urge to keep grazing, post-meal. "It taps into different taste sensations and flavours, so it might feel more satisfying because you've experienced all those things within the meal," says Ross.
It's worth noting that other cultures do this well too – from the Mediterranean mezze platter and Chinese yum cha to Sri Lankan curries with accompanying chutneys, pickles and coconut sambal. The Indian tiffin lunchbox is another example, with its multiple, stacked tins.
Eating with your eyes
In Japanese bento culture, presentation is everything.
A quick google search reveals images of artistically arranged boxes and next level kyara-ben (character bento), in which food is fashioned into cutesy animals, cartoon characters and miniature landscapes. Even an 'everyday' bento (makunouchi bento) in Japan still calls for neat presentation and splashes of colour.
"By making it colourful, it's automatically healthier."
Japanese cooking teacher Yoshiko Takeuchi says, "Japanese food is often brown because we love putting soy sauce on everything, so we force ourselves to add cherry tomatoes and greens to a bento so it looks pretty.
Prettifying a bento box is a smart move, nutritionally. By including a rainbow of colours (ideally via at least three different vegetables, suggests Ross), and experimenting with how they are presented (for instance grating, dicing, spiralising), healthy food instantly becomes more appealing.
The power of food presentation is borne out in research, too.
"We know that in the aged-care population, if people go on texture-modified diets and they are presented well, their intake goes up, which is a clear indication that how food looks makes a difference," says Hourigan.
Other research shows that people rate food as tastier when it's presented with creative flair.
Packing the perfect bento
The typical bento box in Japan is carb-heavy, containing up to two thirds rice, along with perhaps a cherry tomato, steamed broccoli, umeboshi (pickled plum), tamagoyaki (omelette) and perhaps some chicken karaage, says Takeuchi. Ideally, you want to scale back the starch.
"I'd encourage having two parts vegetables, one part carbohydrates and one part protein, then adding a bit of fruit, some good fats like avocado, olives or nuts, and 'extras' to elevate the flavour, such as sauerkraut, dukkha, fetta or tabouli," suggests Ross.
A spot of weekend food prep can be your ally in the bento game.
"You can prepare frittatas and mini quiches ahead, and have them ready to go in your fridge or freezer," suggests Hourigan. Pre-roasted vegetables and hard-boiled eggs, tins of tuna or beans and pre-cooked quinoa or brown rice are also useful.
Another bento essential is to separate wet and dry elements. "Always put the dressing on the side, so you can enjoy fresh, crispy vegetables," says Takeuchi.
She suggests using patty pans as dividers, and experimenting with fun accessories (try Daiso) and vegetable shape cutters.
If you eventually find yourself in kyara-ben zone, don't say we didn't warn you.
RECIPE OF THE MONTH
Posted on Pinch of Yum

Quinoa Sweet Potato Salad! A sheet-pan meal prep salad packed with roasted sweet potatoes, caramelizy onions, crisped chickpeas, fresh rosemary, and toasty maple walnuts.
Prep Time: 15 minutes
Cook Time: 45 minutes
Total Time: 60 minutes
Course: Lunch
INGREDIENTS
Sweet Potato Salad
2 large sweet potatoes, peeled and diced
2 shallots, peeled and roughly chopped
a sprig of rosemary or thyme
a pinch of salt
a swizzle of olive oil
1 14-ounce can chickpeas
1 cup whole walnuts
2 tablespoons maple syrup
Extras
cooked quinoa (for serving, optional)
baby kale (for serving, optional)
dressing of choice
INSTRUCTIONS
1. Preheat the oven to 425 degrees.
2. Arrange the sweet potatoes on a large sheet pan with the shallots and herbs. Toss with olive oil and salt. Roast for 20 minutes.
3. Add chickpeas to the pan. Stir it all up. Roast for another 20 minutes.
4. Toss walnuts with maple syrup and a little more salt. Add mapley walnuts to the pan. Stir it up. Roast for another 5 minutes.
5. Remove the stems of the herbs.
6. Serve roasted mixture with cooked quinoa, baby kale, and dressing of choice. Healthy and delicious!
DEBBIE'S GOLF COURSE SPOTLIGHT
The Cabot Cliffs website promises to transport you to a "world of refined luxury and rugged beauty," and I can say from experience this course will not disappoint! You feel like you are on top of the world emotionally and physically looking down over the steep and stunning cliffs. This picturesque landscape is unlike any other in the world, and it should definitely make your bucket list for golf courses to play!
Helpful Tip: Trust your caddy. There was one particular Par 4 where I hit the ball about 100 yards from the green. My caddy told me to putt the ball. I thought I had heard him wrong at first, but I decided to trust him. I made my stroke. Can you believe my ball ended up not 5 feet from the pin? So, definitely listen to the professionals that know this course inside and out. They are there to help you have a great time and discover something new along the way. This was a wonderful experience I will always cherish.

YOU'RE INVITED!
Until someone showed me the missing ingredients I needed to achieve my goals that highly successful people have been using for decades, I too was waiting for something to shift in my life to finally unlock my potential. Now, it is my joy and privilege to offer those tools and that mindset coupled with unparalleled support in my upcoming courses to you. All it takes to realize your dreams is to start with one easy sign-up for the courses and events that best define you in 2022.
✅ Register for 90% Off Today!
Our most popular course is coming in September and it's 90% off for a limited time!

✅ Order Your Copy
This summer read will help you find or renew the joy in your golf game starting now!

✅ Start Now!
This free course is open to all! Sign up and start making easy positive changes today!

✅ The 1st Wednesday of Each Month at 8:00 PM ET!
Tune into my live interviews on my Golf Positive Facebook page featuring women making a serious impact on the golfing community!

✅ SOLD OUT!
Visit our Solheim Cup page to join our waitlist.

Click here to view all of our upcoming courses and events to see which offering is right for you!
Learn NLP techniques that elite athletes and successful business professionals from all over the world use!
We will fight through excuses, treat pain points, find solutions, and get results together!
Sign up NOW!
-Personal August Challenge –
Carve out at least 20 minutes per day and practice the tips and strategies from my free 5-Day Challenge course at home or while waiting to pick the kids up from school.
Golf Positive! and Live Positive!
Debbie
ve