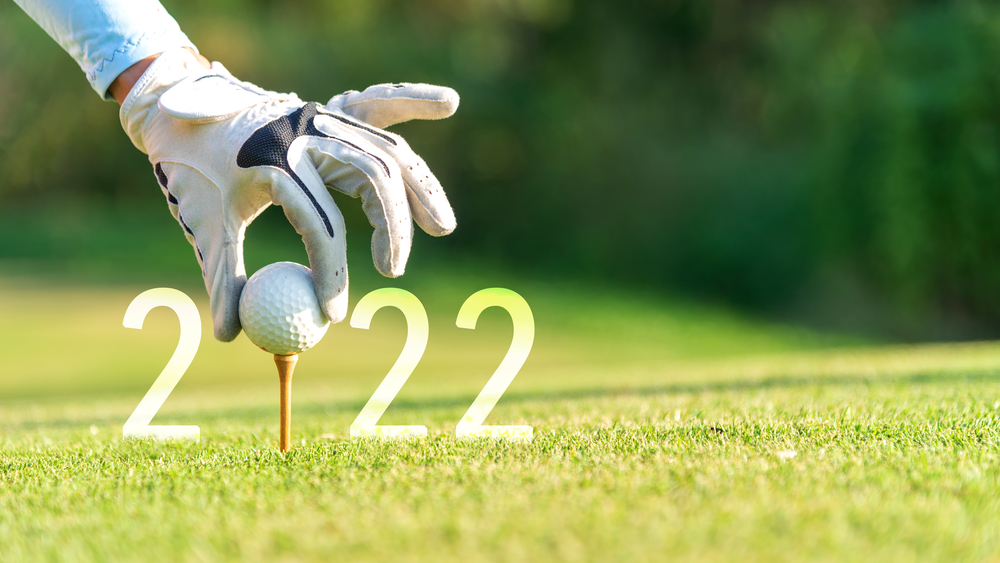 Golf Positive! Newsletter – February 2022 Edition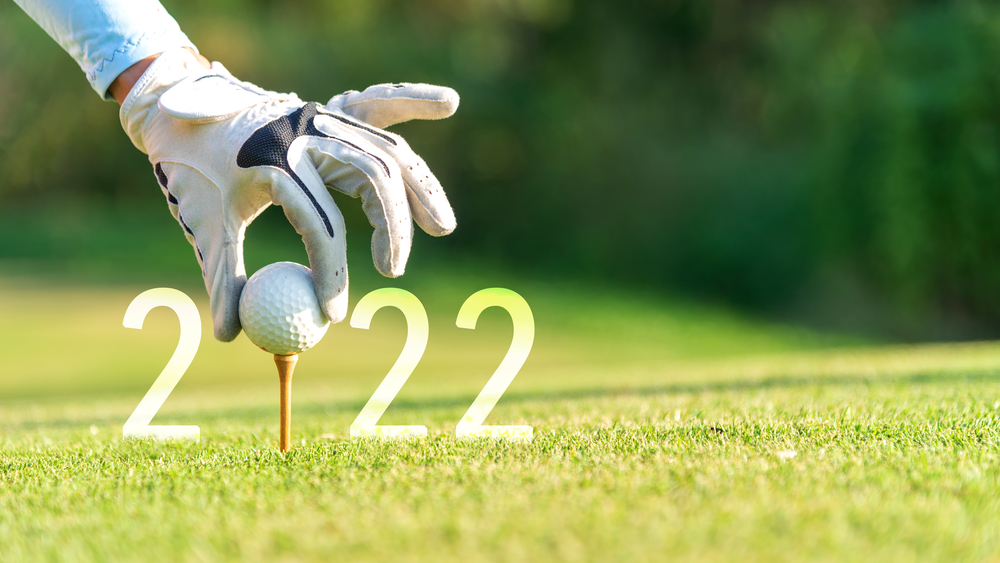 With 2022 in full swing, it's the perfect time to "tee off" any changes you want to take place this year starting this weekend! Take the February challenge to examine your golf game, health, career, and relationships. Is there any area that could use more balance, confidence, or a higher level of skill? Let me show you how to jumpstart that change so you can live life to the fullest and feel amazing doing it!
Sometimes, adding something new or making a change can be a daunting task. But, not this year!
Whether you are feeling stuck in a playing slump, your career has stalled, your fitness goals are collecting dust, or you struggle with the frustrations of not reaching your full potential year after year, check out all of the super fun and powerfully effective ways we are helping you transform your mindset and life's experiences.
My new lineup of fun and engaging webinars, Reels, free tips, and interviews combined with my completely fresh integrative program called "Keys to a Champion Mindset 2.0" that starts this Saturday are easy ways to begin making a positive change you're going to love! Catch all of the latest happenings and offerings on Facebook, Instagram, and LinkedIn to make this year the beginning of something BIG.
Upcoming Courses & Events
*Starts this Saturday, but only 3 spots remain. Register today!*
(February 5th-9th)
Watch My Show "Golf Positive: Game-Changing Mindset" for Free!
(Every Thursday at 7:30 PM EST)
Watch My New Live Interview Series! It's Free!
(The 1st Wednesday of Each Month at 8:00 PM EST)
Registration is Open!
(We are almost full. Hurry to get your deposit and payment in today!)
In This Issue
Tee Up for Success
Mindset
Article of the Month
Fitness
Nutrition
Recipe of the Month
NEW! – Debbie's Golf Course Spotlight
You're Invited!
Tee Up for Success!

Sign up Now Before This Program is Full!
(February 5th-9th)
If you need a jump start to your new year's goals on or off the golf course, Keys to a Champion Mindset 2.0 is for you! We are going to delve deep into the mindset obstacles that have been holding you back while discovering the difference between knowing golf is a mentally challenging game and achieving the ultimate golf mindset. This course will have you looking forward to your next round where you can show off those new mindset skills and enjoy benefits like a consistently lower golf score and more confidence! With only 3 spots left, make sure you sign up today.
Catch My Show for Free on BirdieSpot!
(Every Thursday at 7:30 PM EST)
Get pro tips, strategies, and more that will enable you to begin lowering your score before you pick up that golf club! It's like getting a lesson with yours truly for FREE!
With BirdieSpot, you'll receive unlimited access to shows, videos, and Q&A sessions featuring some of the most notable and award-winning golf instructors in the U.S.A. like me at no cost to you. Is it any wonder this new virtual golfing community is quickly becoming the talk of the PGA and LPGA?
Watch My New Live Interview Series! It's Free!
(The 1st Wednesday of Each Month at 8:00 PM EST)
In case you missed my last couple shows, I've just launched my new live interview series where I ask women who are shaking up the golf world with astounding professional achievements, groundbreaking concepts, and expansive community outreach efforts the questions you want to know. Special guests this year have included Kelly Brooke, founder of BirdieSpot and 2018's LPGA Professional of the Year, and the legendary Shirley Spork, co-founder of the LPGA Tour. These women are leaving a legacy and you can glean from their experiences, tips, and unbelievable journeys by watching "Golf's Monthly Masterpiece" with Debbie O'Connell on the first Wednesday of each month at 8:00 PM EST.
Sign up for the final spots in our Golf Positive 2023 Solheim Cup Extravaganza!
Join me, Debbie O'Connell, as we cheer on the USA team and fight for the Solheim Cup in Spain starting September 18, 2023! Spaces are almost filled, but I'm trying to keep them open a little longer so everyone can enjoy this once-in-a-lifetime opportunity. Don't miss this amazing experience filled with golf, breathtaking scenery, exciting adventures, inspiring connections, and, of course, amazing memories you'll cherish.
But, be warned – this event is almost sold out. Also, as prices are subject to increase. Be sure to place your deposits and get your payments in today to secure your spot!
Psst…for those who are concerned about making plans this far in advance, we strongly suggest travel insurance. There are 3 options on our website for your convenience and peace of mind. So, what are you waiting for? Secure your spot before this experience is sold out and you miss out on all the fun!
MINDSET
Driving 2022 Out of the Tee Box!
What are You Hoping to Achieve This Year?
We oftentimes ask ourselves what we hope to achieve within a lifetime. But, what about this year? Do you have a goal of working out for an extra 20 minutes per day to increase your endurance on the golf course? Perhaps you would like to experience more laughter and fewer frustrations during your rounds. Maybe your goals for the year include hosting more golf events to build work connections or advance your career.
Whatever you are looking to change on or off the golf course, playing golf has shown us the key to success is often as simple as teeing up your goal and hitting it until it lands in the hole. But, what if reaching your goal could require less time and be way more fun?
Finding an Easier and Shorter Strategy for Success
Since change doesn't typically come naturally or easily for most people, alterations to your mindset, strategy, or routine can take a long time on your own. If the trick to staying motivated is to savor small successes along the way but the change is taking too long to notice any real benefits, you have two choices. You can take a break and push your goals off month-to-month while hoping one day you'll have the stamina and drive to make a consistent change or you can find an easier and more frequently rewarding strategy that will help you reach your goals significantly faster.
For those who are ready to take action yet still on the fence about how to make the positive changes stick, I have exciting news! You are the very reason I share my favorite proven golf mindset tips you won't find anywhere else via my Golf Positive! Facebook page, webinars every Thursday night on my weekly "Golf Positive: Game-Changing Mindset" show on BirdieSpot, and, now, my new live interview series called "Golf's Monthly Masterclass" on my Golf Positive! Facebook page where I speak with women who are making positive waves in the golfing industry. Then, if these offerings are not enough to motivate you to crush your 2022 goals, register for my new 5-day ground-breaking program called Keys to a Champion Mindset 2.0. This course is going to transform your golf game and your life, and it's going to start that transition on Day 1!
Sharing Makes You Stronger!
Another helpful way to stay motivated is to tell someone what you are doing differently. By encouraging others to join you in crafting your strategies, working together to better understand how to implement such changes in your life, and holding each other accountable, you are gaining a support system that can help you stay on task and not give up! Thus, be sure to share your goals as well as how you plan to take action with your friends, family members, and co-workers today. Soon, you'll be celebrating your success and, best of all, you'll have company!
Article of the Month

How would you like a consistently lower golf score? How about feeling more confident when you approach the ball? If you are tired of not making progress on the golf course, I have exciting news for you! This year, I'm introducing a brand new comprehensive 5-day golf mindset program for less than the price of taking a single lesson with a pro instructor.
Proven Immediate Results!
Does lowering your score before you pick up a golf club sound too good to be true? In 2021, I offered hundreds of people my popular Keys to a Champion Mindset course that has been revolutionizing the way golfers approach the game by shifting their mindset using a unique combination of scientific data, proven techniques used by elite athletes and top executives, and my own personal experiences and life lessons as an LPGA professional. This course produced rave reviews from participants who saw changes in their golf scores, confidence, and playing consistency from Day 1.
FITNESS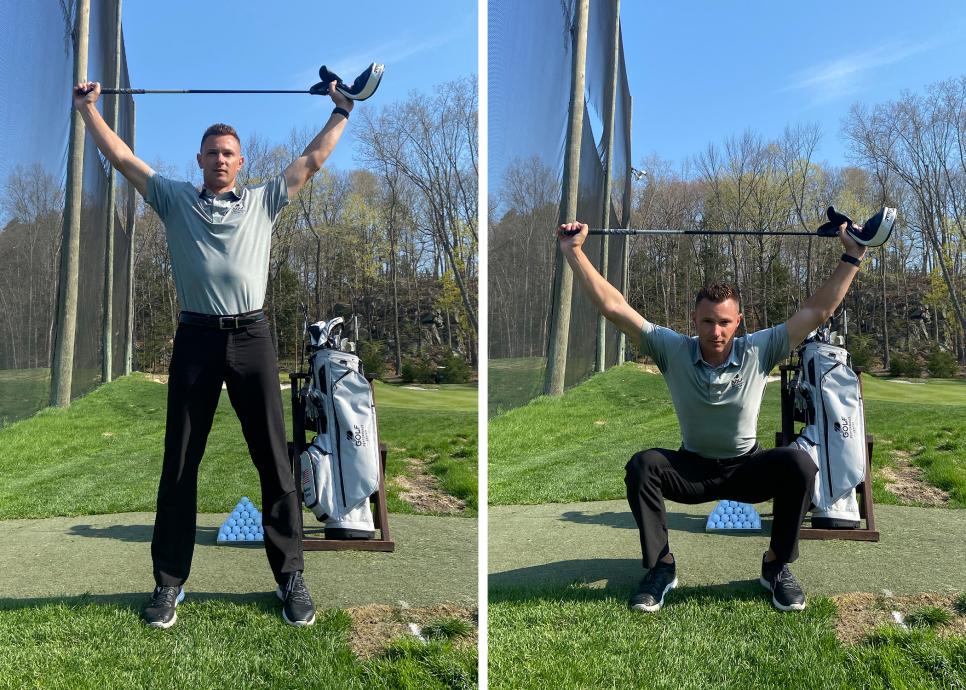 Posted on  GolfDigest by Madeline MacClurg
Cold weather, injuries, or a busy schedule are just a few reasons that you might take a break from golf, and as we all know, getting back onto the horse can be difficult. Those first few range sessions back often lead to sore muscles and sometimes cause you to ingrain bad habits into your swing. The best way to avoid those issues and others like them is to have a plan in place.
We worked with golf-fitness instructor Tyler Campbell and one of Golf Digest's Best Young Teachers Jarut Padung to create a guide for getting back into golf. Whether your time off is seasonal, injury-related or you're just giving golf another try after all these years, we've got you covered. This simple plan will give you the tools to prep your body and head off injuries while also arming you with a practice plan that will help you create better contact and shoot lower scores.
Better performance on the course starts with better preparation off the course. "It's been found that players who performed a deliberate dynamic warm-up prior to playing a competitive round saved an average of 1.5 strokes per round," says Campbell, the head trainer at the Golf Performance Center in Ridgefield, Conn.
How can a warm-up affect your scoring ability, you might ask? According to Campbell, "a proper dynamic warm-up wakes up your nervous system and allows the brain to talk to the body and respond favorably to the demands being asked of it." Think back to the rounds you've played without any warm-up. When you started out, was your chipping inconsistent? Did it take you a while to get a feel for the greens? Was your tempo or speed control off at the beginning of your round?
If you answered yes, that's probably because your nervous system was waking up while you were playing. If shooting lower scores isn't enough for you, Campbell also explains that warming up before a round will get your blood flowing, therefore reducing your risk of injury.
The good news is that anyone can incorporate a dynamic warm-up into their game. All you need is a little space, a golf club, and about three to five minutes. "Use these five exercises before every practice session and round of golf, and you'll come back feeling more confident in your game," Campbell says. Move at your own pace to feel the full benefits of each exercise.
1. Body Weight Squats:
Stand tall with your feet shoulder-width apart, then grab a golf club and hold it overhead, try not to let it drop throughout the exercise. Lower your hips like you're going to sit into a chair, keeping your upper body tall with your arms extended on the way down. "Keep your knees over your laces," Campbell explains, "this will prevent your feet from flaring too much." Now, push off the ground and return to your starting position, being sure that your knees don't buckle in on the way up—complete 10 reps.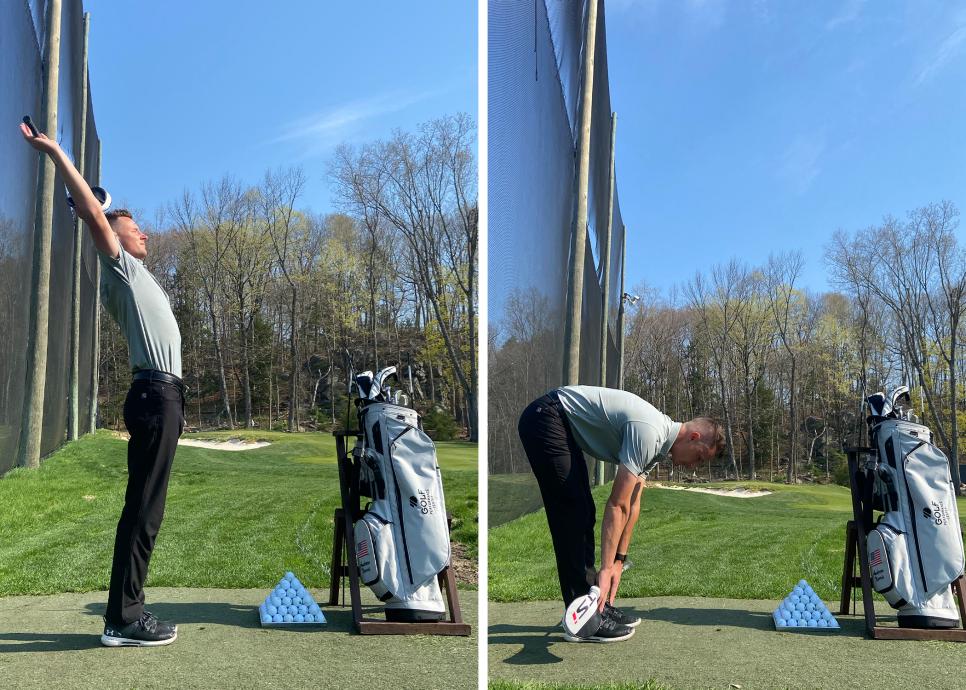 2. Toe Touches:
Start standing, then reach overhead, extending your spine through your mid-back. Campbell says to imagine getting your shoulder blades to clear your heels. Even if you can't do that, it will help you use your mid-back instead of your low-back, which is the goal of this exercise. Then, hinge from your hip and try to touch your toes. "Refrain from rounding your back or tucking your hips, as this is not a proper hip hinge," Campbell explains. Use your breath to get a deeper stretch and exhale on your way down. Perform this move ten times.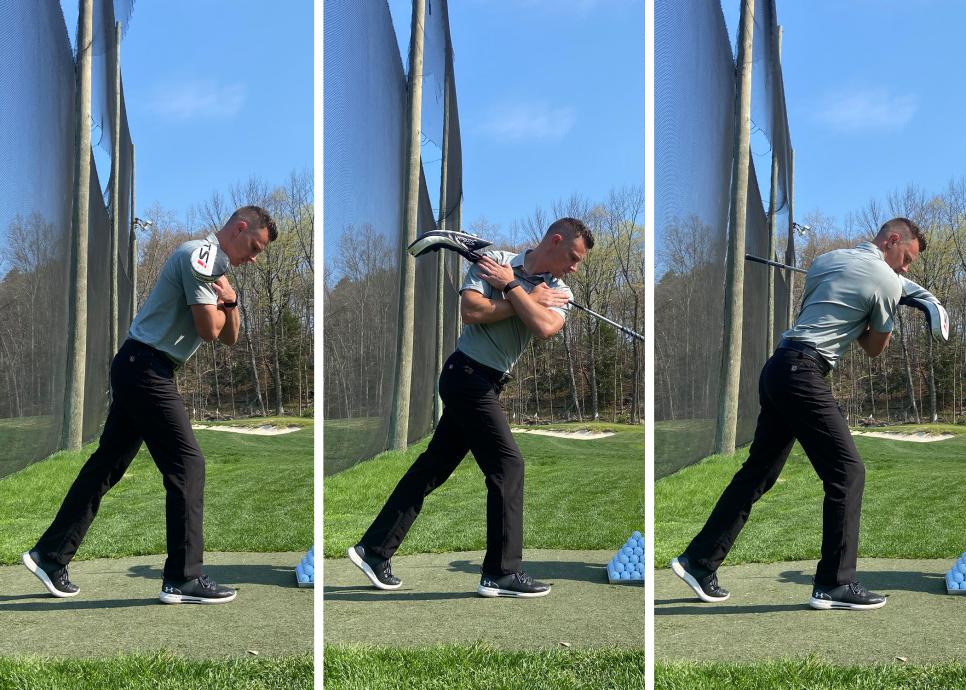 3. Split Stance Rotations:
Get into your golf stance and hold a club across your chest. Step one foot behind you to get into the proper split stance position. Campbell says to keep your lead leg stable while you make controlled torso rotations to the right and left. Complete 10 reps, then switch legs and repeat.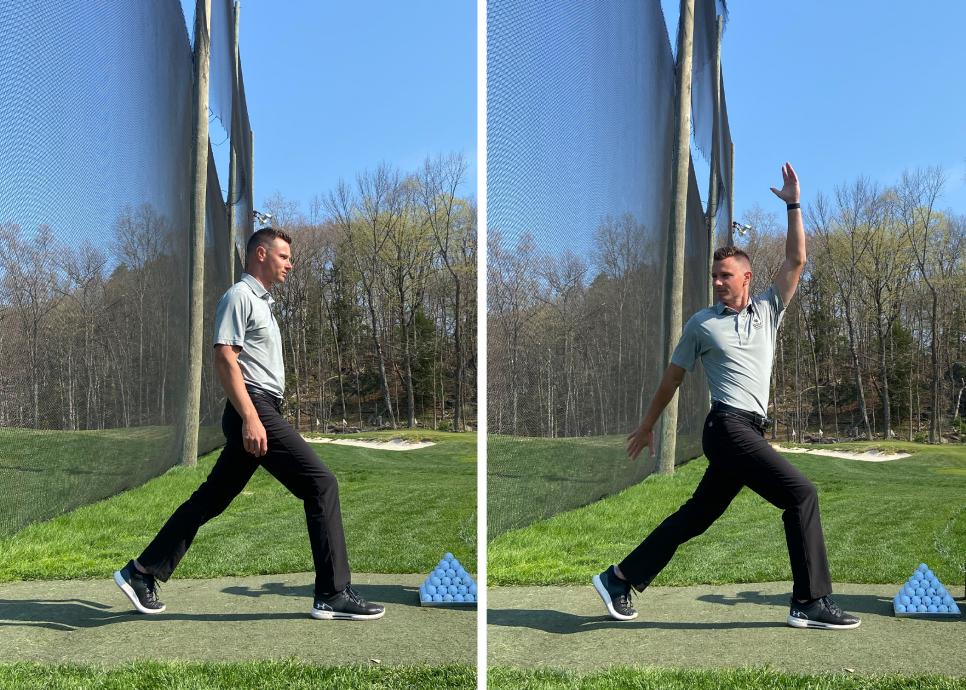 4. Reverse Lunge with Overhead Reach:
Standing tall again, step your right foot back into a reverse lunge."This should be slightly lower than the split stance position you were just in," Campbell explains. Raise your right arm overhead and rotate your torso toward your left leg. "You should start to feel a stretch throughout the front of your right hip, oblique and even up in your abdomen," Campbell says. As you rotate, reach your left hand back like you're trying to touch your right heel. After reaching overhead, return to your start position and repeat. Then switch legs, completing 10 reps on each side.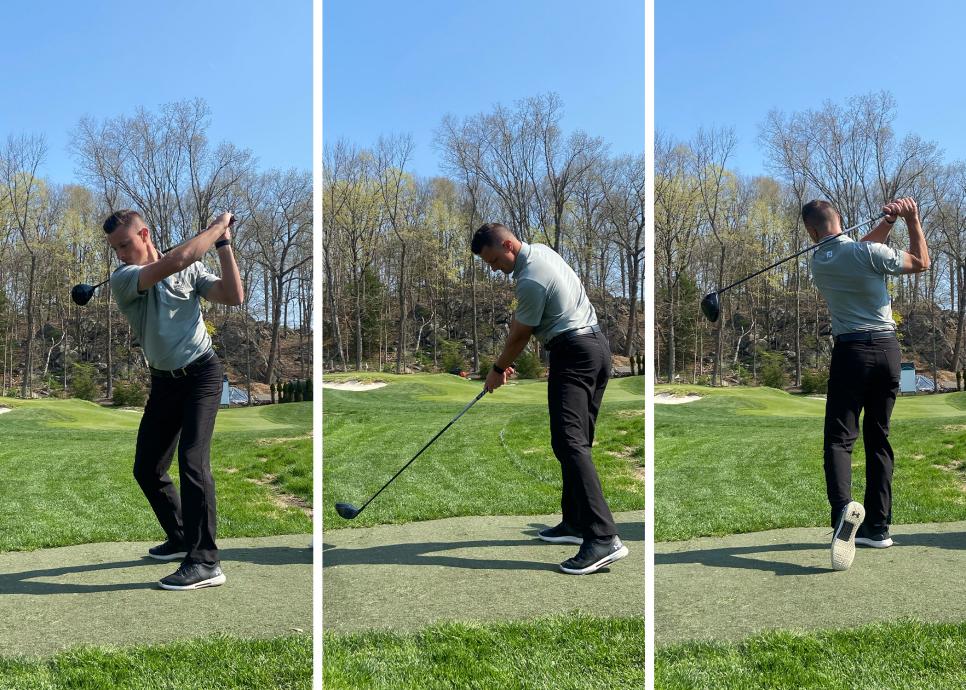 5. Speed Swings:
Grab your driver and get into your golf posture. Without a ball, make 10 swings as fast as you can to the left. Be sure to reset after every repetition. Then switch your grip, and make 10 swings as fast as you can to the right. "This will help you create speed and get your blood pumping before your round," Campbell explains.
Nutrition
Posted on Femina by Huda Moolji
Breakfast is usually deemed as the most important meal of the day, which it most definitely is. Starting your day with a nutritious and healthy breakfast is imperative as it aids in stabilizing your energy levels, keeping your concentration sharp and hunger levels on the down-low.
There are times when people working towards a journey of weight loss, chose to skip their breakfasts entirely. You should NEVER do that, skipping breakfast will actually do the opposite of helping as it will make you hungrier by lunchtime, where you will be more prone to eating a higher quantity. Instead, ditch the carbs in your breakfast and opt for a low-carb, high protein breakfast option.
Drop the high-carb-containing breakfast options like bread, cereals, etc., and alternatively try to build upon a good protein consumption. These meals make up for good healthy eating and will be a great booster for your weight loss journey.
1. Increases Your Metabolism
Metabolism is the name for the process in which your body converts the things you eat and drink into energy. The calories that you consume are converted into energy, which the body uses to carry out its functions. When you have a slow metabolism, it takes longer for these calories to burn out, which can be quite a hindrance when you are trying to lose some weight. According to a study carried out in 2018, it was concluded that people who are on a low-carb diet burn more calories in a day compared to the people who consume high-carb foods.
Tip: On average, a low-carb eater burns 209 more calories per day compared to high-carb eaters.
2. Keep Hunger Levels at Bay
The same 2018 study mentioned earlier that was conducted by the Harvard Medical School found that the levels of the hormones ghrelin and leptin were comparatively lower in low-carb eaters compared to high-carb eaters. Ghrelin is also called the 'hunger hormone' because it stimulates appetite and increases your food intake. Leptin is a hormone that is made by the cells in the small intestine that try to regulate energy by inhibiting hunger. Since both of these hormones increase your hunger, when you eat a low-carb breakfast and keep their levels in check, you tend to eat lesser in your next meals.
Tip: Lesser hunger levels can help you in achieving a calorie-deficit diet, to help you with weight loss.
3. Keeps Your Stomach Feeling Fuller for Longer
It is common knowledge that the higher your protein intake is in a meal, the longer you will feel full and won't be craving to snack on something between your meals. It is a scientifically proven thing, which is why having a meal rich in protein early in the morning can really smoothen up your day.
When you compare low-carb and low-fat diets, the low-carb diets promote greater fullness for a longer time than a low-fat plan. In 2016, the Tulane University School of Public Health conducted a study in which they found out that eating low-carb meals assisted in maintaining the levels of the fullness hormone peptide YY.
Tip: Consider adding eggs to your breakfast to make it a protein-rich meal.
4. Boosts Your Endurance
Researchers have found out that athletes who follow strict low-carb and keto diets have shown to significantly improve their performance levels. When one follows a low-carb diet, their muscles seem to store higher levels of energy, and the fat is burned more efficiently compared to the people who consume high-carb and low-fat diets. Having a low-carb breakfast can make you more energetic throughout the day, and prevent you from becoming sluggish.
Tip: If you are someone who likes working out, or has to do physically challenging work, always start the day with a low-carb breakfast so you can maintain energy levels.
5. Helps You Lose Fat
Visceral adipose tissue is the kind of fat that collects around your midsection, or the belly as one would normally call it. These fats can be really unhealthy and make you more prone to metabolic diseases. Studies have shown that cutting back on carbs helps in reducing these fat stores.
Tip: Low-carb diets reduce visceral fat by 15 percent compared to high-carb diets.
6. Reduces Blood Sugar Levels
Apart from helping in weight loss, low-carb diets can also be helpful for people who suffer from diabetes. Reducing carbs from your diet can lower your blood sugar levels drastically. One study even showed that people with diabetes who follow a low-carb diet can stop taking glucose-lowering medication in a few months.
Tip: If you are on blood sugar medication, consult your doctor before switching to a low-carb diet as your dosage may need to be adjusted.
7. Help Control Blood Pressure and Cholesterol
Since people with high blood pressure and cholesterol levels are very susceptible to heart and kidney-related disorders if you are someone who suffers from these conditions, switching to a low-carb diet can be extremely helpful in controlling them.
Tip: Lowering your carb intake can significantly improve your heart health.
FAQs
Q. Should you completely go off carbohydrates?
A. Absolutely not. Foods like fruits, vegetables, grains, and legumes all contain complex carbohydrates that are very rich in nutrients that we need to function. The fiber that you get in these foods is also very important for our stomach. Eating way too little carbohydrates comes with its own set of health problems. This is why you should at least consume a few essential carbs every day.
Q. Why is a high-protein breakfast important?
A. Protein digests slower compared to other nutrients which help to keep you feeling fuller for a longer period of time. Having a protein-rich breakfast leaves you feeling satisfied, so you won't feel starved till your next meal, and can have high energy levels for the day.
Recipe of the Month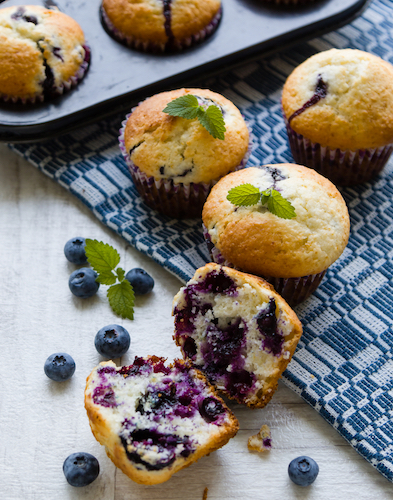 Posted on Laura Fuentes
(Gluten-Free, Low-Carb, Vegan)
Moist and springy with less than 5 net carbs per muffin, these blueberry coconut flour muffins are going to become your next go-to low-carb muffin recipe.
Prep Time: 5 minutes
Cook Time: 25 minutes
Total Time: 30 minutes
Course: Breakfast
Servings: 8 muffins
INGREDIENTS
4 large eggs
⅓ cup canned coconut milk
2 teaspoons liquid stevia, optional
2 tablespoons melted coconut oil
1 ½ teaspoons vanilla extract
½ cup coconut flour
½ teaspoon baking soda
¼ teaspoon salt
1 cup blueberries
INSTRUCTIONS
Preheat oven to 350F and line a muffin pan with 8 paper liners.
Put all ingredients, minus the blueberries, in the order listed inside your blender or food processor and beginning at a slow speed and increasing as the ingredients incorporate, mix until smooth.
Pausing the blender a few times to incorporate ingredients from the sides with a rubber spatula.
Wait for a couple of minutes for the batter to thicken and the coconut flour to absorb some of the liquid.
Add the blueberries and fold to combine.
Spoon the batter into 8 muffin tins and bake, for 22-25 minutes until a toothpick comes out clean and the tops are browned.
Remove from the oven and allow muffins to cool down prior to serving.
NUTRITION
Serving Size: 1 muffin
Calories: 127 Sugar: 3.5g Sodium: 193.3mg Fat: 8.6g Saturated Fat: 5.9g Trans Fat: 0g Carbohydrates: 8g Fiber: 2.9g Protein: 5g Cholesterol: 93mg
Debbie's Golf Course Spotlight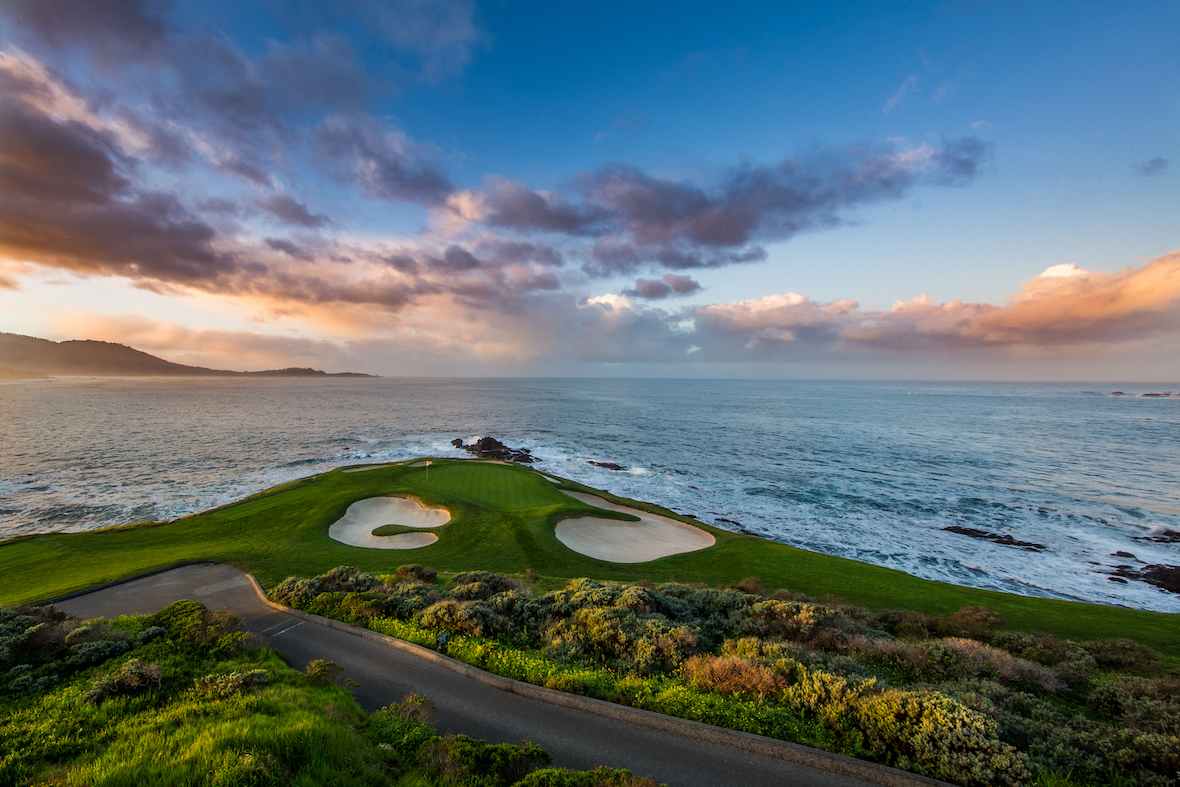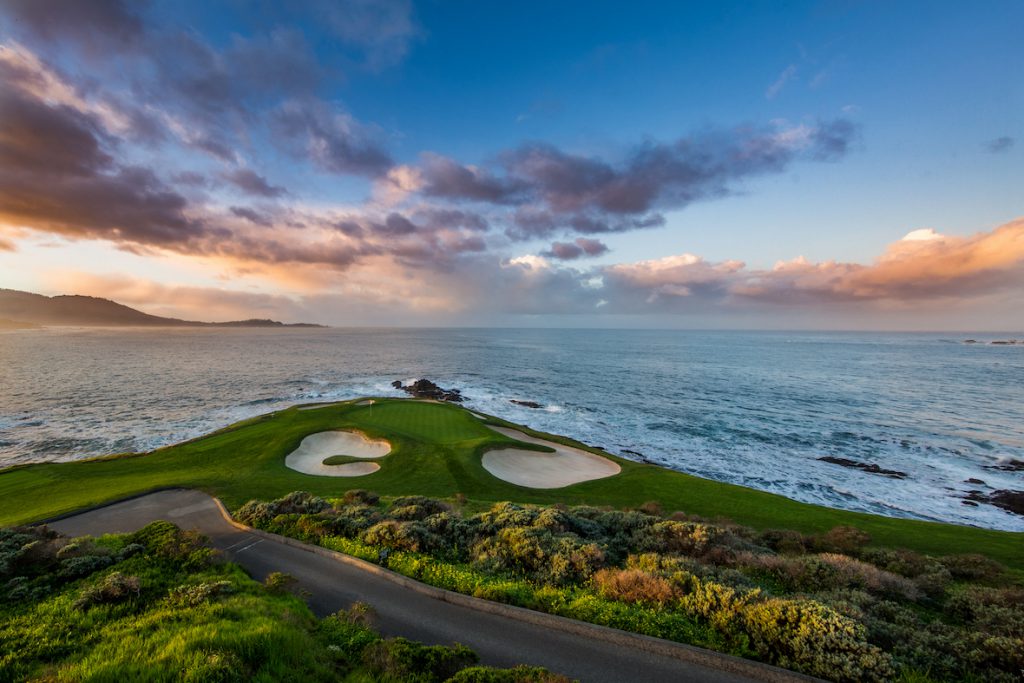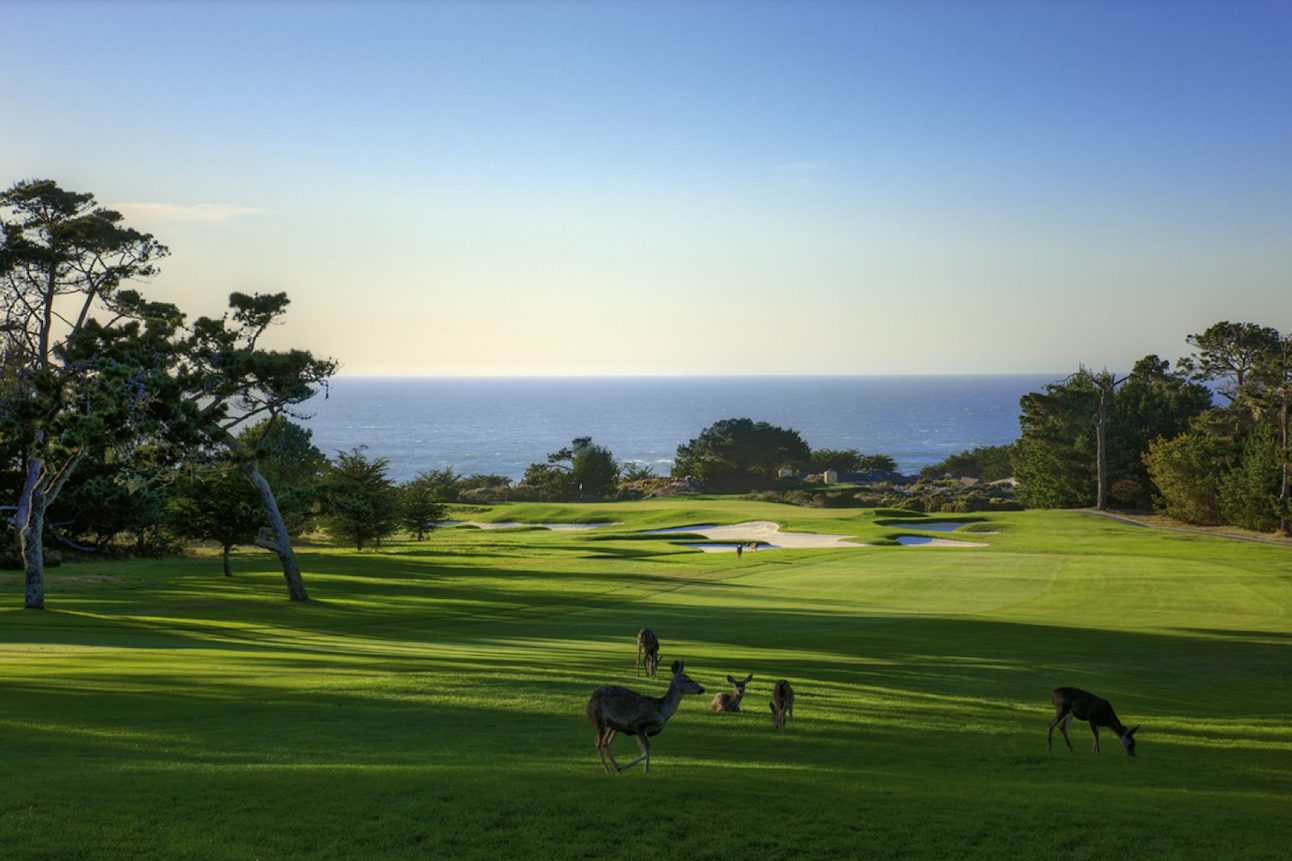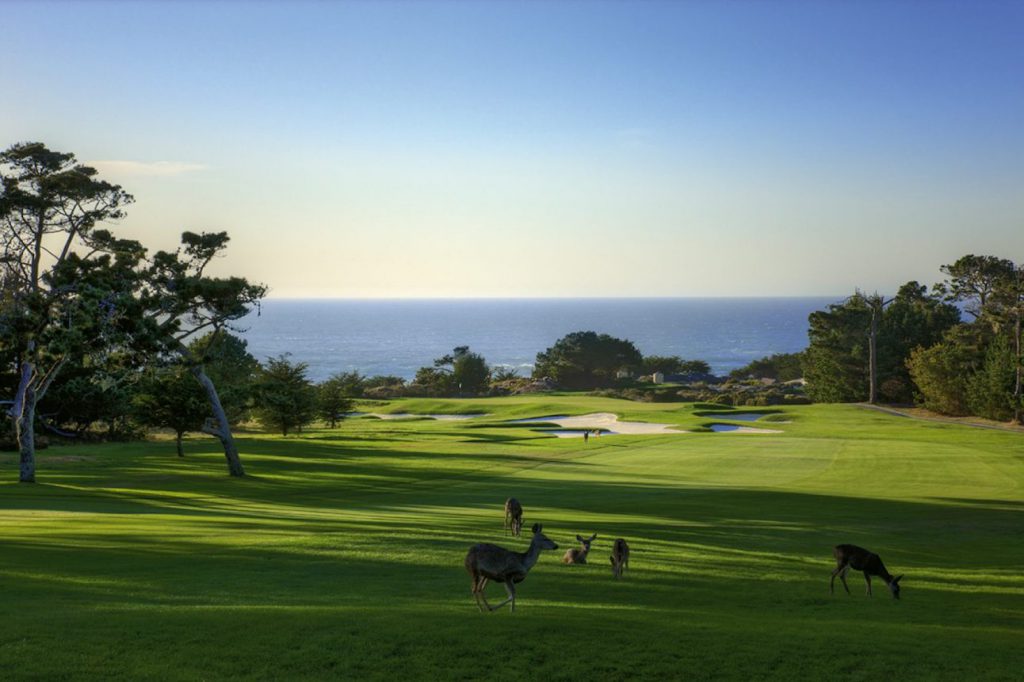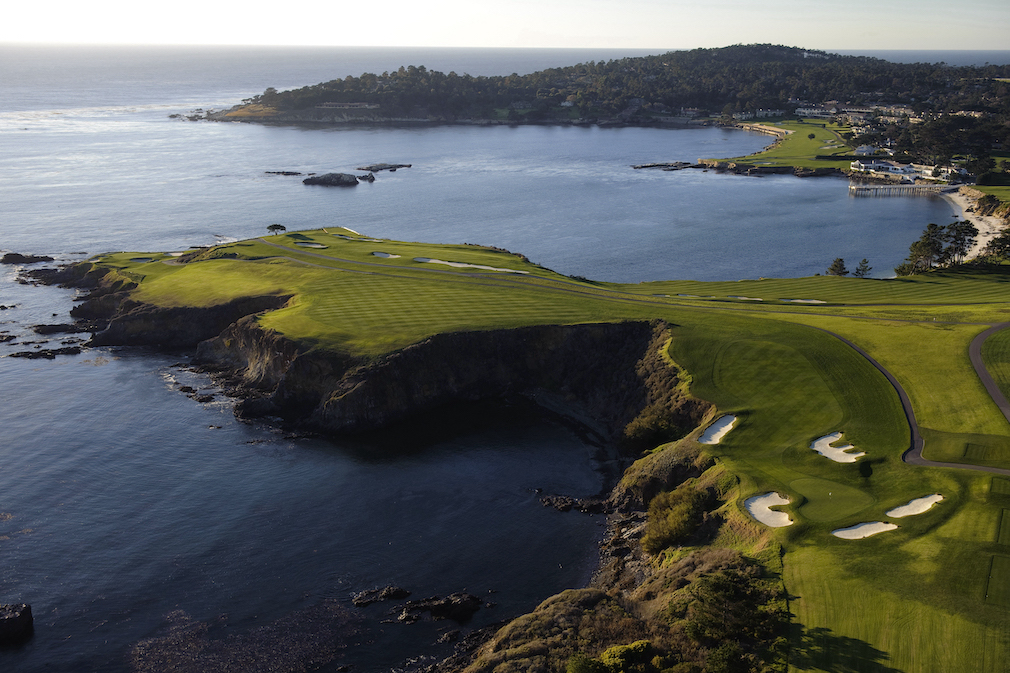 According to their website, Pebble Beach is ranked the #1 public golf course in the country and it's not hard to see why! In addition to offering nothing short of stunning views from every direction, Pebble Beach boasts a wide variety of activities, wildlife encounters, and surprising scenic discoveries.
Whether you come for the AT&T Pebble Beach Pro-Am tournament or you are looking forward to golfing alongside local residents like a graceful herd of deer, I highly suggest this course be placed at the top of your bucket list.
Helpful Tip: Many memorable golf moments have taken place on the last two holes, and, like many, this is my favorite location to take in and appreciate the beauty of the area. Plan time to take loads of pics and videos!

YOU'RE INVITED!
Until someone showed me the missing ingredients I needed to achieve my goals that highly successful people have been using for decades, I too was waiting for something to shift in my life to finally unlock my potential. Now, it is my joy and privilege to offer those tools and that mindset coupled with unparalleled support in my upcoming courses to you. All it takes to realize your dreams is to start with one easy sign-up for the course or events that best defines you in 2022.
✅ Register Today for February 5th – February 9th!
This popular course will take your success to an entirely new level! Spaces are limited!

✅ Each Thursday at 7:30 PM EST!
Watch my show on BirdieSpot for unique tips and strategies. It's like getting a free lesson every week!

✅ The 1st Wednesday of Each Month at 8:00 PM EST!
Tune into my live interviews on my Golf Positive Facebook page featuring women making a serious impact on the golfing community!

✅ Save the Date & Register Now!
This event will sell out. Slots are filling fast!

Click here to view all of our upcoming courses and events to see which offering is right for you!
Learn NLP techniques that elite athletes and successful business professionals from all over the world use!
We will fight through excuses, treat pain points, find solutions, and get results together!
Sign up NOW!
-Personal February Challenge –
Tell your friends and family members about the changes you would like to make in 2022 and your strategy for attaining success, such as watching my weekly show or getting immediate results from Keys to a Champion Mindset 2.0. This way, you'll be building a supportive network for positive changes in your life while having more fun along the way with those you care about most.
Golf Positive! and Live Positive!
Debbie