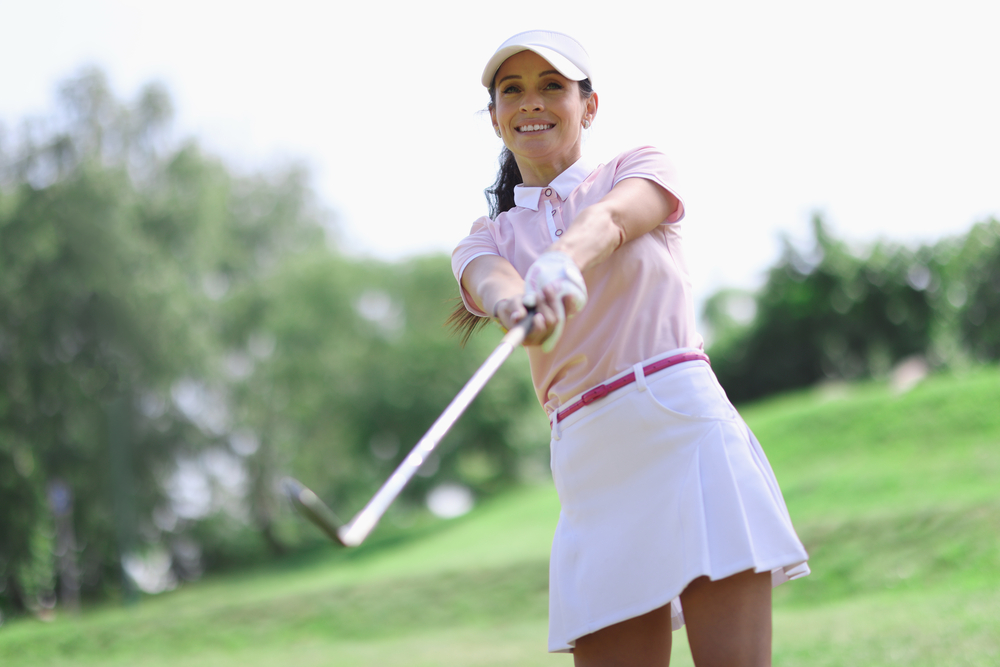 Golf Positive! Newsletter – June 2022 Edition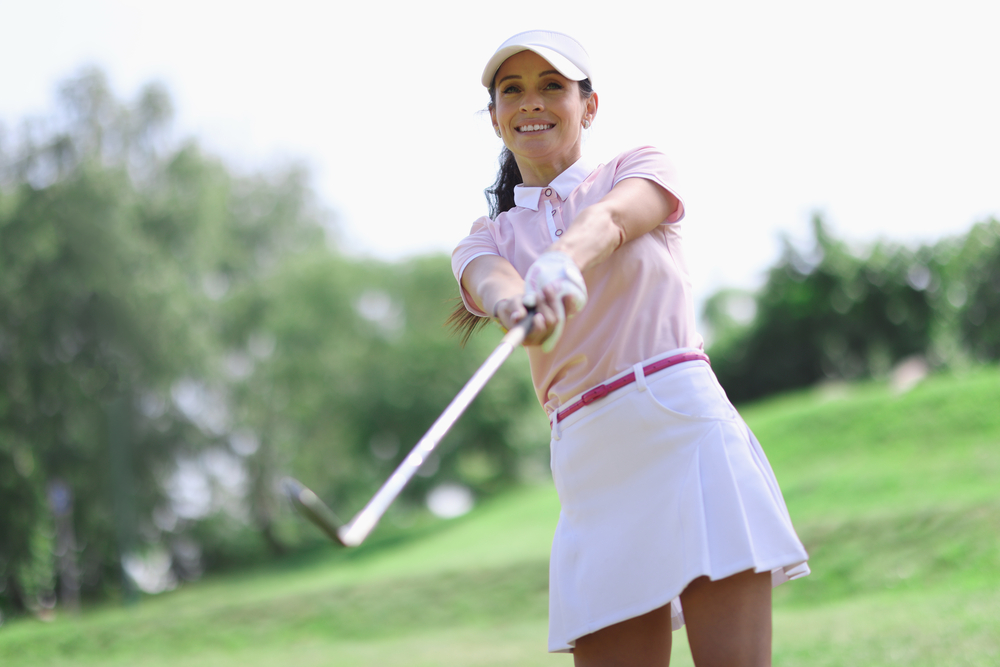 Positive changes are happening every day at Golf Positive. The best part? They are bringing big rewards! Imagine playing the sport you love with more confidence while making friends, building a career, losing weight, and, of course, lowering your score.
Golf Positive is more than a global resource for pro golf tips and powerful strategies that immediately improve your game. The courses and coaching offered here can lay the foundation of something far more expansive that adds value to both your game and all areas of life, including fitness, weight loss, career, and financial health. Plus, it all starts with simple steps anyone can follow. Change is possible, and the rewards are there for the taking. Reach out and sign up for your next course offering today.
Looking for more free and affordable ways to improve your game starting now?
Be sure to check each month's upcoming events in the newsletter, tune into my Golf's Monthly Masterclass show on Facebook on the first Wednesday of each month, and catch more of my latest happenings and offerings on Facebook, Instagram, and LinkedIn.
Upcoming Courses & Events
Start Now! It's FREE!
Watch My New Live Interview Series! It's Free!
(Join us July 6th at 8:00 PM ET on Facebook)
*This Event is SOLD OUT!
(Join our waitlist.)
In This Issue
Tee Up for Success
Mindset
New! CardioGolf™ Tip
Fitness
Nutrition
Recipe of the Month
NEW! – Debbie's Golf Course Spotlight
You're Invited!
TEE UP FOR SUCCESS

This Course is FREE! What are you waiting for? Start Today!
Want to make easy changes in your golf game that impacts how you feel and play? This free course can help you begin that journey today! Simply register and grab your friends and family for some fun and engaging strategies you can apply over the next 5 days and enjoy the many rewards.
Watch My New Live Interview Series! It's Free!
(The 1st Wednesday of Each Month at 8:00 PM ET)
This new in 2022 live interview series features women who are shaking up the golf world with unbelievable professional achievements, groundbreaking concepts, and expansive community outreach efforts.
Past Guests:
⛳️ Kelley Brooke
⛳️ Shirley Spork
⛳️ Nancy Lopez
⛳️ Patty Sheehan
⛳️ Annika Sörenstam
⛳️ Kathy Whitworth
Missed one? You can still catch these phenomenal women as they answer some of our followers' top questions by visiting and following the Golf Positive! Facebook page.
July's Special Guest:
⛳️ Sandra Palmer, LPGA Professional and winner of 19 LPGA Tour events including 2 major championships!
Grab your friends and join me as I meet with these extraordinary women live on the first Wednesday of each month at 8:00 PM ET – only on my Golf Positive! Facebook page.
This Event is SOLD OUT!
Missed your chance to secure a reservation? Click here to join the waitlist.
MINDSET

It's Time to Stop Watching & Start Changing!
Ready to Live Out Your Own Story?
Do you often feel like you are always watching other people experience the joys of success in golf or in other areas of life while your own life seems to be passing you by? If it's one thing my interview series with women like Annika Sörenstam, Kathy Whitworth, Patty Sheehan, Nancy Lopez, and Shirley Spork has brought to light it's the fact that everyone is capable of making their mark and leaving an impactful legacy. You simply have to discover what drives you, which goals you want to see realized, and what memorable tales you would like future generations to tell about you.
One Small Step can Lead to Major Change
Dreaming about something specific you would like to accomplish? What if I said all you need to begin your journey to greatness is to take one small step each day? Instead of setting yourself up to fail with too many changes at once, a slower transition is often the easier and smoother route to success where you barely notice the difference in your daily life as you add a new small change at least weekly.
Then, after a month of making multiple slight changes a permanent part of your day and reaping the many rewards of such positive steps, we challenge you to look back and take notice of how far you've come from that first day of committing to one small step. That short month-long journey should become a life-altering and eye-opening experience to hang onto as you push forward for more change and small success stories to add to your legacy. Then, by taking that amount of change you witnessed and measured within that month's time and multiplying it by the other steps you have added or plan to add in the near future, the once thought impossible dreams suddenly become tangible possibilities you can reach or even exceed! Yes, it truly can be that easy.
Journal Your Immediate Changes to Find Immediate Rewards
Of course, I'm not saying you will stop craving carbs and sweets or play professional golf within a few months of taking small steps. But, each day you add a small habit to your routine is another day your mindset is shifting from what you once believed to be normal, comforting, or necessary to what you now know to be a better or healthier way to feel, act, or react. In fact, you don't need to wait a month or even a week to notice the change beginning. All you need to do is jot down how you think and feel about yourself, your golf game, your relationships, or your career as well as whether or not you believe you can achieve your future goals before you begin. Remember, the more detailed you are in your journal the more rewards, or KPI's if you prefer, you will be able to measurably note each week as you look back to your entries.
Examples can include your golf score, how you physically feel, your physical measurements, your blood pressure, and, yes, the foods you love. Although keeping a journal is another step to add to your daily routine, the boost in confidence will be well worth the effort as it will be exactly what you need to continue the momentum and add more positive changes along the way. But, don't worry if writing is not your thing – a video journal works just as well. The main thing is to start with that first entry and small change today and ask yourself, "What legacy would you like to leave?"
Want More Tips for an Easy Start?
Check out my free 5-Day Challenge, order my groundbreaking "Live Positive! Golf Positive!" book, or follow me on Facebook to hear about some of my favorite golf tips, goal-crushing strategies, and more.
ARTICLE OF THE MONTH
Golf enthusiasts in the United States have access to some of the top golf courses worldwide. Confronted with so many options, choosing your next course may be more challenging than a game of golf itself. So, to make your choice a little easier, we've put together our top 3 favorite golf courses to add to your bucket list. Any one of these is bound to make your next game of golf a memorable one!
NEW! CARDIOGOLF TIP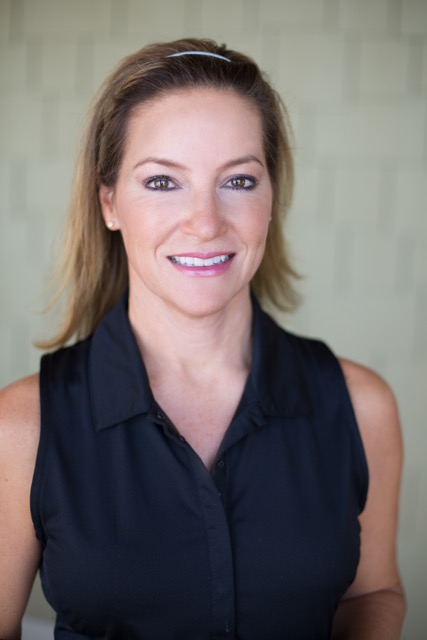 Have you heard about the new online fitness resource specifically designed for the golfing community?
It's called CardioGolf™ and the founder, Karen Palacios-Jansen, a Master LPGA Professional and NASM Certified Personal Trainer, saw a great need for exercises, programs, and support that would help enhance the way golfers perform and feel when playing by:
🏌🏼‍♀️ Building the right muscles for more power
🏌🏼‍♀️ Increasing flexibility in all the right areas to reduce the risk of injury
🏌🏼‍♀️ Improve balance for a steady stance, backstroke, & follow-through
CardioGolf™ pairs perfectly with your Golf Positive! mindset as it is tailor-made for golf and beneficial for all areas of life!
In fact, we value Karen and her CardioGolf™ techniques so much that we invited her to be a part of our latest Revolutionary system – our cutting-edge program that is making more of an impact on golf scores than players have ever experienced with any other instruction available on the market.
Check out our pick for the CardioGolf™ Tip of the Month:
DRIVING RANGE PRE-ROUND WARM-UP ROUTINE
FITNESS
Posted on  CardioGolf by Karen Palacios-Jansen
Equipment Needed: CardioGolf Slope or steps or an incline
According to studies, if you move your large muscles in your legs for 60 seconds, for example, lunges to the Cardiogolf Slope, your energy level could improve by 90%. Canadian researchers have found that even shorts bursts of motion-as long as you are moving some large muscles in your body, like thigh muscles-switches on the gene that heightens insulin sensitivity, helping your muscle and brain cells soak up 23% more energizing glucose.
Lunges are one of the best exercises for golfers because they increase strength in the entire lower body including the glutes, quadriceps, hamstrings, calves, hips, and ankles.
Lunges also help you develop balance and coordination which will help you increase your clubhead speed and hit more solid shots.
In my opinion, daily practice is the key to success towards any goal. Making 10 practice swings a day or exercising for 5 minutes every day will get you playing better and in better shape than exercising or practicing for two or three hours at a time, once a week or month. First of all, it is always hard to find big chunks of time to do massive workouts or beat balls on the driving range for hours. Secondly, the long workouts and practice sessions usually lead to fatigued swings, injuries, and ingrained bad habits.
There is something to be said about the momentum of taking small daily steps towards a goal that is cumulatively better than taking big steps with less frequency.
Forward Lunge on Slope (Note: Steps or an incline may also be used for these exercises.)
Stand to the side of the Slope.
Lunge forward placing your foot securely on the Slope.
Push off your foot and return to the start position.
Repeat on opposite leg.
Par Level: Do interval exercise for 20:40.
Birdie Level: Do interval exercise for 30:30.
Eagle Level: Do interval exercise for 40:20.
In Cardiogolf, we do a variety of lunges in different planes of motion. The reverse lunge with a twist works the muscles differently than the forward and side lunges. All are good to help increase strength and mobility in the lower body. Benefits of the lunge exercise include developing strength and firmness in your lower body. The twisting part of this exercise teaches you to rotate over the resistance of your lower body just like what you need to do in the golf swing.
CardioGolf Slope Details
I developed the Cardiogolf 'Slope' to help golfers practice uphill and downhill lies, but it is also a great tool for exercise. You can do a variety of traditional low-impact exercises as well as strength, balance, core, and even upper body exercises. Check it out!
NUTRITION
Posted on University of Michigan News by Nardy Baeza Bickel
Eating a hot dog could cost you 36 minutes of healthy life, while choosing to eat a serving of nuts instead could help you gain 26 minutes of extra healthy life, according to a University of Michigan study.
The study, published in the journal Nature Food, evaluated more than 5,800 foods, ranking them by their nutritional disease burden to humans and their impact on the environment. It found that substituting 10% of daily caloric intake from beef and processed meats for a mix of fruits, vegetables, nuts, legumes and select seafood could reduce your dietary carbon footprint by one-third and allow people to gain 48 minutes of healthy minutes per day.
"Generally, dietary recommendations lack specific and actionable direction to motivate people to change their behavior, and rarely do dietary recommendations address environmental impacts," said Katerina Stylianou, who did the research as a doctoral candidate and postdoctoral fellow in the Department of Environmental Health Sciences at U-M's School of Public Health. She currently works as the Director of Public Health Information and Data Strategy at the Detroit Health Department.
This work is based on a new epidemiology-based nutritional index, the Health Nutritional Index, which the investigators developed in collaboration with nutritionist Victor Fulgoni III from Nutrition Impact LLC. HENI calculates the net beneficial or detrimental health burden in minutes of healthy life associated with a serving of food consumed.
Calculating impact on human health
The index is an adaptation of the Global Burden of Disease in which disease mortality and morbidity are associated with a single food choice of an individual. For HENI, researchers used 15 dietary risk factors and disease burden estimates from the GBD and combined them with the nutrition profiles of foods consumed in the United States, based on the What We Eat in America database of the National Health and Nutrition Examination Survey. Foods with positive scores add healthy minutes of life, while foods with negative scores are associated with health outcomes that can be detrimental for human health.
Adding environmental impact to the mix
To evaluate the environmental impact of foods, the researchers utilized IMPACT World+, a method to assess the life cycle impact of foods (production, processing, manufacturing, preparation/cooking, consumption, waste), and added improved assessments for water use and human health damages from fine particulate matter formation. They developed scores for 18 environmental indicators taking into account detailed food recipes as well as anticipated food waste.
Finally, researchers classified foods into three color zones: green, yellow and red, based on their combined nutritional and environmental performances, much like a traffic light.
The green zone represents foods that are recommended to increase in one's diet and contains foods that are both nutritionally beneficial and have low environmental impacts. Foods in this zone are predominantly nuts, fruits, field-grown vegetables, legumes, whole grains and some seafood.
The red zone includes foods that have either considerable nutritional or environmental impacts and should be reduced or avoided in one's diet. Nutritional impacts were primarily driven by processed meats, and climate and most other environmental impacts driven by beef and pork, lamb and processed meats.
The researchers acknowledge that the range of all indicators varies substantially and also point out that nutritionally beneficial foods might not always generate the lowest environmental impacts and vice versa.
"Previous studies have often reduced their findings to a plant vs. animal-based foods discussion," Stylianou said. "Although we find that plant-based foods generally perform better, there are considerable variations within both plant-based and animal-based foods."
Based on their findings, the researchers suggest:
Decreasing foods with the most negative health and environmental impacts including high processed meat, beef, shrimp, followed by pork, lamb and greenhouse-grown vegetables.
Increasing the most nutritionally beneficial foods, including field-grown fruits and vegetables, legumes, nuts and low-environmental impact seafood.
"The urgency of dietary changes to improve human health and the environment is clear," said Olivier Jolliet, senior author of the paper and professor of environmental health sciences at U-M's School of Public Health. "Our findings demonstrate that small targeted substitutions offer a feasible and powerful strategy to achieve significant health and environmental benefits without requiring dramatic dietary shifts."
The project was carried out within the frame of an unrestricted grant from the National Dairy Council and of the University of Michigan Dow Sustainability Fellowship. The researchers are also working with partners in Switzerland, Brazil and Singapore to develop similar evaluation systems there. Eventually, they would like to expand it to countries all around the world.
More information:
Study: Small targeted dietary changes can yield substantial gains for human and environmental health(DOI: 10.1038/s43016-021-00343-4)
The Conversation: Individual dietary choices can add – or take away – minutes, hours, and years of life
RECIPE OF THE MONTH
Posted on 40 Aprons by Cheryl Malik

These fish taco bowls with mango salsa and chipotle aioli make an absolutely wonderful healthy dinner. Loaded with guacamole, mango salsa, red cabbage slaw, coconut-lime cauliflower rice, and spicy chipotle aioli, I promise this will become your favorite paleo fish recipe. Pinky promise! This taco bowl recipe is perfect for Paleo, Keto (sans the mango), and Whole30 fans as it is gluten-free, dairy-free, grain-free, and sugar-free. Nothin' fishy about it (SORRY!).
Prep Time: 20 minutes
Cook Time: 15 minutes
Total Time: 35 minutes
Course: Dinner
INGREDIENTS
For the Blackened Fish
2 tilapia fillets or cod, or mahi-mahi; about 1 pound
1 teaspoon chili powder
½ teaspoon smoked paprika
½ teaspoon garlic powder
½ teaspoon onion powder
¼ teaspoon cumin
½ teaspoon salt
¼ teaspoon pepper
1 tablespoon coconut oil
For the Guacamole
2 avocados peeled, seeded, and diced
¼ cup diced red onion
2 tablespoons cilantro chopped
1 tablespoon lime juice plus more to taste
1 pinch salt plus more to taste
For the Chipotle Aioli
¼ cup Whole30-compliant mayonnaise store-bought or make your own
¼ cup full-fat coconut milk
½ teaspoon garlic powder
1 pinch salt plus more to taste
1 teaspoon chipotle pepper powder
1 squeeze lime juice plus more to taste; approximately 1 tablespoon
For the Mango Salsa
1 mango peeled, seeded, and diced
1 tablespoon cilantro chopped
2 tablespoons red onion chopped
½ tablespoon lime juice plus more to taste
1 pinch salt plus more to taste
For the Red Cabbage Slaw
¼ head red cabbage approximately 2 cups, sliced thin or shaved
1 tablespoon lime juice plus more to taste
1 teaspoon salt plus more to taste
For the Coconut-Lime Cauliflower Rice
1 head cauliflower stems removed, loosely chopped; approximately 3 cups
1 cup full-fat coconut milk
1 tablespoon lime juice plus more to taste
1 pinch salt plus more to taste
INSTRUCTIONS
For the Blackened Fish
Combine all spices in a small bowl and rub generously over top and bottom of fish fillets.
Heat coconut oil in a medium skillet over medium heat and add fish. Cook approximately 3-4 minutes on each side, or until fish flakes easily. Do not overcook.
For the Guacamole
Combine all ingredients and mash until desired consistency. Add more salt or lime juice to taste.
For the Chipotle Aioli
Combine all ingredients in a food processor and blend until smooth. Taste and add more salt or lime juice to taste.
For the Mango Salsa
Combine all ingredients in a medium bowl. Stir well to distribute ingredients thoroughly.
For the Red Cabbage Slaw
Combine all ingredients in a medium bowl. With your hands, massage lime juice and salt into cabbage to tenderize, until purple juices are released.
For the Coconut-Lime Cauliflower Rice
Fit your food processor with the shredding blade or regular blade and feed chopped cauliflower in. Process until cauliflower resembles rice or couscous. Alternately, use pre-riced cauliflower.
Add all ingredients to a medium saucepan and place over medium-high heat. Bring to a boil and reduce heat to medium. Cook until liquid is mostly evaporated and cauliflower is tender, about 7-10 minutes. Remove from heat and assemble taco bowls.
ASSEMBLE
Spoon coconut-lime cauliflower rice into individual serving bowl. Spoon red cabbage slaw next to cauliflower rice. Top with fish fillet, guacamole, then mango salsa. Finally, top with chipotle aioli. Serve immediately.
NOTES
This recipe uses 1 small red onion and 1 bunch of cilantro total, divided between the mango salsa and the guac.
You'll need just under one full 14-ounce can of full-fat coconut milk, divided between the cauliflower rice and the chipotle aioli.
Make it Keto: Skip the mango salsa. I know, I know. It breaks my heart to say that, but mangoes just aren't keto-friendly. Skipping the salsa will make this Whole30 Fish Taco Bowl roughly 588 calories, 21g total carbs, and 11g net carbs.
*Nutrition Information
Serving: 1serving, Calories: 588kcal, Carbohydrates: 29g, Protein: 24g, Fat: 46g, Saturated Fat: 21g, Polyunsaturated Fat: 3g, Monounsaturated Fat: 11g, Trans Fat: 1g, Cholesterol: 51mg, Sodium: 1020mg, Potassium: 1395mg, Fiber: 11g, Sugar: 12g, Vitamin A: 1516IU, Vitamin C: 97mg, Calcium: 88mg, Iron: 5mg, Net Carbs: 18g
Number of total servings shown is approximate. Actual number of servings will depend on your preferred portion sizes.
*Nutritional values shown are general guidelines and reflect information for 1 serving using the ingredients listed, not including any optional ingredients. Actual macros may vary slightly depending on specific brands and types of ingredients used.
To determine the weight of one serving, prepare the recipe as instructed. Weigh the finished recipe, then divide the weight of the finished recipe (not including the weight of the container the food is in) by the desired number of servings. Result will be the weight of one serving.
DEBBIE'S GOLF COURSE SPOTLIGHT
Home of four US Women's Open Championships and boasting "three of the best Ross courses in the world", the Pine Needles Lodge & Golf Club resort is one of my favorite places to visit when I need a little extra inspiration. As I'm sure golfers like the winner of the 2022 US Women's Open, Minjee Lee, can attest, there is so much rich history and beauty in this one location that simply adds to the excitement of the game in a unique way.
In fact, Peggy Kirk Bell, a legendary pioneer in women's golf, started one of the first golf clinics here and it's not hard to see why. The welcomeness of the property and the course is fair, challenging, always in great condition, and did I mention beautiful? Lush trees and gentle slopes make this course inviting for all levels of play.
Helpful Tip: Take some time to get emersed in golf's roots at Pine Needles by learning about the history in order to fully appreciate the experience of following in the footsteps where golf titans have played. Afterward, don't miss your chance to enjoy the area's quaint shops and picturesque scenery comprised mostly of, you guessed it, an abundance of tall pine trees!

YOU'RE INVITED!
Until someone showed me the missing ingredients I needed to achieve my goals that highly successful people have been using for decades, I too was waiting for something to shift in my life to finally unlock my potential. Now, it is my joy and privilege to offer those tools and that mindset coupled with unparalleled support in my upcoming courses to you. All it takes to realize your dreams is to start with one easy sign-up for the courses and events that best define you in 2022.
✅ Start Now!
This free course is open to all! Sign up and start making easy positive changes today!

✅ The 1st Wednesday of Each Month at 8:00 PM ET!
Tune into my live interviews on my Golf Positive Facebook page featuring women making a serious impact on the golfing community!

✅ SOLD OUT!
Visit our Solheim Cup page to join our waitlist.

Click here to view all of our upcoming courses and events to see which offering is right for you!
Learn NLP techniques that elite athletes and successful business professionals from all over the world use!
We will fight through excuses, treat pain points, find solutions, and get results together!
Sign up NOW!
-Personal June Challenge –
The kids are out of school, the pools are open, and the golf courses are calling. Take advantage of the sunny days over summer break by adding one small healthy tweak to your daily routine each week. It can be something you barely notice, but every little bit helps and you'll be amazed at the impact this slow progression will have on your overall goals by the end of the summer. Start today!
Golf Positive! and Live Positive!
Debbie
ve