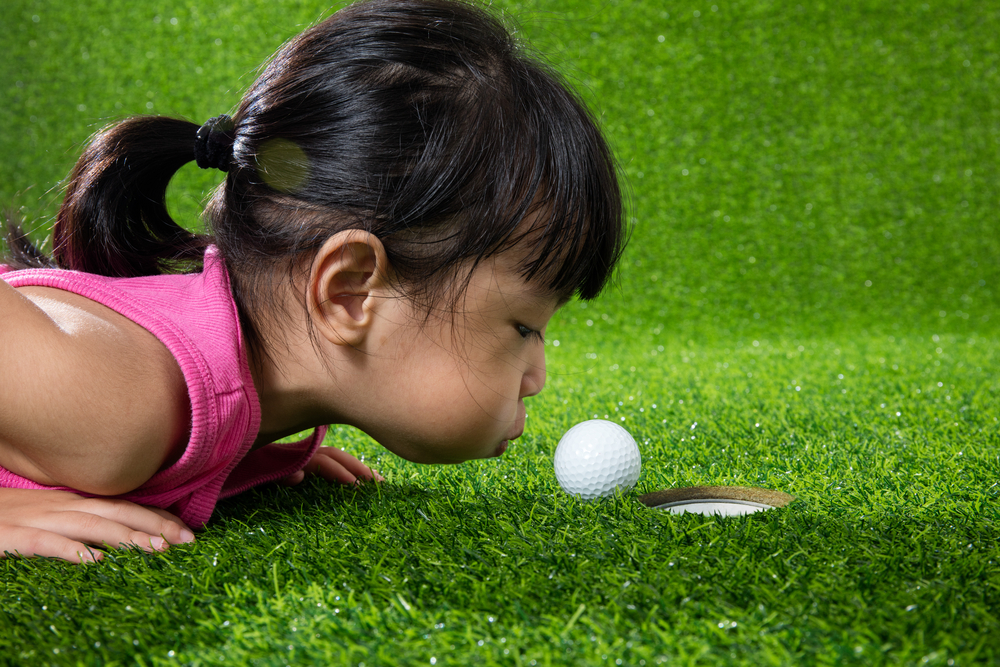 Golf Positive! Newsletter – March 2022 Edition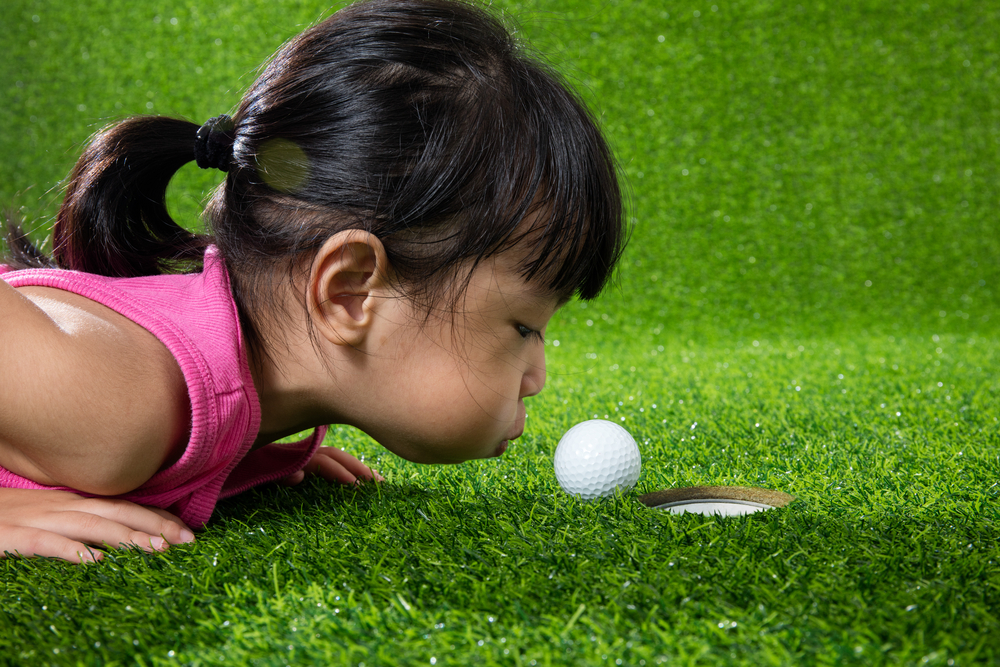 Once springtime rolls around, it's time for those of us who have felt trapped indoors over the winter to enjoy being outdoors once again as we dust off our clubs and head straight to the golf course. We hold onto the hope that the fresh start to a budding colorful landscape filled with new fragrant flowers and freshly cut grass will inspire greatness within the first few rounds. In reality, most golfers can relate to the little girl in the image above who desperately wants her golf score to be lower. After all, that ball is so close to the hole! A gust of wind is surely all that's needed to avoid the added stroke.
Sometimes, our goals are almost taunting us as they linger just beyond our reach. Do you feel like the only way you'll reach that next level of play is a mix of luck and a little "help" that skirts the rules? Don't give up on your ability to achieve more consistency while lowering your score just yet. All you need is the right combination of tools, technique, and what I like to call a champion's golf mindset. Join me as I share everything you need to move past your self-doubt and take charge of your game throughout this season and every season that follows in a series of unique course offerings like my Keys to a Champion Mindset 2.0 that are breaking through those longstanding seemingly intangible barriers in your path once and for all. Together, we are going to make those obstacles a distant memory!
Looking for more support between courses? Get free tips on BirdieSpot Live Events every Thursday and my Golf Positive Facebook page each week. Spring is in the air, and I'm going to give you the strategies you need to take advantage of the nicer weather and build your confidence while blowing past your goals both on and off the golf course. Catch all of my latest tips, happenings, and offerings on Facebook, Instagram, and LinkedIn. Let me show you how a spark of something new can blossom into something amazing!
Upcoming Courses & Events
Spaces are Going Fast. Reserve Yor Spot Today!
(Saturday, April 2nd – Wednesday, April 6th)
The 4-Part Golf Instruction Series You Won't Want to Miss!
(Starts Wednesday, March 23rd)
Watch My Show "Golf Positive: Game-Changing Mindset" for Free!
(Every Thursday at 7:30 PM ET)
Watch My New Live Interview Series! It's Free!
(The 1st Wednesday of Each Month at 8:00 PM ET)
*This Event is SOLD OUT!
(Join our waitlist.)
In This Issue
Tee Up for Success
Mindset
Article of the Month
Fitness
Nutrition
Recipe of the Month
NEW! – Debbie's Golf Course Spotlight
You're Invited!
Tee Up for Success!

Sign up Now Before This Program is Full!
(April 2nd – 6th at 10:00 AM ET)
Nothing shakes off the wintery indoor blues like achieving a lower handicap or feeling confident on the fairway when springtime weather arrives. My groundbreaking Keys to a Champion Mindset 2.0 is back by popular demand this April, and it's going to teach you how to step out of your golfing hibernation and into a fresh approach that gets immediate results!
Discover the difference between knowing golf is a mentally challenging game and achieving the ultimate golf mindset. This course will have you looking forward to your next round where you can show off those new mindset skills and enjoy benefits like a consistently lower golf score and more confidence!
But, spaces are already filling up fast as this course has something for everyone, even those who have taken Keys to a Champion Mindset in the past. Register today to secure your spot!
Hurry to Reserve Your Spot in My Special 4-Part Golf Instruction Series!
(Starts Wednesday, March 23rd at 7:30 PM ET)
Receive some of my favorite pro tips and tweaks for the most challenging aspects of golf. We'll start off exploring how to sink putts on the green consistently before moving into chipping and pitching. Next, we will examine how to achieve that full swing magic. On the fourth day, we will discuss how to drive it home every time without hesitation, fear, or self-doubt. You can do it. This course, along with my all-new "Keys to a Champion Mindset 2.0", will show you how!
Please be advised we just opened registration for this limited-space series, and the available spots are going fast! Register today!
Catch My Show for Free on BirdieSpot!
(Every Thursday at 7:30 PM ET)
Need a quick way to jumpstart your spring golf season? My live "Game-Changing Mindset" show is the perfect way to get weekly pro tips, strategies, and more that will enable you to begin lowering your score before the next time you pick up that golf club! It's like getting a lesson with yours truly for FREE!
Please Note: If you have noticed a fee being charged for my show in the past, this error has been corrected and the show should be free for all viewers, both members and non-members. That said, select live webinars from other instructors may cost a fee to watch on BirdieSpot.
Watch My New Live Interview Series! It's Free!
(The 1st Wednesday of Each Month at 8:00 PM ET)
My new live interview series is a chance to hear from women who are shaking up the golf world with astounding professional achievements, groundbreaking concepts, and expansive community outreach efforts.
Here's what you've missed so far this year:
Kelly Brooke, founder of BirdieSpot and 2018's LPGA Professional of the Year
Shirley Spork, co-founder of the LPGA Tour
Nancy Lopez, winner of 3 majors and 48 LPGA Tour events
As you can see, some of the biggest names in the industry are coming to my Golf Positive Facebook page on the 1st Wednesday of every month at 8:00 PM ET. They are sharing some of their favorite experiences, tips, and unbelievable journeys. Don't miss another inspiring moment. Grab your friends and watch "Golf's Monthly Masterclass" with me, Debbie O'Connell each month. I'll see you there!
This Event is SOLD OUT!
Click here to join the waitlist in case we are able to open up more spots.
MINDSET

Putting Spring Fever to Good Use!
Are You Excited to Embrace the Warmer Weather & Sunshine?
As the weather heats up and the flowers begin to bloom, most people begin to spend more time outdoors. For golfers, that means more time at the driving range and on the courses as we reconnect with our clubs and get excited about the possibility that this season could bring our lowest score yet! The best part is, if you are looking forward to experiencing spring at the golf course, you are already well on your way to crushing your goals by simply having a positive attitude.
What Would Your Perfect Spring Day Look Like?
The next step to making this season memorable is to imagine for a moment what your perfect day on the golf course would be like in your mind. Are you winning a tournament or catching up with friends? Is it overcast or bright out? What course are you playing?
Also, imagine your mindset. Are you focused on lowering your score or are you more interested in having fun? Once you have a vivid picture in your mind, it's time to start setting goals to achieve everything you imagined.
Set Goals and Use That Excitement to Maintain Your Course!
After being cooped up all winter, you have the enthusiasm and drive to practice and prepare. You've imagined where you want to play and what you hope to both feel and accomplish on that perfect day. Now, let's make a plan and give it small attainable steps you can achieve nearly effortlessly once you form the right daily routine for your goals.
Not sure where to begin? It is my joy and privilege to you reach your golf, career, fitness, and life goals. I'm sharing free tips on my Golf Positive Facebook page and my weekly "Golf Positive: Game-Changing Mindset" show on BirdieSpot that can start show you how to use your spring fever momentum to transition your swing and your thinking for a more productive round.
Then, by taking my "Keys to a Champion Mindset 2.0" course, you'll discover a tailored system that will start to catapult your game to the next level from Day 1. This course is valued at over $997. But, I want to make it affordable so I can share my groundbreaking system with as many people as possible because it's not just about golf – this course is about transforming lives! Everything you learn will transfer to all areas of your life. The differences will be seen almost instantly.
Article of the Month
Making business deals on the golf course has been a longstanding tradition for those in sales as well as executives around the world for good reason. It's a mentally challenging activity that keeps one's mind focused during play to prevent lulls in conversation yet also offers a multitude of opportunities to discuss business strategies between strokes or after the round is over. Check out these 7 ways you can use the game of golf to grow your business while having fun!
FITNESS
Posted on  golfwrx.com by Nick Randall
Anne-Lise is a French physiotherapist (trained in Australia), working on the LPGA Tour. Her current stable of players includes Hannah Green, Lizette Salas, Morgan Pressel, Paula Creamer, Mel Reid, Maria Fassi, Madelene Sagstrom, Mariah Stackhouse, Alena Sharp, Ashleigh Buhai, Laura Gonzalez Escallon, and Tiffany Chan.
You can follow Anne-Lise and her life/work on tour – Instagram and Facebook
Golf warm-ups are often generic, vague, and lackluster when they should be specific, targeted, and performed with intent. It's the last opportunity you get before playing to get your body moving well, so why not make the most of it?
In this article, we present an example warm-up from Mariah Stackhouse – former Stanford star and emerging LPGA Tour player. Like many recreational golfers, Mariah's warm-up used to be quite random, with no specific goals or direction and as a result, was rarely performed with much consistency.
When she started seeing Anne-Lise at the start of the 2019 LPGA Tour season, there were a few physical priorities that needed to be addressed:
General pain in upper back/neck
Pain in the lower back when playing or practicing a lot
Mobility issues at the ankle, hip, thoracic spine, and shoulder joints
Instability around the core / low back and scapular / upper back
History of left wrist pain
Throughout the 2019 season, whilst focusing on reducing pain and increasing mobility and stability, Mariah's physical abilities have significantly improved. She no longer suffers from upper-back/neck or low back pain, demonstrated when she played a pain-free stretch of 7 weeks in a row in the middle of summer!
As Anne-Lise's combination of treatment and gym work with Mariah started to yield results, a natural progression was to incorporate some of the exercises into a structured warm-up routine. It made sense to ensure the negative physical tendencies didn't creep into her golf swing and performance when it mattered most.
Mariah kicks off her warm-up some basic movement preparation that includes mobility exercises using a foam roller and spiky ball to release the muscles that typically get tight (quads, QL/back extensors, pecs, and calves) and some dynamic stretches targeting the hips, thoracic spine, shoulder, wrist, and ankle.
What follows are examples of the additional specific warm-up exercises that have been incorporated into her routine, along with the reasons for their inclusion relative to the physical priorities outlined above.
Warm-Up Exercise 1 – Posture Set with Crab Walks
In order to activate Mariah's glute muscles ("king in the golf swing" according to Lance Gill) she does a crab walk with a mini-band around the knee, combined with posture setting and a scapular (shoulder blade) stability exercise. The GravityFit TPro provides load and stimulus for her shoulder stabilizers as she pushes out against the yellow tubing, whilst making small circles. The part sitting on her upper back is called the backbow, providing awareness and feedback on Mariah's posture.
Warm-Up Exercise 2 – Trunk Rotation
The trunk rotation with TPro focuses on upper/lower body dissociation; a very useful movement pattern in the golf swing. This is an area that Mariah has focused a lot of effort on, partly due to the relevance to her backswing movement. She knows that an optimal takeaway, with a good arm-body connection, will set her in a good position from which she can make her ideal move into the downswing.
Warm-Up Exercise 3 – Single Leg Trunk Rotation
This exercise challenges Mariah's ability to balance whilst rotating; another key focus for her. From a more general perspective, working on proprioception helps to improve neuromuscular function, helping to maximize her movement coordination and energy transfer.
Warm-Up Exercise 4 – Backswing
One of the last things Mariah does before heading to the range is to practice a full backswing movement with the TPro. Again, for feedback on posture and shoulder position, whilst also pushing out against the yellow tubing with the aim of maintaining the width in her lead arm.
Additional Reasons for including the TPro in Mariah's warm-up:
Mariah tends to overuse her upper trap, neck, and pec muscles to stabilize her head, spine, and shoulders. The TPro is useful due to the constant feedback on posture, along with stimulus to her activate her scapular stabilizers and core muscles (allowing upper trap, neck, and pec muscles to relax).
Due to some previous wrist injuries, the use of the TPro has also been very effective in preparing the muscles around her hands, wrists, elbows, and shoulders.
Takeaway
You might want to consider adding a few specific movement preparation exercises to your pre-round routine. The self-massage and stretching will help ensure a good range of movement, but switching on the right muscles and rehearsing your desired movement patterns could really help you find your swing earlier in the day!
Nutrition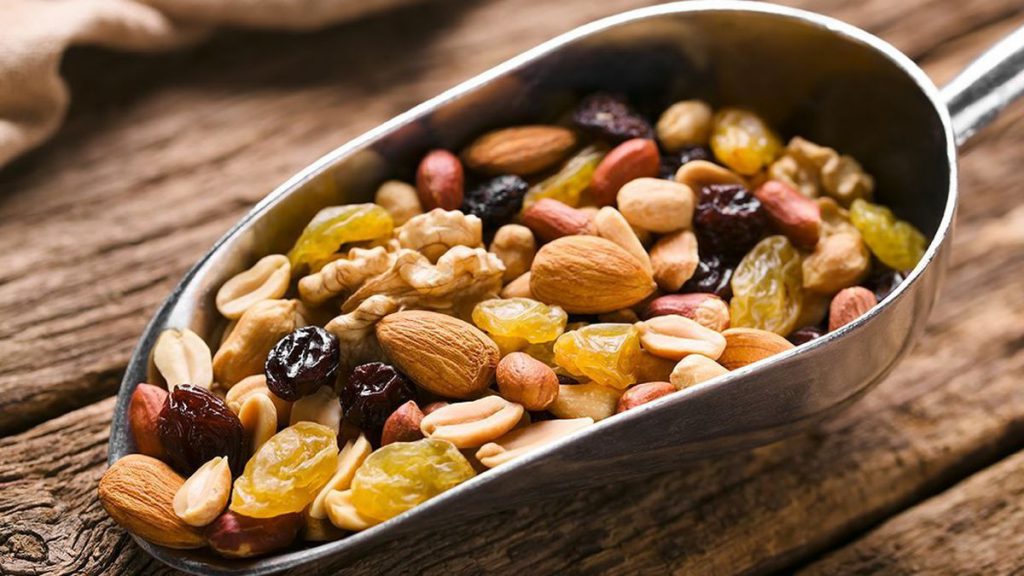 Posted on  Annika Foundation
Fueling your body is one of the first steps to ensuring a great round of golf. It may be tempting to grab a candy bar or a hot dog at the turn, but keeping some healthy snacks in your golf bag will not only help you feel energized and focused but will give your body the nutrients it needs to perform.
Something to keep in mind when packing snacks is how portable they are. Whether you are carrying your bag, using a pushcart, or driving a golf cart, picking snacks that are easy to eat will help you focus on your game.
1. Mixed Nuts
Packing a bag of mixed nuts is an easy, nutritious snack. And the great thing about nuts is there is a huge variety to choose from with almonds, cashews, hazelnuts, macadamia nuts, pecans, pistachios, or walnuts just to name a few. Nuts are great sources of proteins, loaded with antioxidants, and help keep you full.
2. Banana
When it comes to portable fruit, a banana is as easy as it gets. Bananas are rich in Vitamin B6, which helps your body produce red blood cells and maintain a healthy nervous system. They also are a good source of Vitamin C, the key to immune health and absorbing iron. Another plus is bananas contain three natural sugars – sucrose, fructose, and glucose – providing a fat- and cholesterol-free source of energy.
3. Peanut Butter and Jelly Sandwich
A classic sandwich, the PB&J is not just comfort food, it's a great snack too! This sandwich is jam-packed with protein, unsaturated fat, and fiber plus a dose of sugar from the jelly that provides a quick release of energy. Remember to choose whole-grain or low-carb alternative bread, unsweetened natural peanut butter, and unsweetened natural jam.
4. Beef Jerky
If you're looking for a low-fat, high-protein snack, then try packing some beef jerky ahead of your next round. Beef jerky usually comes in a re-sealable bag, perfect to snack on throughout your round. When choosing your beef jerky, look for one that is low in sodium and sugar.
5. Protein Bar
A round of golf can be quite demanding; between walking three to six miles or burning up to 2,000 calories keeping your energy up is key. A protein bar is an easy way to stay fueled. There are a ton of options out there but look for wholesome, premium-quality ingredients like rolled oats or dried fruit.
6. Apple
Apples make for a super easy snack to eat between holes or walking from shot to shot. They are a good source of fiber, helping you feel fuller, in addition to Vitamin C and other vitamins, nutrients, and antioxidants. Add some peanut butter for extra flavor and energy.
7. Trail Mix
If you want to add some variety to your snack, try trail mix. A well-made trail mix will contain a balance of protein-rich ingredients like nuts with moderately sugary ingredients like dried fruit or dark chocolate. Together, these ingredients provide a flavorful energy boost.
Aside from these snacks, it's also crucial to stay hydrated throughout your round. Sipping water on every tee is a great habit to get into. You lose more than water when you sweat, you lose electrolytes as well. Consider a low-sugar sports drink to help keep your body hydrated and healthy.
Recipe of the Month
Posted on Beaming Baker
(Gluten-Free, Sugar-Free, Paleo, Vegan)
The ultimate paleo diet snack bars—chewy, filling, gluten-free, vegan & healthy!
Total Time: 40 minutes
Course: Energy Snack
Servings: 16 squares
DRY INGREDIENTS
1 cup nuts, chopped
2/3 cup unsweetened raw coconut chips
¼ cup pumpkin seeds and/or sunflower seeds*
¼ cup ground flaxseed
¼ teaspoon salt (optional)
WET INGREDIENTS
1 tablespoon coconut sugar
2 tablespoons melted coconut oil
1 tablespoon unsalted, natural creamy homemade almond butter or store-bought
3 tablespoons pure maple syrup
INSTRUCTIONS
Preheat the oven to 325°F. Line an 8-inch square baking pan with parchment paper or greased foil. Set aside for later.
Add all dry ingredients to a large bowl: nuts, coconut, seeds, ground flaxseed, and salt, if using. Stir until well mixed.
Add all wet ingredients to a medium bowl: coconut sugar, coconut oil, almond butter and maple syrup. Whisk until well incorporated.
Pour wet ingredients over dry ingredients. Using a rubber spatula, stir and fold until very well mixed.
Pour the mixture into the prepared baking pan. Using the spatula, nudge the mixture until loosely and evenly spread out. Then, use the spatula to press the mixture firmly down into an even, very tightly-packed layer.
Bake for 22-27 minutes. Mine took 25 minutes.
Place baking pan onto a cooling rack to cool for 40-60 minutes, or until completely firm. After, lift bars and parchment paper onto the cooling rack to finish cooling for 1-2 hours.
Slice and enjoy! Storing instructions below.
NUTRITION
Serving Size: 1 muffin
Calories: 127 Sugar: 3.5g Sodium: 193.3mg Fat: 8.6g Saturated Fat: 5.9g Trans Fat: 0g Carbohydrates: 8g Fiber: 2.9g Protein: 5g Cholesterol: 93mg
Debbie's Golf Course Spotlight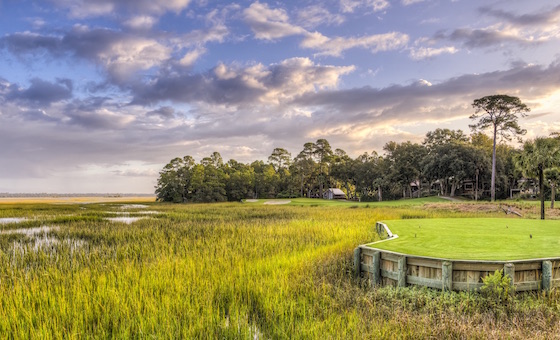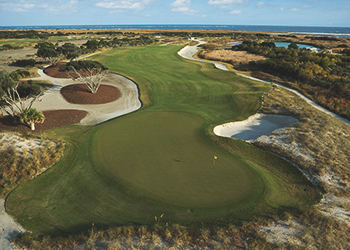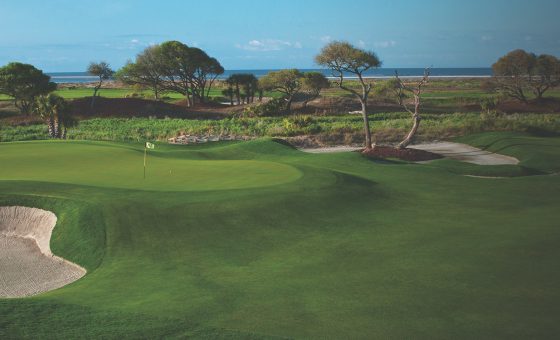 When it comes to golf in the Southeast, Kiawah's Ocean Course is legendary. From hosting the "War by the Shore" Ryder Cup in 1991 to setting the stage for Rory McIlroy's 2012 PGA Championship win, this course has played a vibrant and consistent role in tournament history.
Personally, I love any ocean course. But, this one, in particular, is special because it strikes that perfect balance between challenging me and offering a fair round of golf.
Helpful Tip: This is a course and community that invites you to slow down and relax as you take in the gorgeous surroundings. Try to prepare your mind and schedule accordingly to fully soak up that peaceful and rejuvenating feeling that comes with taking time off from your busy day-to-day.

YOU'RE INVITED!
Until someone showed me the missing ingredients I needed to achieve my goals that highly successful people have been using for decades, I too was waiting for something to shift in my life to finally unlock my potential. Now, it is my joy and privilege to offer those tools and that mindset coupled with unparalleled support in my upcoming courses to you. All it takes to realize your dreams is to start with one easy sign-up for the courses and events that best define you in 2022.
✅ Register Today for April 2nd – April 6th!
This popular course will take your success to an entirely new level! Spaces are limited & filling up fast!

✅ Register Today! The Series Begins March 23rd.
Improve your game and lower your score! Spaces are limited!
✅ Each Thursday at 7:30 PM ET!
Watch my show on BirdieSpot for unique tips and strategies. It's like getting a free lesson every week!

✅ The 1st Wednesday of Each Month at 8:00 PM ET!
Tune into my live interviews on my Golf Positive Facebook page featuring women making a serious impact on the golfing community!

✅ SOLD OUT!
Visit our Solheim Cup page to join our waitlist.

Click here to view all of our upcoming courses and events to see which offering is right for you!
Learn NLP techniques that elite athletes and successful business professionals from all over the world use!
We will fight through excuses, treat pain points, find solutions, and get results together!
Sign up NOW!
-Personal March Challenge –
If you get frustrated on the golf course, at the office, or at home, try recording how you changed the dialogue to turn that challenging moment into a triumph!
Your journal will reinforce that belief in yourself and open the door for more positive experiences and accomplishments.
Golf Positive! and Live Positive!
Debbie