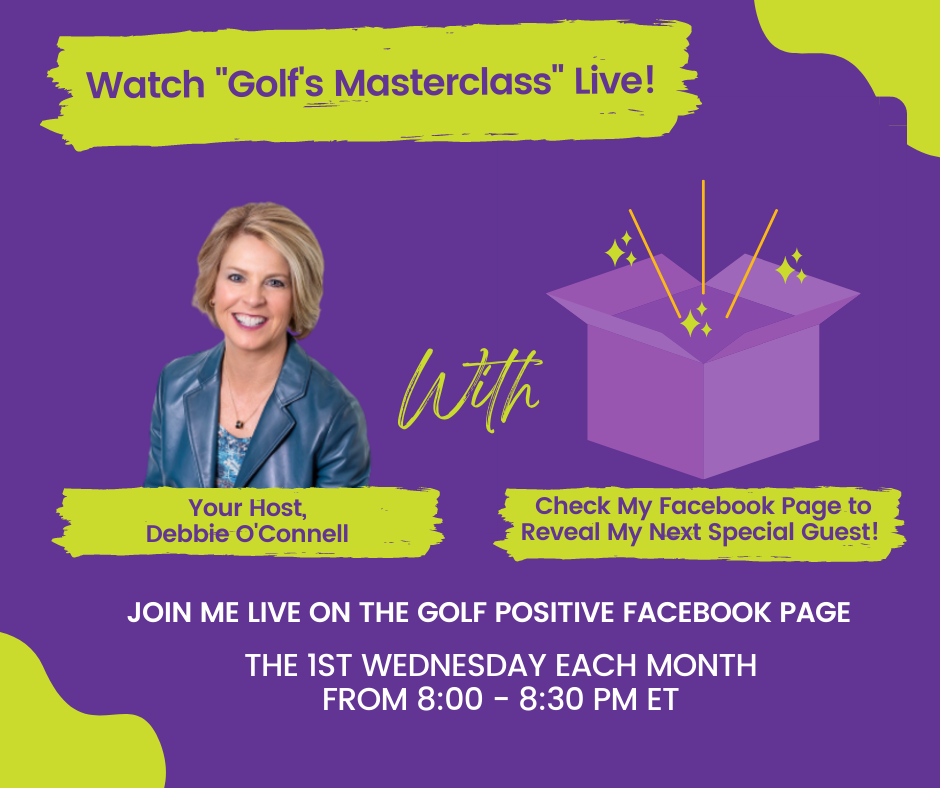 Love Golf? Catch This Live Webinar Series!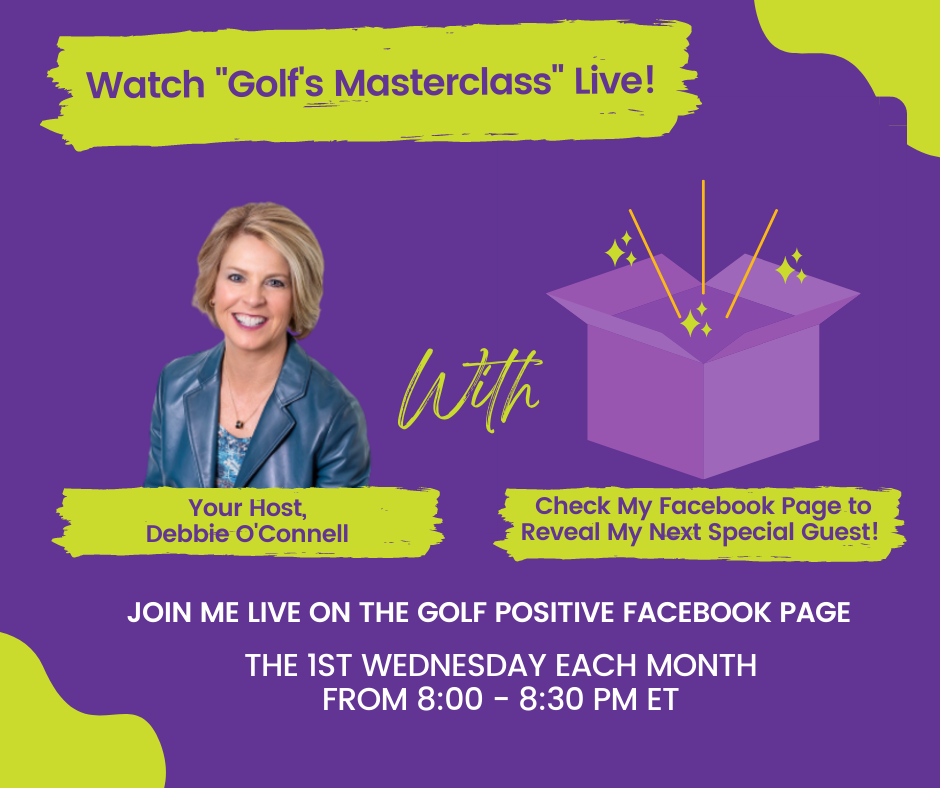 If you are a golf fan, you need to check out the latest interview series that is gaining traction in the golfing community. I'm your host, Debbie O'Connell, and I'm interviewing women who are leaving a golf legacy and changing lives through the power of this game we love. Here's what you can expect to see and how to watch for free!
About Your Host
You may know me as an LPGA professional, published author of Golf Positive! Live Positive!, and the recipient of the LPGA's prestigious "Nancy Lopez – Inaugural – Golf Achievement Award". However, my clients know me as someone constantly seeking to make attaining goals both on and off the golf course easy, fast, lasting, and fun! I want you to use my strategies to unlock your potential starting this week, not next year.

 My combination of science-driven methods and proven techniques have helped hundreds of golfers across the U.S. to lower their scores, feel more confident, play consistently, and find the joy in the game. As a result, I'm honored to be able to say Golf Digest and the LPGA have named me one of the "50 Best Women Teachers in America".
What is "Golf's Monthly Masterclass"?

If you are like me, you've likely seen firsthand how golf can bring people together, create exhilarating moments of spectacular achievement, and offer hope for another exciting game the next day like no other sport. But, I wanted to know more about the women who are driving the ever-changing golf community landscape. Who is continually setting the pace for future golf champions and who is inventing new ways to utilize the sport to connect with the community around us?
That's why I launched my "Golf's Monthly Masterclass" live interview series this past January, and I have to say it's already been an amazing and enlightening journey! Through this live webinar, I'll meet with some of the top names in golf who are making history and leaving their legacy for the benefit of all who watch and play golf as well those who are using the sport to build connections. These women have been spending their careers proving that the applications and advancement of this sport are limitless. Let's explore some of those triumphs together in this interactive live interview series.
Past Examples of Guests on the Show
If you have been watching the show, you have already heard me ask some of the biggest names in women's golf the top questions people want to know. In January, I asked Kelley Brooke, founder of BirdieSpot, about her unique online golfing community that is quickly gaining traction with new players as well as amateurs and professional athletes. Anyone looking to gain access to some of the best golf instructors in the country can learn tips from watching both posted recordings and live shows or sign up for their favorite coach's course offerings. It's all in one convenient location, and it's reshaping the way golfers take their skills to the next level! In fact, you can catch my engaging new webinar, "Golf Positive: Game-Changing Mindset" on BirdieSpot every Thursday night starting at 7:30 PM ET where you'll receive some of my favorite golf mindset tips and strategies for free!
Also, on my Golf Positive Facebook page this month in my "Golf's Monthly Masterclass" live interview series, I had the distinct privilege to interview the legend herself, Shirley Spork! Shirley is the co-founder of the LPGA Tour and was nominated twice for the LPGA "Teacher of the Year". This incredible golf professional helped pave the way for women to enjoy the merits of this sport while raising the bar on what's possible. If you were able to catch the show, I know you enjoyed her casual tone and candid responses that always make speaking with her such a pleasure. I can say without a doubt interviewing this amazing LPGA professional will definitely be remembered as one of my favorite moments of 2023!
My Special Guest for March!
Ready for more interviews with amazing individuals who are blazing their own paths and shifting the way we use and improve the game of golf? How about the one and only Nancy Lopez? Nancy has won 3 major championships and 48 LPGA Tour events! I'm going to ask her about some of the mindset challenges she had to overcome and what has worked for her that might help you play more consistently as well. This is one live webinar you won't want to miss!
How to Watch "Golf's Monthly Masterclass"

As you can tell from the above examples, you'll be hearing from some of the best names in the golfing industry for 30 minutes each month on "Golf's Monthly Masterclass". Be sure to set your calendar to go on my Golf Positive Facebook page the first Wednesday of every month from 8:00 – 8:30 PM ET. Remember, these interviews are absolutely free to watch and share with friends. So, don't forget to add the alerts on your calendar, grab your friends and family members, and join me on the first Wednesday of every month. I'll see you there!