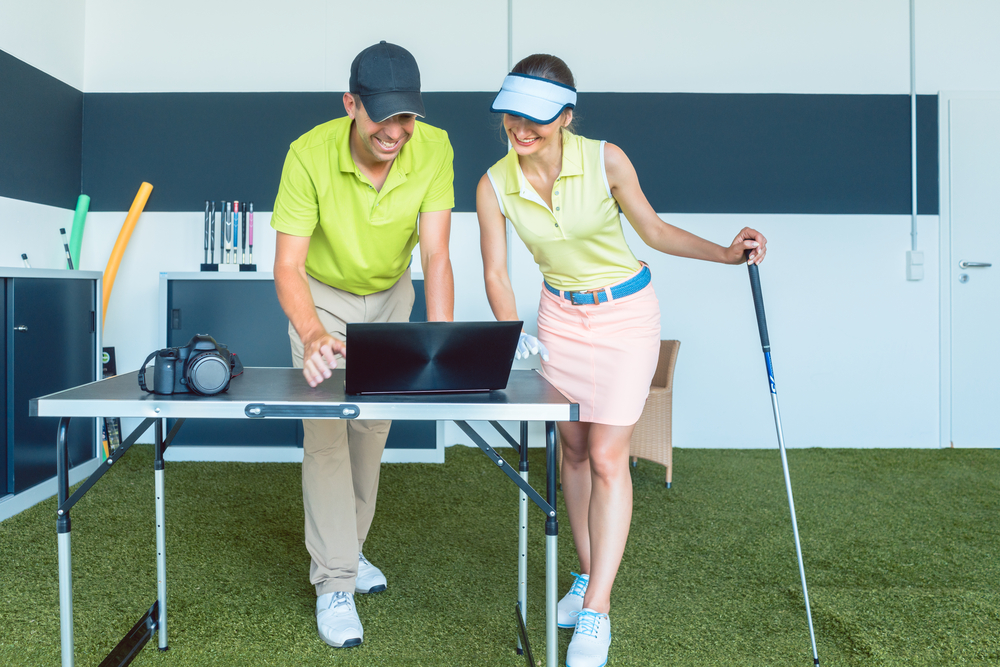 You may be wondering if virtual instruction really works for improving your golf game. Professional golfer, award-winning golf instructor, and nationally-renowned inspirational speaker, Debbie O'Connell, is ready to accept that challenge! Unlock your inner champion potential as you build your short game and long game while learning to find the joy on the greens. Best of all, you can do it all without having to leave your backyard!
Why Work With Debbie?
Debbie O'Connell is an LPGA professional golfer and one of the LPGA's Top-50 Best Teachers! Additionally, Debbie has been named as one of Golf Digest's Top 50 Women Teachers, the NE Section Teacher of the Year, and the NE Section Junior Leader of the Year. However, her list of accomplishments does not stop there as she is also the published author of "Live Positive! Golf Positive!", a national motivational speaker, and holds certifications in John Maxwell Speaking, Training, Coaching, Strategic Intervention, and DISC training.
What is so Unique About Her Coaching Style?
Instead of simply correcting your swing, Debbie will apply a combination of proven techniques, including her own experience plus tips from neuro-linguistic programming (NLP), and Time Line Therapy® in her clinics and events. In other words, when you sign up for one of her virtual clinics, you get far more value than adjusting your stance or your follow-through. This is a clinic that will inspire you to push past your doubts and find the joy in your game!
How Debbie's Virtual Clinics Work
When you log into your virtual clinic on Zoom, Debbie will be there to greet you and guide you through some of her favorite proven techniques she uses herself. Then, you can turn your camera on to help her see your swing, stance, and follow-through for more individualized live instruction. In fact, she watches you on a large monitor so she can focus on each subtle movement detail as you practice.
Debbie's Virtual Clinic Topics
There is so much Debbie wants to cover in her virtual instruction that she developed a series of affordable clinics. Each clinic contains applicable instruction on such helpful topics as how to hit the ball high or low, gain more distance, find your way out of the rough, and putt consistently. At such a low cost per clinic, most participants sign up for multiple sessions. Here is a list of this year's winter virtual clinic topics:
Pitch it High & Watch it Sit
Fairway Wood Success
Chip it From the Rough
Punch Shot Saves – Hit it Low
Hit a Draw/Fade on Purpose
Faster Clubhead Speed = More Distance
Make Putts 5' and In Consistently
Debbie's Interactive Webinar Series
Looking for more in-depth virtual instruction? Check out "The Keys to a Champion Mindset". Debbie designed this course to go beyond the basics and find the victory that awaits you both on and off the course! You will receive five days of live coaching with a certified coach plus three personalized calls where your coach will be able to suggest ways to improve your golf game in a live and interactive format. Find out what has been holding you back and how you can leave the excuses in the dust once and for all. Make this your year in the spotlight. If you dream of taking your game or career to new heights while discovering the ongoing excitement the game of golf can invoke, this is the course for you!
The Perfect Gift for Every Golfer!
Instead of another gadget or knickknack, why not give the gift the golfer in your life really wants? A better swing on the golf course and a champion mindset that can push through or find a way around any obstacle. With so many courses and clinics, there is something for everyone all year long. Please keep in mind it is strongly recommended to sign up for all of the clinics or events that are of interest as they are posted and check back periodically for updates because these classes fill up quickly and may not repeat. Learn more about what is available now by exploring Golf Positive!
Ready to Find the Joy?
As Debbie says, "Practice doesn't make perfect. Perfect practice makes perfect." Change your mindset, and change your golf game forever! Take the virtual challenge for yourself or give someone you love this inspirational gift that makes a significant impact by signing up for Debbie's virtual clinics here before they are all filled. Just imagine, you are one step away from interactive learning with Debbie O'Connell. Register to secure your spot in her sought-after clinics and webinars today!