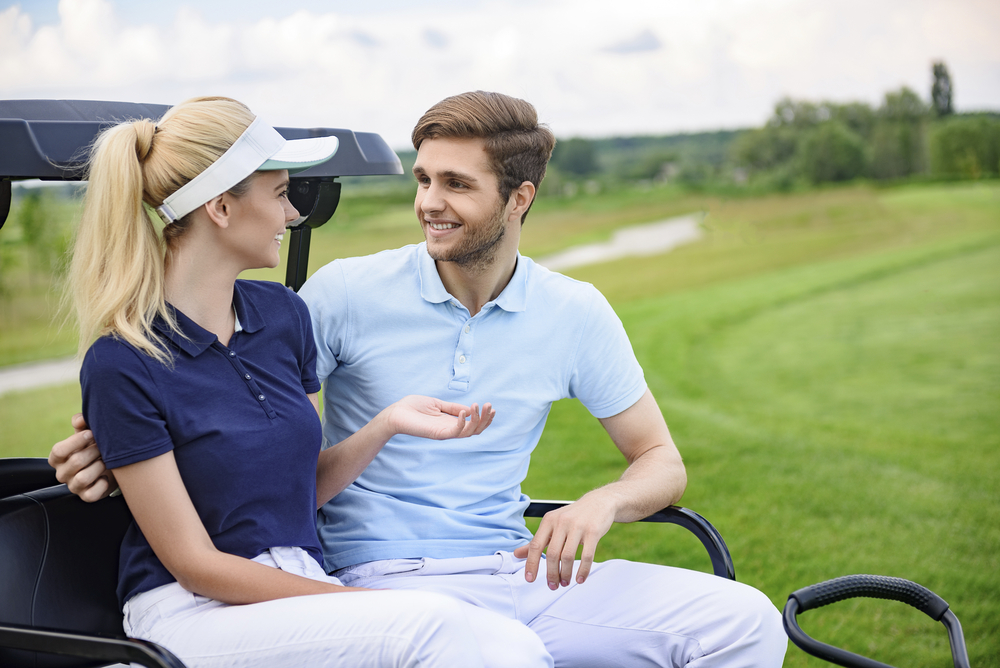 6 Reasons Golf Makes the Perfect First Date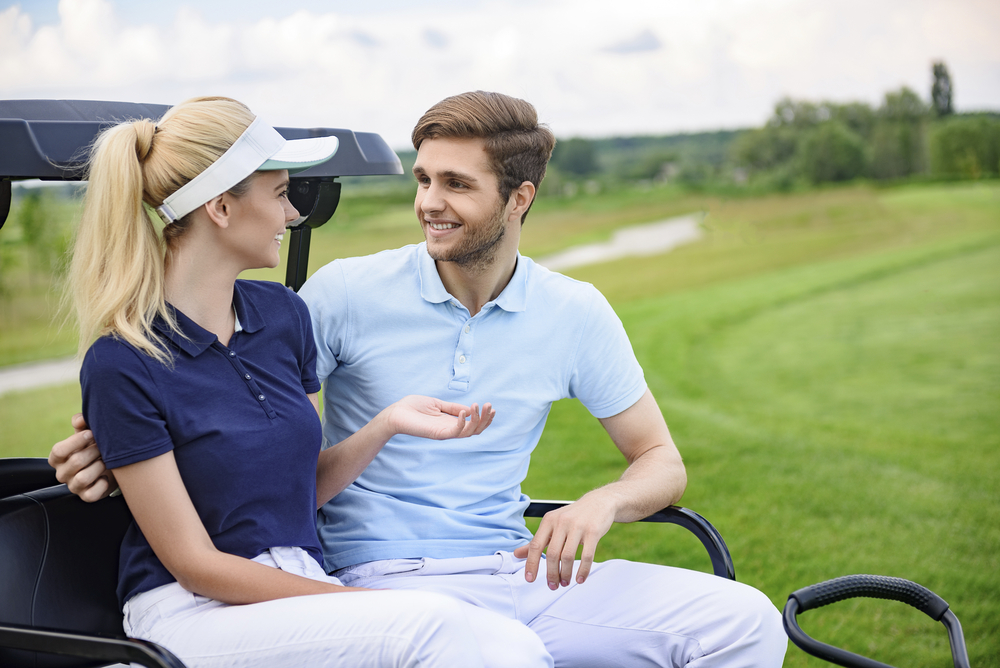 Dating can be tricky enough without the added pressure of picking the first date location and activity. That's why we've made it easy for you to decide what to do and where to go with this list of compelling reasons why golf is the perfect way to start your new adventures together.
1. Location, Location, Location
Imagine, your first date has a stunning view in all directions of the best vistas the local area has to offer. Is there anything more romantic? Talk about a venue that sets you up for scoring big points for first-date impressions. That's what you can expect when you plan your date at a nearby golf course. Even if you or your date area not pro-level players or perhaps this is your first time stepping foot on the golf course, the view alone can make you smile while prompting interesting conversation starters.
2. You and Your Date Set the Pace
Once you have the conversation going and you are enjoying the gorgeous scenery, you can take your time to chat, laugh, and get to know one another as you play a round at your own pace. If someone comes up behind you, simply let them play through if you are moving slower than they would like. This is your time to discover more about each other and it's the ideal setting and opportunity to see if you have more in common than you already know.
3. Golf Requires an Open & Patient Mindset, Just Like Relationships
Something the game of golf has in common with relationships is the requirement for an open and patient mindset. Golf is a mentally challenging sport where those who get easily frustrated will have a difficult time. On the other hand, just like in relationships in general, the people who have a blast no matter how they play that day use a positive way of thinking that makes the activity more fun while building confidence.
4. Mix Up the Game for More Spontaneous Fun
If you find the conversation is starting to hit a lull or you or your date are falling too far behind in the round, there are lots of ways to even up the score and make golf more exciting for both players. Try seeing who can hit closest to the pin, who has the farthest drive down the fairway, and who is the best at putting when no set-up time is allowed. Select games where age, skill level, strength, and knowledge of golf will not be an advantage like "Bingo Bango Bongo", "Ghost", "Rabbit", and "Stringball". Such games reduce anxiety and add more rewards to keep you both looking forward to the next hole or round.
5. Showcase Your Golfer Skills and Best Attributes
You don't have to be a professional golfer to sport the game's attractive character-building traits. In fact, golfers are known to have a lot of great character traits, thanks in part to the sloping terrain, draining heat, and challenging winds. They practice patience, decision-making skills, problem-solving, learning from their mistakes, and working towards that next level of goals on an average day. Thus, if you take a page from the golfer's playbook, you can present these magnetic qualities and have a memorable date, despite not knowing how to correct a slice or anticipate the distance the wind will carry the ball. Of course, if you do know your way around a golf course, this is your chance to demonstrate all of that awesome character work!
6. Food and Drinks are Just a Request or Quick Tip to the Clubhouse Away
What is a date without food and drinks? Most golf courses have a nice restaurant with tasty cuisine on site and entertaining driving ranges like Top Golf offer the ability to order your meal from where you are playing. Saving money? Consider packing a picnic and watching the sunset on the golf course.
How to Make Sure Your First Golfing Adventure Together Goes Well
If you are looking for ways to ensure your first date is a smashing success, there is one area of preparation you should not overlook – your dating mindset. Whether you go golfing, see a movie, or take a cooking class, your dating mindset is the key to enjoying your time together. By taking my free "5-Day Challenge", you can gain a basic foundation for being in the right frame of mind for something wonderful to happen. Even as dating mistakes occur (and they will), you will know how to clear your thoughts, remove your self-doubt, and develop the confidence you need to laugh at those unexpected blunders while taking time to enjoy the journey through life's moments like these. Then, when you are ready to go deeper into all of the things that are holding you back from living your best life, sign up for my "Keys to a Champion Mindset 2.0", and start unlocking your full potential while learning what you can do to develop and foster healthier relationships in under 5 days! It's truly that easy. Give me 5 days, and I'll show you the path to getting more out of life and your relationships. Sign up today!